Rivals Rankings Week: Breaking down the 2023 WRs, TEs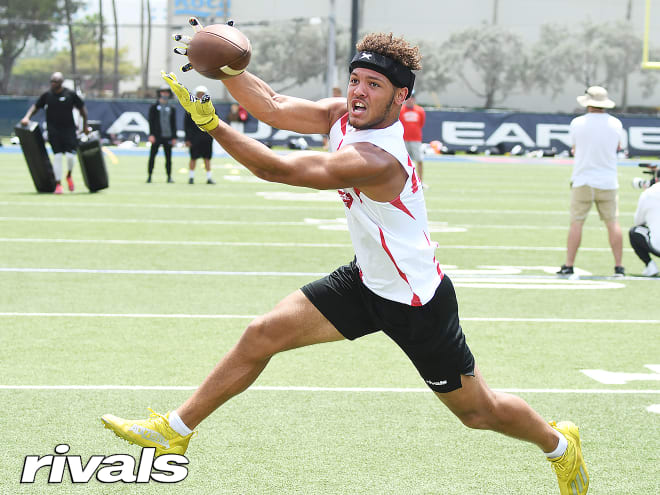 1. The top player at the WR position 
Brandon Inniss is the most complete and college-ready WR prospect in the 2023 class. Inniss combines a physically developed frame with next-level route-running ability, body control and phenomenal ball skills. He is just as likely to stretch the field for a long touchdown through the air as he is to take an underneath route the distance, and his ability to turn a pedestrian play into an explosive play after the catch is one of his best attributes.
Inniss has a knack for making the difficult catch look routine and is also fantastic at using his strength and leaping ability to win 50/50 balls. Inniss was a one-time Oklahoma commit who opened up his recruitment after the departure of Lincoln Riley. Miami, Florida, Florida State, Ohio State, Alabama, Georgia, Ole Miss, USC and others are involved in his recruitment.
While Inniss is the top WR right now there are a few other receivers that could challenge him for the No. 1 spot, with Carnell Tate, Zachariah Branch and Shelton Sampson being the most likely competition.
*****
2. Two teams to watch: USC (WR) and Arkansas (TE)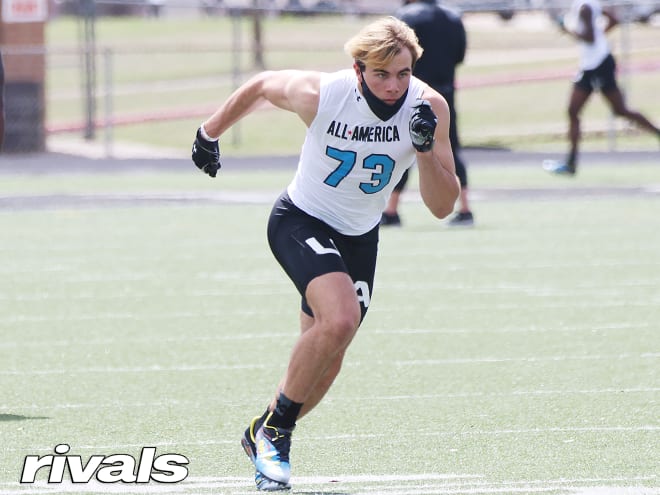 USC gets the nod here at the wide receiver position as the Trojans have commitments from two of the top eight receivers. The Trojans wasted little time after early signing day by getting a pledge from No. 4 receiver Zachariah Branch. What Branch lacks in size he more than makes up for with speed and big-play ability. The junior WR out Bishop Gorman (Nev.) was a state champion in the 100 and 200 meters as well as the long jump during his sophomore season with a speedy PR of 10.33 in the 100.
The Trojans' other early WR commit is No. 8 Makai Lemon out of Los Alamitos (Calif.), a former Oklahoma commit. With those two, as well as being in a good place with No. 1 WR Brandon Inniss, USC has a great chance to win the battle at receiver.
Similar to USC with the receivers, Arkansas already has two of the top seven tight ends committed in Luke Hasz and Shamar Easter. The Razorbacks also have the No. 25 TE committed in Jaden Hamm and the three are likely to shore up the TE position for years to come.
Hasz, a one-time Oklahoma commit, comes in as No. 3 TE in the nation. He is a big-bodied prospect who shows ability to make big plays as a receiver and isn't afraid to get after it as a blocker. Easter comes in as the No. 1 overall player in Arkansas and No. 7 TE overall. Easter is an athletic pass catcher with a frame that can add mass and has the want to as a blocker.
*****
3. Three players to watch: Carnell Tate, Duce Robinson and Shelton Sampson
Carnell Tate is ranked as the No. 3 WR in the nation, but he has the same five-star rating as the two players in front of him and is a legitimate threat to eventually take the No. 1 overall spot. Tate has long been a special player with incredible upside and he has probably developed more from a physical and skill-set perspective than we could have projected at this point in his career. He has added mass to his frame while increasing his overall speed, twitch and route-running ability.
Tate was long thought to be a Notre Dame or Ohio State lean, but Alabama, LSU, Tennessee, Miami and others are also serious contenders for the five-star receiver out of IMG Academy in Florida.
Duce Robinson comes in as the only 6.0 four-star TE and is No. 1 overall at the position. At 6-foot-6, 220 pounds he is as physically gifted as they come and has a ton of playmaking ability. Robinson, a multisport athlete, didn't start playing football until he was in high school, and he has legit high-round potential in the MLB draft.
His dad was an athlete at Florida State, so it will be interesting to see if the Seminoles are a major contender in the end. Other schools in the race for Robinson include Clemson, Arizona, USC, Georgia, Ohio State, Notre Dame, Oklahoma and others.
Shelton Sampson is slotted as the No. 2 WR in the nation and is one of three five-stars who will be in the mix for the top receiver spot when the final rankings are released. While he has an extremely impressive skill set, the one attribute that sets him aside from the rest of the top three at the position is his size. At 6-foot-4 and 181 pounds, Sampson has a future NFL frame and combines that with legitimate speed to stretch the field.
LSU and Alabama appear to be frontrunners for the Louisiana product's commitment, with Texas A&M, Auburn and his most recent offer, Michigan, also in the mix.