Rivals Rankings Week: Breaking down the 2023 QBs
1. No.1 at the QB position: Arch Manning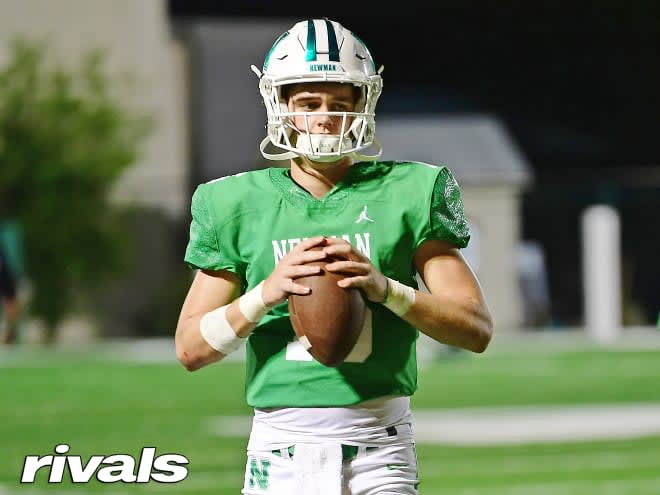 The No. 1 quarterback is also the top player in the Rivals250. Arch Manning held on to the top spot in the Rivals250 again, and it could be hard to unseat him. The talented signal caller out of Louisiana brings more than just his family name to the field. Manning throws the ball with great timing and accuracy. He seems to make very good decisions with the ball and has a strong enough arm to make any of the necessary throws.
Manning is also much more athletic than his famous uncles. He's able to scramble and pick up enough yards to keep defenses honest. Alabama and Texas seem to be emerging from the pack of powerhouse programs recruiting Manning, but Georgia, Oklahoma, Ole Miss, and LSU remain in the conversation.
While Manning held down the top spot, the next few players behind him remained in the same order, with Malachi Nelson at No. 3 in the Rivals250, followed by new five-stars Dante Moore (No. 6 in the Rivals250), and Nico Iamaleava (No. 9). All four of these quarterbacks top the pro-style quarterback rankings, while Rivals250 Louisville commit Pierce Clarkson sits atop the dual-threat quarterback rankings.
*****
2. Two teams to watch: Georgia and Tennessee  
While Alabama and Texas seem to be the two primary schools duking it out over Manning, Georgia and Tennessee have their sights set on new five-star Nico Iamaleava. The Californian is rumored to be leaning toward signing with an SEC school or - if he decides to stay out West - Oregon or possibly UCLA.
The national champion Bulldogs have made Iamaleava a priority in this class and are hoping to get him on before he commits later this spring. The Vols have hosted him a couple times already and have built some strong relationships with him. Alabama is also heavily involved with Iamaleava, which, depending on Manning's decision, will be important to remember.
After Iamaleava, both Georgia and Tennessee have a few other major targets. Dante Moore is supposed to visit Tennessee at some point in March, and the Vols are also looking closely at Christopher Vizzina (No. 53 in the Rivals250) and Avery Johnson (No. 235). The Dawgs are involved with most of those quarterbacks as well, but they're also staying on Dylan Lonergan (No. 135).
*****
3. Three QBs in the spotlight: Dante Moore, Christopher Vizzina, Jaden Rashada
New five-star Dante Moore has plenty of options going into the spring and he is going to explore every opportunity. The Michigan native will likely end up choosing between the Wolverines and Notre Dame, but Penn State, Oregon, Miami and Tennessee are in the mix. The departure of offensive coordinator Josh Gattis was big news for Moore, but he has a strong relationship with Matt Weiss, the quarterbacks coach, so that should keep Michigan from losing too much ground.
A big riser in the newest Rivals250, Christopher Vizzina is being pursued by most of the top programs in the nation. The Alabama native is seriously considering a number of schools, but it looks like Florida, Auburn, Clemson, Kentucky, Notre Dame and Tennessee are a cut above the rest at this point. Clemson could be in the pole position right now, but a busy spring could cause some shuffling near the top of Vizzina's list.
Arizona State felt good about where it stood with legacy recruit Jaden Rashada (No. 63 in the Rivals250) a few months ago, but the NCAA investigation forced a number of staff changes. Now Rashada appears to be taking a close look at Washington and Oregon. Other teams taking a close look at the Californian include Ole Miss, UCLA, Notre Dame and Cal. Don't expect Rashada to spend his spring at home. He will be taking official and unofficial visits before making a decision later in the spring or early in the summer.