Rivals Camp Series Atlanta: Simmons' predictions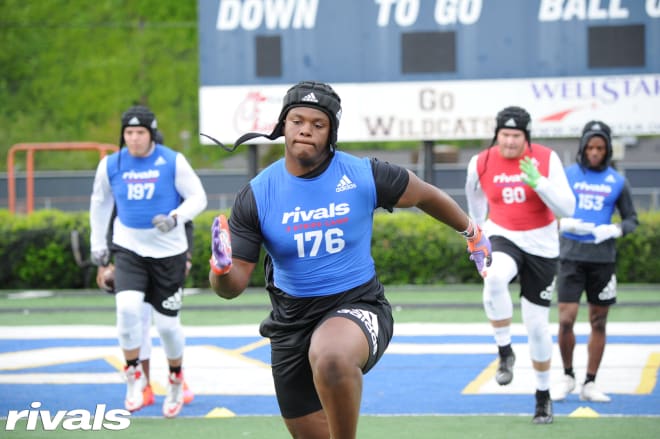 Cohen looked to be locked into South Carolina when he committed to the Gamecocks late in March, but a few weeks later, in mid April, he surprisingly re-opened his recruitment. Since then, programs like Auburn, Kentucky and Oregon have offered the Alabama offensive tackle. He does have an official visit to South Carolina this weekend, and the Gamecocks are still a contender, but Auburn, an in-state program, has picked up some momentum. This one could still have quite a few twists and turns, but the Tigers are trending.
Simmons' Pick: Auburn

Gilbert has always said he would like to go into his senior year committed. Now though, at the camp over the weekend, the five-star athlete said he may not be ready. With that said, Georgia is still the program trending, and the Bulldogs are clearly the team to beat. A recent visit to Oklahoma definitely opened his eyes and Tennessee has also made a move in recent months, but if he ends up leaving the state of Georgia based on what we have been hearing, it would be somewhat surprising. A lot can still happen with programs like Alabama, Auburn, Clemson and Texas A&M along with the ones mentioned still in play, but Georgia is, and has been trending here.
Simmons' pick: Georgia

What at one time looked to be a battle between Clemson and Georgia for the five-star defensive end may end up being a battle between Tigers in the ACC and SEC. The most buzz is still around Clemson, and Dabo Swinney's culture and Brent Venables' defense has put the national champions in a good spot. Do not sleep on Auburn, though. Those Tigers may be in this more than some have thought in recent weeks. Georgia is in it, but the Bulldogs look to be running at best third right now, with Clemson viewed as the favorite, followed by Auburn. A decision is expected in August.
Simmons' pick: Clemson

A year or so ago, most had already penciled in Ojulari to Georgia. His brother signed there in 2018, the Bulldogs offered early, and the in-state school was the favorite. Things have shifted towards another SEC school since last fall. Tennessee signed Ramel Keyton in 2019, Harrison Bailey is a Vols commit in the 2020 class, and Ojulari has played alongside both in recent years. Florida is another program to keep an eye on, but Jeremy Pruitt and the team in Knoxville have been trending.
Simmons' pick: Tennessee

Webb is not one that says too much. He likes to keep a pretty low profile as a recruit, but he is a top priority for many top programs. Alabama, Florida, Florida State, Georgia, LSU and others have Webb high on their board. Webb's father attended Auburn, so the Tigers have always been considered a favorite. He is not dropping too many hints on where he may be leaning, but based on the intel we have received, the Tigers on the Plains appear to be the team to beat. This could still go a few different ways, but Auburn is the pick today.
Simmons' pick: Auburn