Rivals Camp Series Atlanta: The Simmons Awards
MORE RCS ATLANTA: Prospects that earned their stripes
MARIETTA, Ga. -- The Atlanta edition of the Rivals 3 Stripe Camp presented by adidas is in the books. After evaluating the talent on hand on Friday, the Simmons Awards have been doled out.
THE ADONIS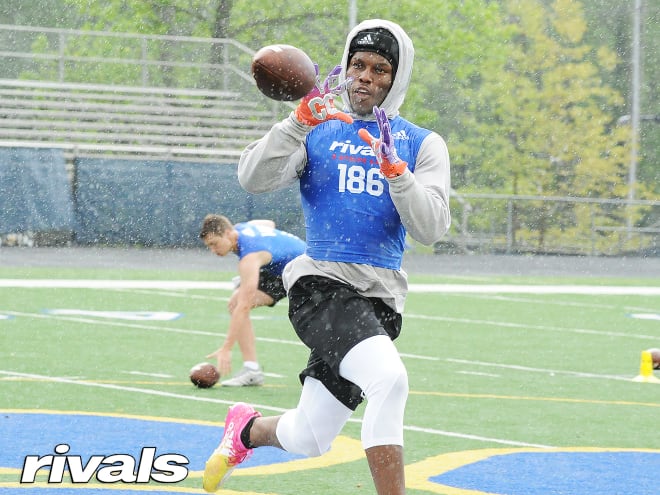 Gilbert, only a junior in high school, always draws attention the minute he steps off the bus. He checked in at 6-foot-5 and 251 pounds with a 79-inch wingspan, and he had eyes on him all night. Not only were other camp participants talking about Gilbert, but there were a few in the stands making comments as well. He was wearing XXXL gloves, he has to wear a XXL helmet and he can move and run.
LIGHTNING IN A BOTTLE
At times, when you watch Downs, a North Carolina commit in action, it is like watching a character in a video game. He is so quick, shifty and tough to deal with in space. Downs has great burst and was running away from defenders all night. He is always confident, loves to compete and not too many wanted to match up with him in this event.
BULL MARKET
Keenan checked in at 6-foot-2, 339 pounds and he was a force all night. He consistently overpowered his opponent and pushed offensive linemen backwards throughout the camp. Keenan will be a highly recruited prospect in the 2021 class. He can play defensive tackle or nose guard at the next level and he showed great power and the ability to fire off the ball.
ROCKET ARM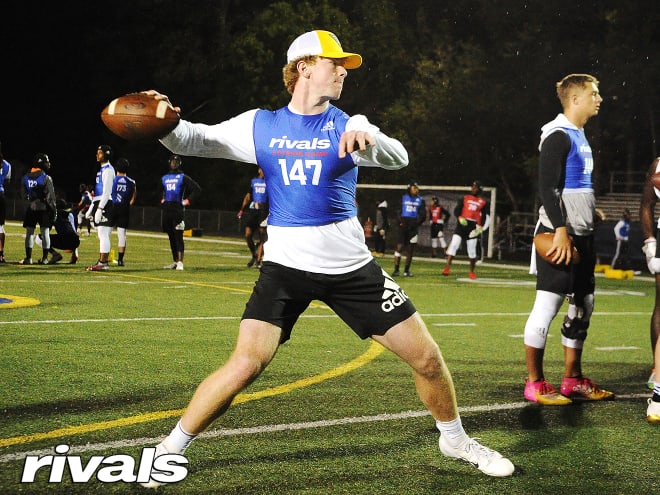 Vandagriff was one of the most impressive prospects from start to finish. The 2021 quarterback was sharp and won the MVP for his position. Vandagriff's arm strength was very impressive; the ball came out hot and got from point A to point B in a hurry and on target. Vandagriff is still growing and the sophomore is on pace to be one of the top overall prospects in the 2021 class.
MR. UNEXPECTED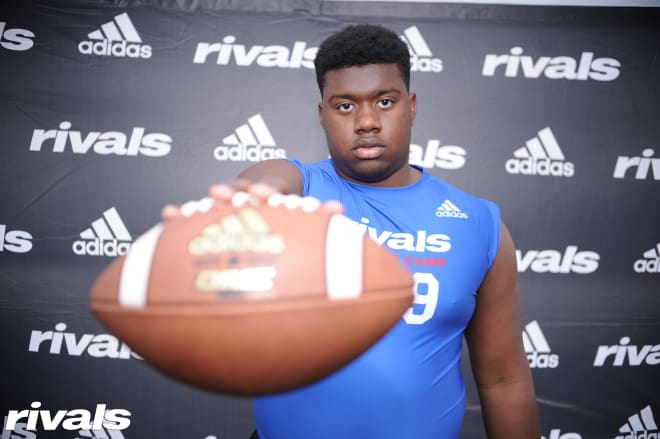 Hill was already known by Rivals, and he was invited for that reason, but he played above his ranking and his offer list Friday night. The defensive line group was deep and strong with talent, but Hill was having success against some of the best. He was anchoring well, he displayed balance and he was tough to move. He has some nice offers, but that list should grow in the coming weeks. He is a smart young man, he is a competitor, he took coaching well and he surprised many with his overall performance.
NEXT ONE UP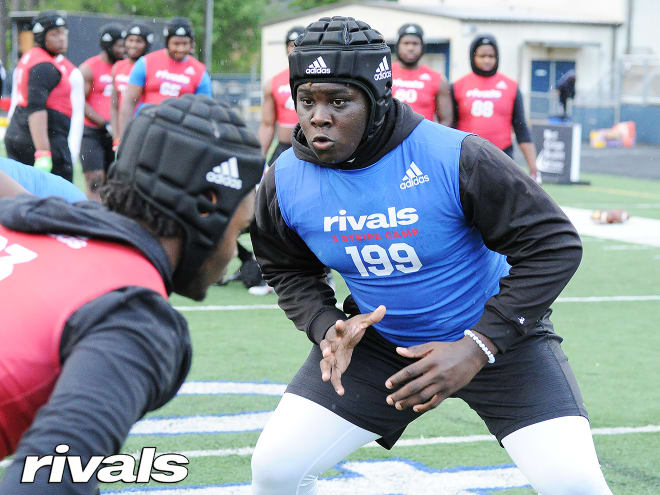 This one could have gone to many, with so many impressive underclassmen at this camp, but Mims is a safe pick here. He was one of the top three offensive linemen, which is notable because he doesn't have a lot of camp experience going up against other FBS-level prospects. Mims not only looked the part at 6-foot-6, 304 pounds, but moved like an athletic defensive lineman and won battles against some of the best in the 2020 class. Mims is only a sophomore and the offensive tackle will be ranked high when Rivals releases its first rankings for his class.
THE BEAST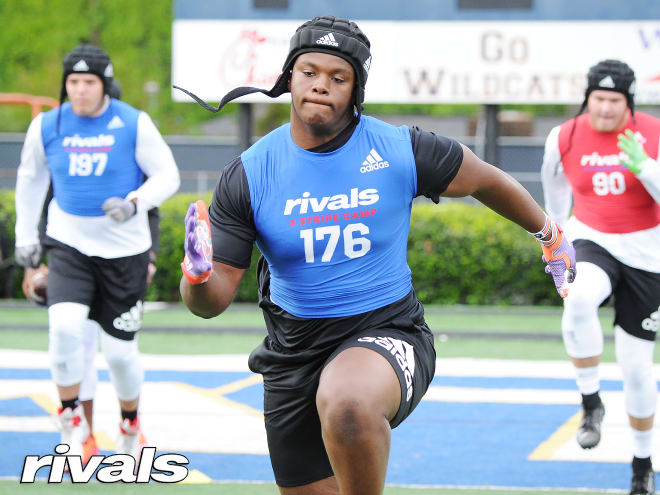 Cohen was in the news all week, and he closed it off with a great performance. Early in the week he decommitted from South Carolina, then he picked up several new offers on his way to the camp Friday. Cohen came in, competed and left as the MVP for the offensive line. He is a little light at 6-foot-4, 270 pounds, but he was very strong at the point of attack, had some success against five-star Myles Murphy and he was arguably the most impressive performer of the night. After the one-on-one session was competed, some linemen were doing drills and Cohen was still drawing praise. He can project as tackle or guard on the next level.
THE SNUGGIE
This was a battle. Smith ended up as the MVP for defensive backs and he was always taking reps, always taking on talented wideouts and he seemed to always be on the hip of who he was covering. He is just a smart cornerback. Smith plays within himself, is clever with his footwork and knows when to be aggressive.
LUNCH PAIL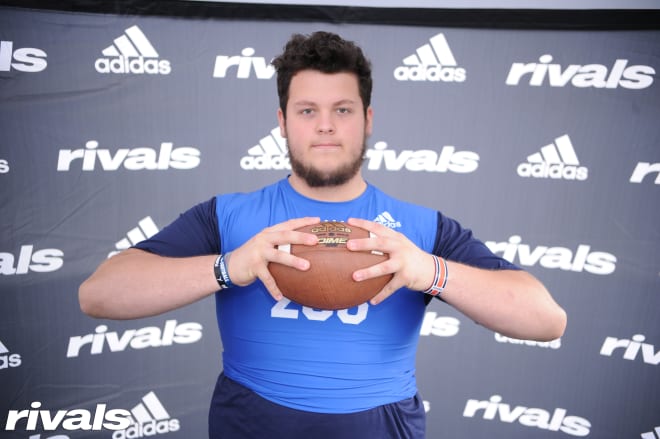 Not many want to mess with Johnson. He is a prospect that has a quiet confidence about him and he wanted to go against the best. There were not too many guys taking reps at center, so Johnson got a lot of reps Friday, and he won more than he lost. He is physical, aggressive and has a strong base. Johnson is a versatile offensive lineman with an old school mentality. He welcomed the competition, he wanted to make a statement, and he did just that.
THE QUIET ASSASSIN
Murphy may be the most dominant player that says the least about his game. Murphy earned an invite to the Rivals100 Five-star Challenge presented by adidas last year as a sophomore and he earned his fifth star at that event. He has had a target on his back ever since. Murphy takes on everyone's best shot, and he still has a high level of success. There just aren't many like him out there. Murphy goes about his business, he wants to learn and he is truly a five-star on and off the field.