Rivals Camp Series Atlanta: Prospects who earned their stripes
MARIETTA, Ga. — The 2019 Rivals 3 Stripe Camp Series presented by adidas rolled into Atlanta Friday night, with some of the area's top prospects turning out to compete in the latest regional stop of this year's tour. With so much talent on hand, there were plenty impressive performances, but only a select few can win position MVPs or earn a much-coveted invite to the Rivals100 Five-Star Challenge presented by adidas. We run through the players who won awards and earned their stripes at Friday's event.
QUARTERBACK MVP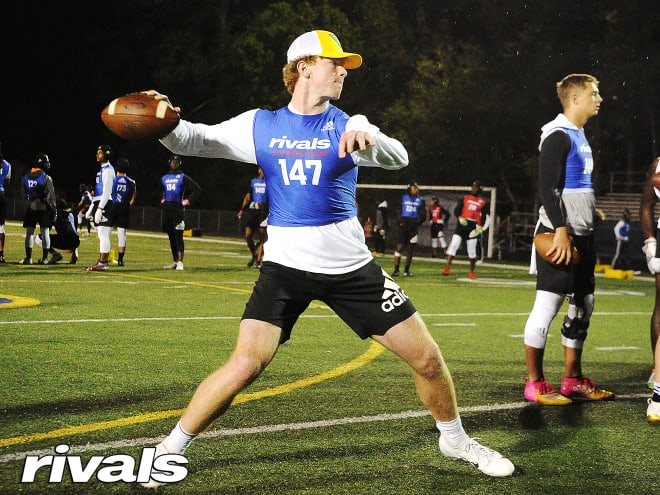 For the second year in a row, Vandagriff showed up ready to compete and left as the MVP for the quarterbacks. This was a strong quarterback field, loaded with Power 5 prospects, and Vandagriff again stood out from start to finish. He flashed the strong arm, showed touch and not only left as the MVP, but earned an invite to the Rivals100 Five-star Challenge. He is only a sophomore, so it is easy to see why he is one of the most signal callers in the 2021 class. Auburn, Florida, Georgia, Oklahoma and Tennessee are some of the schools on his list.
RUNNING BACK MVP
Many underclassmen were in the discussion for top running back, but Goodwin, who made the trip over from Trussville (Ala.), left with the honors. He was tough to cover out of the backfield due to his speed and ability to make cuts without losing a step. He got off to a great start in the cat-and-mouse drill, flashing that burst and explosiveness. His ball skills stood out as well. Goodwin is a threat from the backfield or if you wanted to line him up in the slot. Louisville offered earlier this week and Auburn, Georgia Tech and Mississippi State have offered the 2021 running back too.
Another deep group Friday night was wide receivers/tight ends, and there was a lot of discussion on who the top performer was, but by the end of the night, Baker was the unanimous selection. The Alabama commit not only did enough to win the MVP award, but he earned the Rivals100 Five-star Challenge invite as well. Baker is a physical wide receiver who created good separation all night. He showed strong hands and the ability to make plays in traffic.

OFFENSIVE LINE MVP
What stood out as much as anything with Cohen was his will to compete. He was the only offensive lineman to have success against five-star defensive end Myles Murphy. They went head-to-head many reps, and Cohen won his share. Cohen has re-shaped his body, looking like a defensive lineman and he showed good feet, a strong base and the ability to move with big, strong ends and the smaller, faster ones. He recently decommitted from South Carolina and he re-opened his recruitment. Auburn jumped in the mix Friday with an offer.
DEFENSIVE LINE MVP
It was a loaded group of defensive linemen and Ojulari went toe-to-toe with several other talented prospects at the position, ultimately walking with the hardware after a very impressive performance. Ojulari showed speed off the edge as well as an array of pass rushing moves that gave offensive linemen fits. Ojurlari has a number of major offers, including Tennessee, Georgia, and several others are still in the mix for his services.
LINEBACKER MVP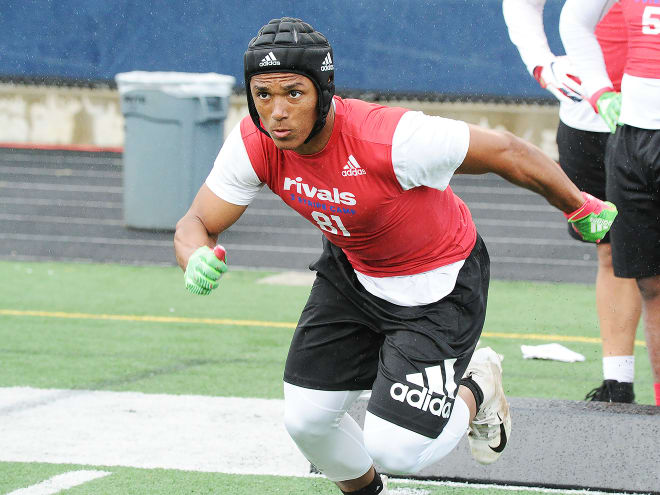 Steiner is ranked as an athlete, and worked out at linebacker on Friday. A three-star prospect, Steiner outplayed his modest ranking from start to finish, shining in both drills and coverage alike. Steiner wasn't the largest linebacker at the event but moved incredibly well and showcased an enormous amount of fluidity. LSU, Georgia Tech, Stanford and Auburn are all involved in Steiner's recruitment. LSU seems to hold a slight edge as things stand.
DEFENSIVE BACK MVP
Smith is a veteran of the Rivals Camp Series and was a favorite of the event's coaching staff, including former Oregon defensive backs coach John Neal. Smith impressed with his technique and ability to flip his hips and run as well as his physicality with bigger receivers. The younger brother of former four-star Georgia signee Chris Smith, Tajiri isn't afraid of competition and his competitive spirit was on full display as he played his way to camp MVP honors. Memphis could hold the lead now, but more schools are likely to join the race this spring.
ADDITIONAL FIVE-STAR CHALLENGE INVITES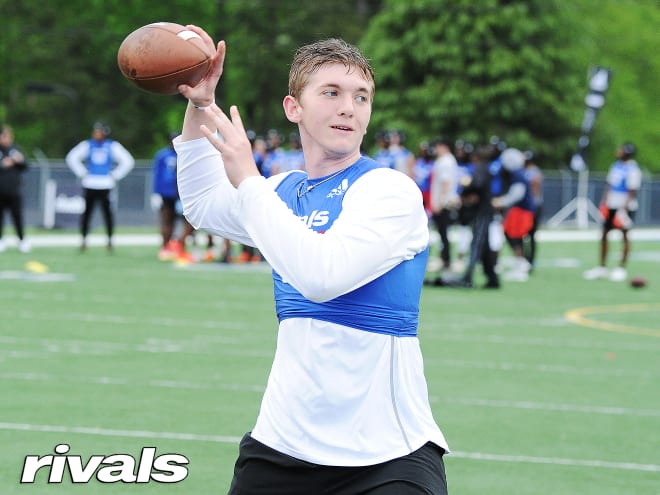 Bailey will be the first prospect to be invited three consecutive years to the Rivals100 Five-star challenge. He was spinning the ball well Friday, especially on the deep balls. Bailey throws a very catchable ball, and the Rivals100 signal caller could be on track to make an early impact at Tennessee. He has a great frame, he is a natural leader and he has the big arm coaches look for.

With Downs, not many want to line up against him in this type of setting. He is a true slot receiver that is quick off the line of scrimmage, he runs crisp routes and he really sets the defensive backs up well. He arguably had the best hands of the night. When the ball was near him, Downs seemed to catch it. The North Carolina commit is still looking at other options, but he is one the Tar Heels want to work hard to keep in this class. He will compete at the Rivals100 Five-star challenge for the second year in a row.
Gilbert stands out as soon as he walks onto the field. At his size, guys are not supposed to run and move the way he does. He possesses large, strong hands and he gives quarterbacks a big target to throw to. He may not run past everyone, but at his size, and with his catch radius, he doesn't have to. It was tough for any linebacker to stay with him Friday night, and for the second year in a row, Gilbert is headed to compete inside Mercedes Benz Stadium. Alabama, Georgia, Oklahoma and Tennessee are some of the schools on his list.
Johnson was one of the more talked about quarterbacks at the event due to his stature, the throws he was making and the spin he was creating with his left-hand. The LSU commit has always come out, competed, and this was his best, most consistent performance on the Rivals circuit. He has a live arm, he showed good touch, and he was throwing the ball on time with receivers he hadn't worked with. Ed Orgeron has nothing to worry about with Johnson. He does not plan to visit any other schools.

Murphy left camp with a Five Star Challenge invitation for a second straight year, as he won most one-on-one reps he took and was in the conversation for MVP honors until the end. Murphy holds a long list of major offers but is thought to be a Clemson lean. A five-star prospect, Murphy has set no timetable for a commitment.
Webb missed out on MVP honors but turned in a solid performance nevertheless, capturing an invitation to the Five-Star Challenge. Webb is a long outside linebacker, but showed an impressive ability to run with running backs down field. One of the more versatile linebackers in America, the high four-star prospect does a number of things incredibly well. Auburn is the presumed leader, as Webb's father attended the school. Oklahoma along with Florida State, Ohio State and others are also involved.