Rivals Camp Series Atlanta: Five teams that should be pleased
MORE RCS ATLANTA: The Simmons Awards | Prospects that earned their stripes
MARIETTA, Ga. -- Some of the best prospects in the South flocked to the Atlanta area on Friday for the Rivals 3 Stripe Camp presented by adidas. College football programs from across the country recruit Atlanta and top-ranked prospects had plenty to say. Here are the five programs that were talked about most by the elite prospects at Friday's event.
AUBURN
When Auburn has had strong teams in recent years, the Tigers have always seemed to have major contributors from the state of Georgia. Three of their seven commits for 2020 are from Georgia and they are expected to add more.

Some of Auburn's top targets were in action Friday night, including five-star defensive end Myles Murphy. Many consider Murphy a Clemson lean, but when talking to media there, he brought up Auburn many times. The Tigers are still very much in the mix.

Auburn jumped on linebacker Wesley Steiner last summer and that has put the program in his top three along with LSU and Stanford. The Tigers had Javion Cohen on campus before camp Friday, and is now considered the front-runner by some. In the 2021 class, quarterback MVP winner Brock Vandagriff, who grew up a Tiger fan, has Auburn high on his list, as does in-state running back Armoni Goodwin.

CLEMSON
The Tigers are on pace to have one of the best overall recruiting classes in recent memory and the school continues to seem like it's selecting, rather than recruiting. Case in point is defensive lineman Myles Murphy, a five-star from the Atlanta area wanted by schools from around the country. Murphy doesn't do many interviews but when he spoke on Friday night, it was hard not to come away with the conclusion that Clemson remains the team to beat. Murphy just narrowly missed winning the defensive line MVP award and might be committed to the Tigers by the time the Rivals100 Five-Star Challenge presented by adidas rolls around. Clemson is involved with Vandagriff and while they've yet to offer, most believe that it will come soon and when it does the Tigers will be a major factor for the elite passer.

GEORGIA
Since Kirby Smart took over, Georgia has been recruiting much more at a national level, so not as many Bulldog targets were competing at this camp as in years past, but there were still some that appear to be high on the board.

Jamil Burroughs was the only UGA commit there, and he did well, and was talking up the Bulldogs much of the night. The only two five-stars there, Arik Gilbert and Myles Murphy are both major Georgia targets. Gilbert is considered a Georgia lean by many. Georgia had a handful of in-state targets in the 2021 class there, including Lovasea Carroll, David Daniel, Amarius Mims and Brock Vandagriff. All four are elite prospects, and all have been in Athens numerous times already. The Bulldogs look to be the front-runner for Mims, a top offensive tackle.

GEORGIA TECH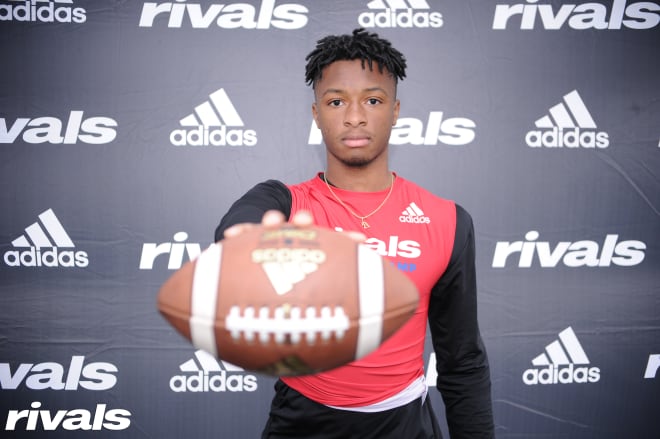 It's been a while since a coaching change has so drastically revamped a school's perception. On Friday, Georgia Tech commit Jalen Huff said it's "like a whole new school," while fellow verbal pledge Ryan King used the words "drip" and "swag" to describe the new feel on campus.

Tech is recruiting at a higher level these days and it was apparent that the reputation of the school has already shifted in and around Atlanta. If things go well on the field under new head coach Geoff Collins this fall, momentum will continue to build for Tech, which seems to finally be using its enviable geographic location to its advantage.
TENNESSEE
Since Jeremy Pruitt took over, Tennessee has attacked the state of Georgia on the recruiting trail. The Vols signed nine out of the Peach State in 2019, and out of their six commitments in the 2020 class, half are from Georgia.

Their highest ranked commit is quarterback Harrison Bailey, and he was out there doing some recruiting for the Vols when he wasn't throwing beautiful deep balls. He earned his third invite to the Five-star Challenge.
Jimmy Callaway is a wide receiver commit and he showed good quickness out of his breaks and he received the ball well. A couple of Bailey's teammates, defensive end B.J. Ojulari and tight end Arik Gilbert are both high on Tennessee's list and the feelings seem to be mutual. Some feel Ojulari is a strong Vol lean and he left as the MVP for the defensive line.

A player that is committed to another SEC to keep an eye on if you are a Tennessee fan is Ze'Vian Capers. He is an Arkansas commit, but he visited Knoxville for the first time two weeks ago and the Vols are serious contenders. His stock is trending up this spring.