Replacing the stars: How programs will fill the void
Mark Pszonak contributed to this report.
Spring football is in full swing and many teams have some big shoes to fill with departed stars. We already took a look at 10 huge names that need replacing. Here are 10 more college stars that left a huge hole on their team with significant question marks regarding their replacement.
Players are listed in alphabetical order.
RCS DALLAS: Recruiting notes | Awards | Top performers: Offense - Defense
Next up: With the duo of Adams and Carl Lawson both moving onto the NFL, the Auburn defensive line will see a major overhaul this fall. Replacing Adams may become the more difficult of the two, especially since the Tigers also lost his two backups, Maurice Swain and Devaroe Lawrence. While Dontavius Russell returns with the most experience at the position, it may be Derrick Brown who will really need to step his game up. Brown finished his freshman season strongly, so expectations are going to be high that he continues to improve and lives up to former five-star ranking this fall. Byron Cowart is moving inside as well but the jury is out on him not physically but whether he can make the adjustment mentally and psychologically.
Newcomer help: As mentioned, the defensive tackle position is lacking depth and experience for the Tigers, so incoming freshmen will also get a long look. That brings us to Tyrone Truesdell, who is actually the only defensive tackle brought in by Auburn in February. Truesdell already has SEC size, but will that be enough to earn him early playing time? He doesn't arrive on campus until the summer, so he will need to impress immediately if he hopes to make an impact in 2017.
Farrell's take: Everyone knows how much I like Adams and I like Brown a ton as well so I think this will be next man up for Auburn. I'm hoping Cowart has success inside as well but I don't buy into all the coach speak that high expectations have held him back. If he matures and gets his head on straight, he can be a terror but Brown is more natural inside.

Next up: While Alabama fans will definitely miss Allen, they have also been patiently waiting for the emergence of Da'Shawn Hand in Tuscaloosa. The former No. 1 recruit in the country has contributed over the last two seasons, but not at the level that was expected of him. So with Allen heading to the NFL, everyone will be watching to see if Hand can take that important next step this fall.
Newcomer help: This can go two ways, but with true freshmen usually finding it difficult to crack the Alabama two-deep, the more likely option is JUCO end Isaiah Buggs. Buggs arrives at Alabama as more of a pass rushing force than Allen was, but it will be extremely difficult for him to match Allen's all-around dominance on the defensive line. If a true freshman does make an impact on the defensive line in 2017 than it will likely be LaBryan Ray. Athletically gifted, it is very possible that he will push his way into playing time this fall.
Farrell's take: This is it for Hand, our No. 1 player in 2014. This is his time to shine and while I don't see him dominating like Allen, that's a high bar that's been set. Hand has all the skills and work ethic to have a great year and jump into the mix as a star after waiting his turn while Buggs could also impact very early.

Next up: This may be the easiest "next up" in the entire country. You can easily make the argument that this handing down of the baton already happened in 2016, when Derrius Guice stepped in for the oft-injured Fournette and flourished. After he rushed for 1,387 yards and 15 touchdowns last fall, LSU's running game is in extremely good hands with Guice.
Newcomer help: LSU only signed one true running back in 2017, that being three-star Clyde Edwards-Helaire. With Guice firmly the main back in Baton Rouge, and with the backfield also containing Darrel Williams and Nick Brossette, it is likely that Edwards-Helaire will be redshirted this season. However, he is definitely a name to remember in 2018 and beyond.
Farrell's take: Could Guice be better than Fournette? He could be. He runs with equal anger and determination, and is just a shade behind him in speed. The real test will be how he does against Alabama, which was Fournette's Achilles Heel.

Next up: Foreman was one of the biggest surprises last season after rushing for more than 2,000 yards in 2016 when he totaled just 753 yards in his first two seasons. Replacing 2,000 yards on the ground won't be an easy task for anyone, but the honor to try will be given to Chris Warren. The former four-star Texan has received minimal playing time in his first two seasons, totaling 836 yards and seven touchdowns, but he has averaged an impressive 6.2 yards per carry. One concern about Warren is injuries, as he's battled through them during his first two seasons and again this spring.
Newcomer help: If Warren can't defeat the injury bug, one name to watch in Austin will be incoming freshman Toneil Carter, who was an early enrollee. While he has also dealt with a nagging ankle injury this spring, he has shown flashes of why the Texas coaching staff is very high on his talents. The depth at the running back position isn't great for Texas, so it is quite possible that Longhorn fans will see Carter sooner than later.
Farrell's take: Warren is a massive back like Foreman although he lacks the same shifty footwork the latter showed this past season. He's not a burner but he can power through tackles and reach the next level. He won't be relied upon as much as Foreman was in a new offense so that will allow for an adjustment period.
Next up: This is one of the easier ones on this list, as some Notre Dame fans would have been okay if Brandon Wimbush had received a real opportunity last fall due to the inconsistent play from Kizer. Strong, smart and athletic, Wimbush should be able to make Notre Dame's offense more potent than it has been in recent years. A great deal is expected from the former four-star quarterback, so it will be interesting to see if he can handle the pressure in South Bend.
Newcomer help: While freshman Avery Davis likely won't be rushed along at Notre Dame, the position is lacking depth in South Bend. He will bring more athleticism to the position, but he also does not have the size or throwing ability of someone like Wimbush. With a year or two under his belt in the Notre Dame strength and conditioning program, Davis should receive the necessary time and coaching where he can battle for the starting job.
Farrell's take: Everyone knows I wasn't a big fan of Kizer's play last season and I don't think his star power is the same as others on this list. However, the starting quarterback at Notre Dame is always under the microscope. I am a huge fan of Wimbush and think he will be very effective at Notre Dame while I don't see Davis having a ton of success.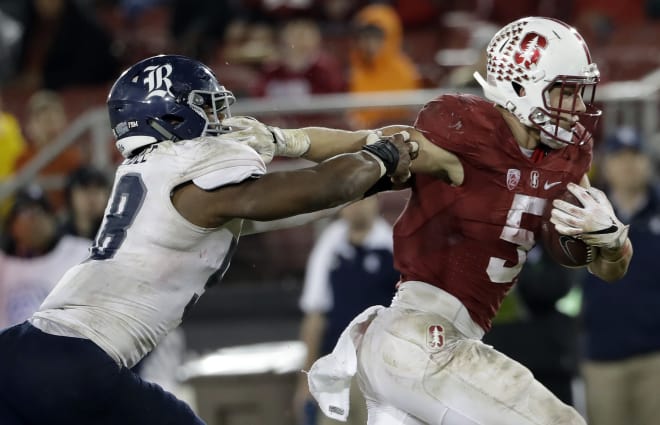 Next up: Bryce Love has patiently waited his turn in Palo Alto and now with McCaffrey moving onto the NFL that time is now. Cardinal fans actually got an early glimpse of Love during the Sun Bowl victory over North Carolina, as he rushed for 119 yards, plus caught a 49-yard touchdown reception, as McCaffrey sat out the game in preparation for the NFL Combine. With Stanford annually churning out NFL caliber offensive linemen, Love will have the opportunity to shine this fall.
Newcomer help: Four-star athlete Connor Wedington, who was once committed to Washington, could very well be the back of the future at Stanford. With impressive receiving skills, he should give the Cardinal offense a multi-dimensional threat coming out of the backfield, similar to what McCaffrey did for the last three seasons. With Love in position to take control of the position in 2017, it's unlikely that Wedington will be pressed into starting service, but because of his versatility he should be able to earn early playing time.
Farrell's take: Love has good speed and is shifty and his receiving skills are key. He'll be playing behind a solid offensive line and as a patient runner who sets up his blocks well, he should have success. He won't reach McCaffrey's level, but he's a terrific replacement and I love Wedington down the line.
Next up: McMillan quickly became one of the steadiest playmakers on the Ohio State defense over the last two seasons, so who will the Buckeyes turn to replace him? The most likely candidate is Chris Worley, who will move from the outside to the inside. Worley has proven his versatility during his time in Columbus, as he started off as a safety and then played outside linebacker, so the move to the middle should be a smooth transition for him. He is coming off of his best season at Ohio State, with 69 tackles and 4.5 tackles for a loss, so will the move to the middle help or hinder his progress?
Newcomer help: Five-star Baron Browning arrives in Columbus surrounded by a lot of hype. While he already has Big Ten size, it is difficult to believe that he will have a major impact as a true freshman. At the same time it would be a surprise if he didn't become a regular rotational player on the defense as he adjusts to the speed of the college game. How quickly he adjusts to that speed will dictate how much playing time he'll receive in 2017.
Farrell's take: McMillan will be tough to replace and leaves a big hole in the defense, but there are able bodies to fill in and the next star is on the horizon in Browning. I could have gone with any of the three secondary losses as well, but the man in the middle of the defense is key.

Next up: With the amount that Peppers did for the Wolverines, this is a difficult one to call. It is more likely that multiple players will try and take over for what Peppers accomplished on the field. Most likely to try and fill the void are Josh Metellus, who played Peppers' defensive spot in the Orange Bowl, and Khaleke Hudson, who saw time as a safety last season. Both are on the smaller side like Peppers though, so if the Wolverines look to go bigger, then Noah Furbush is the most likely candidate. However, when it comes to special teams, that still looks to be completely open as the competition to return punts and kickoffs likely won't be settled until the end of summer practice.
Newcomer help: While a little bigger than Peppers, Jordan Anthony brings the athleticism that the Wolverines may be able to mold in the coming years. He possesses the versatility to play multiple linebacker positions, but with several options already on the table in Ann Arbor, it will be interesting to see how quickly he is actually pushed along. It is unlikely that he will make a huge impact in 2017, but as a five-star recruit, it is also not out of the question.
Farrell's take: Of anyone on this list, replacing Peppers is the toughest because he played so many positions. Down the line I really like Anthony as a blitzing linebacker who can cover like a safety. He could be special.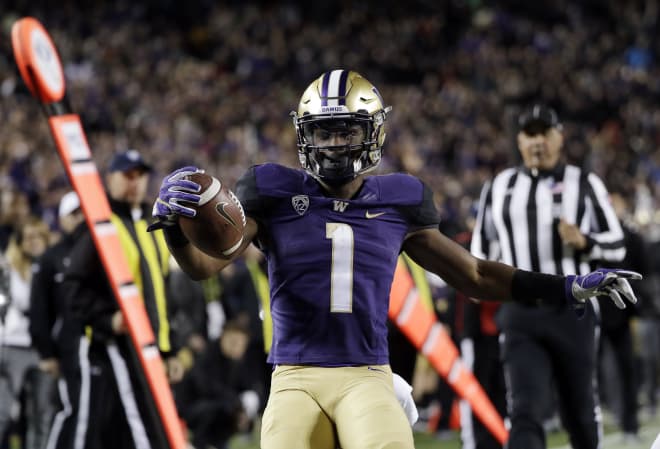 Next up: Ross' huge 2016 season will be extremely hard to replace, but Chico McClatcher has the potential to ease the loss. McClatcher did reel in 31 receptions for 574 yards and five touchdowns last season, so he does bring some experience to the position. While he may be small, he is extremely quick and has proven to be able to run crisp routes. Ross basically came out of nowhere last season, so maybe McClatcher can jump onto the national radar in 2017.
Newcomer help: Bringing more size to the table than McClatcher will be four-star Terrell Bynum. It will help the incoming freshman that he will have Heisman Trophy candidate Jake Browning throwing him the ball, so the transition to the big stage should be made easier for him. The Huskies are also returning Dante Pettis, who is coming off a big season, so Bynum will not be asked to do too much too soon.
Farrell's take: McClatcher doesn't have the speed of Ross but he can be shifty and is a solid route-runner with good hands. Pettis will likely be the go-to guy but watch out for Bynum if he can adjust to the college game, he has a great combination of skills.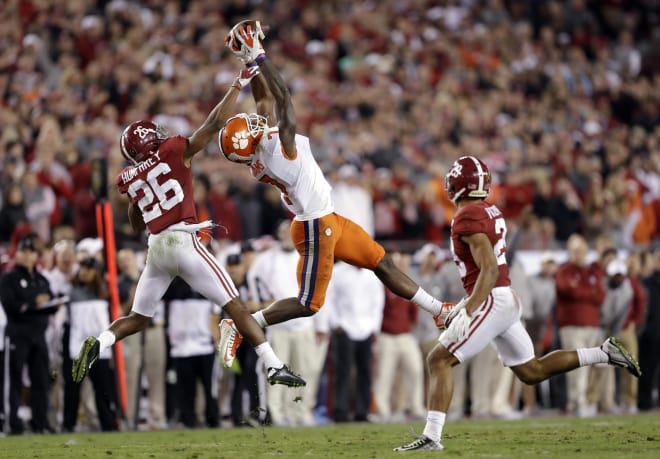 Next up: After catching 34 passes in 2015 and then 38 in 2016, will Deon Cain be the one who steps up his game and becomes Clemson's top receiving threat in 2017? He already possesses the big play ability, as proven by his 19.1 yards per reception average and nine touchdowns last fall, but he needs to become more consistent to truly take the next step. Clemson will need him to step up his game, especially since they will also be developing a new quarterback into their system.
Newcomer help: If Cain is unable to step up his game, it is very possible that incoming freshman Tee Higgins will ease the loss of Williams. The sky is the limit for Higgins, who at 6-foot-4 and 180-pounds, has the size and athleticism that Williams brought to the Tigers offense. While he still needs to improve his strength, the rest of his skillset is already impressive enough to help Clemson immediately.
Farrell's take: Williams is a great receiver but there is plenty of talent at the position to replace him. Cain has shown flashes of brilliance and Higgins reminds me of a young A.J. Green so Clemson's future is bright at receiver.