Rivals 3 Stripe Camp Dallas: Top offensive performers
DALLAS – The lone Texas stop on this year's Rivals Camp Series presented by adidas brought out many of the Lone Star State's top offensive weapons, while several players from neighboring states also made their names known. Here is a look at the top 12 offensive performers from Sunday's event.
RELATED: Live updates from Dallas | Dallas recruiting notes | Dallas awards
Recruiting Wrap: Bowman holds early offers from Arkansas State and Southern Miss. He recently made an unofficial visit to Virginia.
Performance: This was a banner day for Bowman, who overcame a deep group of quarterbacks to take home the position MVP award. Few quarterbacks in the history of the Rivals Camp Series have competed at such a high level throw after throw as Bowman did on Sunday. He was pinpoint accurate throughout the day, even on throws other quarterbacks would not attempt, and was able to throw receivers open despite tight coverage.
Recruiting Wrap: Adams has several offers, most notably BYU, North Texas and Texas State.
Performance: Adams came out of nowhere to bring home the wide receiver MVP award, an impressive feat considering the loaded group of players in attendance at the position. He has great size and his ability to make big-time catches was on full display. He's waiting on his first Power Five offer but clearly has the ability to play at that level.
Recruiting Wrap: Marshall recently listed Colorado, Kansas State and Texas Tech as three schools that will likely receive official visits in the fall. He holds offers from each.
Performance: From beginning to end, Marshall was the most consistent performer out of the offensive line group and that effort earned him position MVP honors. The barrel-chested offensive line prospect showed surprising fleetness of foot, but what was most impressive was his strength. Defensive linemen who let Marshall lock up were done for, but trying to avoid him did not work out well either because he proved difficult to get around.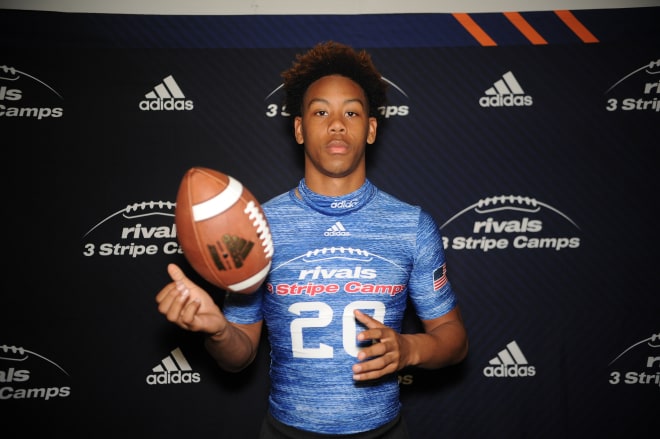 Recruiting Wrap: Wease is committed to Oklahoma.
Performance: Wease is one of the top players in the class of 2019. It was apparent on Sunday that he can go toe-to-toe with the best defensive backs, regardless of class. His footwork was very impressive and he consistently got open while running precise routes. He looks like a future star at the wide receiver position.

Recruiting Wrap: Ndoma-Ogar holds a dozen offers, including Miami, Oklahoma State, Tennessee and Texas Tech.
Performance: It is shocking that Ndoma-Ogar is only a sophomore. Physically there was not a better put-together offensive lineman in the group. And, the sophomore plays with a confidence and a toughness that also belies his age. The only knock was his feet got stuck a few times when defensive linemen made a second move, but if we had one offensive line scholarship offer to hand out at this camp, Ndoma-Ogar likely gets it.
Recruiting Wrap: Robinson is committed to Texas Tech.
Performance: Robinson was one of the shiftiest wide receivers at the event, and he turned in some highlight-worthy plays when facing off in space against opposing defensive backs. He's likely a slot receiver at the next level, but his burst off the line and array of moves makes him an ideal fit for the Red Raiders' offense.

Recruiting Wrap: Bray's offer list is highlighted by in-state Big 12 programs Oklahoma and Oklahoma State.
Performance: Bray battled Marshall and Ndoma-Ogar for top honors at the position throughout Sunday's camp. He measured in at his listed height and weight, and has a frame college offensive line coaches will love. Bray was certainly among the most fundamentally sound prospects in attendance, getting into his stance quickly, getting good extension and showing the ability to reset his hands. Position versatility is another bonus, as he looked capable of lining up at all five spots along the offensive line.
Recruiting Wrap: Wilkerson has committed to Tulsa.
Performance: Wilkerson was both the biggest and the most impressive running back in attendance, and he came away with position MVP honors after Sunday's performance. At 6-foot-2 and 208 pounds he looks more like an H-back physically, but he showed great change of direction and athleticism, making him a tough cover in one-on-ones. Wilkerson also received high praise from the running backs coaches for his work in position drills.
Recruiting Wrap: Henle has offers from Houston, Tulsa and several others.
Performance: Henle was one of a number of standout tight ends Sunday, using his size and length to cause fits for opposing defensive backs. He also was very consistent catching the ball and did a nice job running the types of routes that allowed him to get open. With his size and ability, it wouldn't be a shock to see some other programs enter the mix down the road.
Recruiting Wrap: Leggett is waiting for his first offer.
Performance: Leggett plays off the beaten path so it has taken coaches a little longer than most to recognize him as a prospect. But he continues to shine at big events, and Sunday was no exception. He has great hands and consistently got open regardless of the matchup he faced.
Recruiting Wrap: Ghrimai has an impressive list of offers, including Florida, Alabama, Georgia, Texas and several others.
Performance: After a shaky start dealing with fast edge rushers, Ghrimai settled in and had a pretty nice day. If he can get his hands on a defensive lineman he's adept at locking them up. Having a strong base works very much in his favor in those situations. He's listed at a tackle, but it's easy to see his skillset projecting to guard as well.
Recruiting Wrap: Mayden has narrowed his recruitment down to Louisville, Mississippi State and Tennessee. He plans to decide in May after his spring game.
Performance: The progression from the first time we saw Mayden as a freshman to the player who was on the big stage Sunday is remarkable. A player who two years ago was so rough mechanically and fundamentally has turned that into one of his strengths. Mayden now has a quick, compact release that produces a consistent football and tight spiral. He has always displayed leadership intangibles and now has the game to go with it