Rivals 3 Stripe Camp Dallas: Awards
LANCASTER, TEXAS -- After a choppy start to the Dallas stop of the Rivals 3 Stripe Camp presented by Adidas that included a change of venue and participants traveling through significant weather conditions to compete, a number of prospects proved that the early obstacles weren't about to stop them from showing their stuff. One position MVP joined two others to earn invites to the Rivals Five-Star Challenge presented by adidas, and several others turned in award-worthy performances on Sunday.
RELATED: Rivals Camp Series home | Live updates from Dallas | Dallas recruiting notes
POSITION MVP WINNERS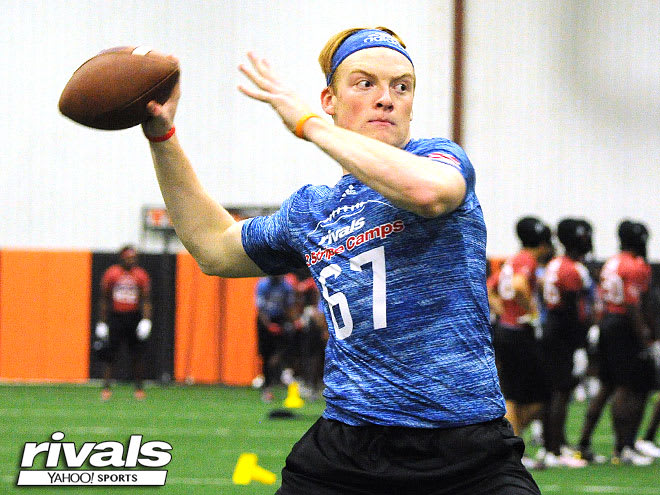 Admittedly, Rivals has been slow to rank Bowman as a prospect, but he's been a known commodity and certainly upped his profile after his performance on Sunday. Bowman was easily the smoothest quarterback at the event and placed his passes perfectly to receivers running a variety of routes and distances. His vision and feel for the pace of his receivers wowed those watching, as he rarely missed a throw against a loaded defensive back group.
With all due respect to Tulsa commits, the Golden Hurricanes don't seem to consistently nab commitments from players that look like Wilkerson as often as it would like. Although he's listed at and worked at running back, he's more than likely destined for a more versatile role than just taking handoffs out of the backfield. Strong and sure-handed, Wilkerson was as impressive in competition as he was aesthetically.
Marshall continued his run this spring of squashing defensive linemen with another dominant showing on Sunday. His powerful build and relentless aggression certainly left some of his opponents feeling sore by the end of the afternoon. Even though he's devastatingly physical, he does a brilliant job setting a base and absorbing contact. His ability to redirect rushers outside, or into the ground, made his reps the most memorable on the day.

In a loaded wide receiver group so it was a little bit of a surprise to see relative sleeper prospect Tre Adams leap up and grab the MVP award. But it was only fitting with the way he was using his size and leaping ability to go up and make big plays during one-on-ones. Adams has yet to receive a Power Five offer, but going against a stacked group of defensive backs he sure looks like a guy who belongs in a major conference at the next level.
In similar fashion to Marshall, Landry is quickly raising his stock with the ferocity that he brings to every single rep he takes. As a defensive tackle, Landry isn't as hefty as most at his position, but he's so fast and good with his hands that he could easily kick outside as a pass-rushing defensive end and be every bit as disruptive. He keeps a flame emoji next to his name on Twitter and brings that same fire to every one-on-one camp matchup.
The book on football camps usually says that they're not designed for linebackers to steal the spotlight, but White did that in a big way on Sunday. He was so good in pass coverage that by the end of the camp he was lining up - and winning - one-on-one reps at cornerback. White wasn't the thickest linebacker on the scene, but was clearly the most comfortable of any at his position matching up with skill players running routes and matching them step-for-step.
DEFENSIVE BACK (AND FIVE-STAR CHALLENGE INVITE)
Defensive back MVP honors went to four-star prospect Jalen Green, who used his physicality to make several impressive plays during one-on-ones. Green, who came to the camp donning a Texas Longhorns backpack, is one of the Longhorns' top targets in the class and it's easy to see why. In addition to his MVP award, Green was also invited to the Five-Star Challenge.
MORE FIVE-STAR CHALLENGE INVITES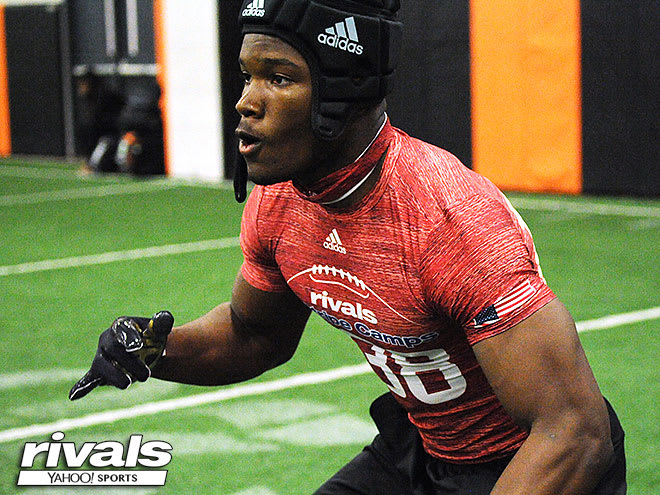 Orji burst onto the scene at last year's Rivals Camp Series event in Dallas but was pretty green when it came to his instincts in pass coverage. This year he showed that he's remedied those issues. His ability to cover has started catching up with his physical prowess and proven ability to stop runners in their tracks. Running backs probably aren't appreciative enough that they didn't have to take a tackle from him during the afternoon.
Class of 2019 wide receiver Theo Wease joined a rare group of underclassmen prospects to pick up a Five-Star Challenge invitation after an impressive performance on Sunday. Wease, who made an early commitment to Oklahoma, comes from Texas powerhouse program Allen High and looks like one of the elite players regardless of position in his class.
MORE AWARDS
Avery was one of the camp invites that showed up a touch late due to weather and jumped right into one-on-one reps against the offensive linemen. He was able to gather himself after a rough couple of reps in his first two attempts and was one of the strongest defensive linemen from that point forward. He's certainly a force of nature off the line and offensive linemen struggled with his size and strength as he clubbed his way through resistance.
Gates was in the conversation all day to be linebacker MVP, but isn't built in the same mold as White and isn't quite as nimble. For a true run-and-hit player, Gates still held his own for the most part in pass coverage and has the speed to make up ground on guys that may have initially ran past him on their routes. He's a stout player for sure, but is a determined defender and was resourceful when it came to finding ways to stay involved in one-on-one reps.
Henry was one of the most unique players at Sunday's event; as a somewhat jumbo linebacker, he has experience as run-stopper, but is big and fast enough to rush off the edge in offensive/defensive line one-on-ones. He also had some better results in pass coverage than in previous events he's competed in as well. Throw in his work against runners in space in those one-on-one reps, and Henry did some solid work on a well-rounded day.
Nash was surprisingly one of the biggest stories of the weekend after his appearance at the Rivals New Speed Combine on Saturday. The diminutive 2020 running back still has some growing to do, but he picked up his first offer from Mississippi State prior to Sunday's performance and was one of the coaches' favorite players at the position. Nash is more widely known as four-star quarterback Jalen Mayden's cousin, but is quickly making a name for himself.
If one position benefited most from moving the camp indoors, it was the quarterbacks. No wind or water made things easier across the board for the passers in attendance, but with the way Rivers was slinging the ball the elements may not have made a difference. Some of his passes were so hard that it wasn't uncommon to see receivers drop them after hitting them square in the hands.