Rivals 3 Stripe Camp Dallas: Recruiting news and notes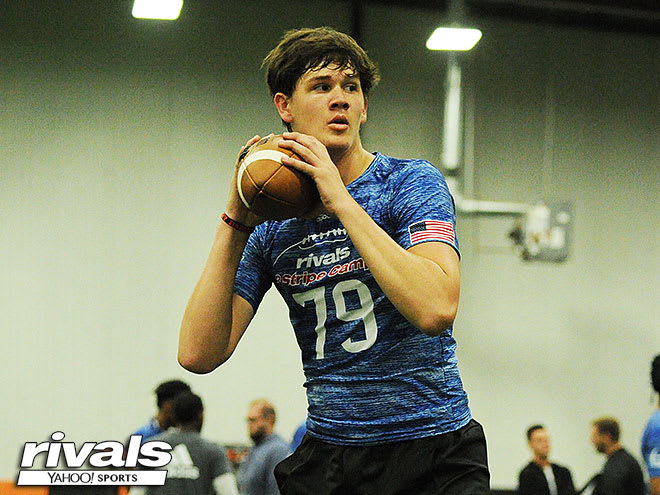 RELATED: Rivals Camp Series home | Live updates from Dallas
LANCASTER, Texas - The Rivals 3 Stripe Camp Series presented by adidas rolled into the Lone Star State on Sunday as some of the top prospects from the state of Texas turned out to compete at Lancaster High School in Dallas. With so many stars in attendance there was plenty of notable recruiting news to report. Here's a roundup of some of the day's notable nuggets.
Class of 2019 four-star quarterback Grant Gunnell has spent the first part of the year collecting offers from some of the nation's top programs and now he's planning on hitting the road to see some of the respective campuses. Next up on his agenda is a visit to Nebraska for the Huskers' spring game. Gunnell said Sunday that he has developed a good relationship with head coach Mike Riley and Riley has laid out a vision for Gunnell to be a part of turning the Cornhuskers into "QBU." The visit could go a long way for helping the Huskers making a move up Gunnell's leaderboard.

Four-star quarterback Jalen Mayden is down to three schools, Louisville, Tennessee and Mississippi State, with a decision expected to come following his spring game in late May. Mayden hasn't been to Louisville since the fall so the Cardinals don't seem like a serious factor, but Mayden just returned from a visit to Mississippi State and raved about Starkville and said he plans to visit Tennessee in the next week or so. Right now it appears that the Bulldogs are the team to beat but the Vols will get one more shot to impress before he announces a decision.


Rivals250 safety Josh Proctor out of Owasso, Okla. does not have a set group of top schools, but listed Alabama, Michigan, Ohio State, Oklahoma and North Carolina as five programs that he is particularly high on right now. He made his most recent college visit to Oklahoma the weekend of March 25 to see a spring practice. North Carolina is the most recent school to offer and he noted that even though they are primarily known as a basketball school, he has always been interested in their football program. Proctor is not in a rush to make a decision and expects to take his recruitment into senior year.
Midwest City, Okla., three-star defensive end Jalen Redmond drove down to Dallas a day early to make an unofficial visit with TCU. "This was my first time being there and it impressed me a lot," Redmond said. The Horned Frogs see him as an edge rusher, as do most schools on his list. Redmond's next visit is planned to Nebraska on April 8. They are among the schools Redmond said he has the strongest interest in, along with the in-state Oklahoma Sooners. His current timetable has a decision coming near Christmas.
Oklahoma City (Okla.) Millwood wide receiver Demariyon Houston was named to the first Rivals100 for the 2019 class last week despite not holding any offers. That first offer came through from Ole Miss on Friday, however, during a conversation with wide receivers coach, Jacob Peeler. Houston was at a track meet when the offer came through and said he is still processing it, but the Rebels told him not to forget which school was first to offer. In his brief research on Ole Miss, Houston noted they run an offense similar to his high school offense. Other schools showing strong interest early include Auburn, North Carolina, Oklahoma, Oklahoma State and SMU.

Three-star wide receiver Jalen Knox said Missouri continues to make him feel like a priority target and he's repaying the Tigers affection with a visit to Columbia in a few weeks. Knox said he will be attending Missouri's spring game and is looking forward to seeing the team up close and personal. According to Knox, the Tigers are pitching an x-factor type role in the offense, something that appeals to him. It will be interesting to see if the Tigers move to the top of his list after getting a chance to woo him and his family in person later this month.
Four-star defensive back Jalen Green was at TCU this weekend for a campus visit and a look at one of the Honed Frogs' practices. After sitting in to watch film with the coaching staff, he said that his visit was a good one and that he plans on being back again this offseason. Green was in Fort Worth with several teammates from his 7-on-7 team and had a good feeling following a visit. "It was just a good environment," he said. "It was really good spending time with the players."

Rivals250 linebacker Chad Bailey said that a visit to Ole Miss last month went well and that the Rebels feel as though they still have the inside track in his recruitment. Bailey is still waiting for some more high-level FBS offers to come through by the end of this spring, but he thinks an upcoming trip to LSU could lead to one soon. "Coach (Dave) Aranda told me they don't have too many linebackers on the roster and next year they're not going to have very many at all," he said. "So I'm hoping they're going to offer me."
Three-star defensive back Jeremiah Lewis is prepping for upcoming visits to Boston College and Northwestern after picking up offers from them at the end of last month. Lewis has former teammates that have been recruited by the Wildcats in the past, but a visit to the northeast to see BC would be his first. He's planning on committing between the end of this moth and before the end of his spring football season.