Rivals 3 Stripe Camp Dallas: Top defensive performers
Despite a hulking group of offensive linemen and a sharp-throwing bunch of quarterbacks, defensive players still found a way to make an impact at the Dallas Rivals 3 Stripe Camp presented by adidas. Out of a strong group of standout players, here are 12 that were the best of the best.
RELATED: Top offensive performers | Dallas recruiting notes | Dallas awards
Recruiting Wrap: White has visited many of the schools that have offered, most recently traveling to Texas A&M. He has a spring game visit planned to Texas for later this month.
Performance: The linebacker group had a hotly contested battle for position MVP honors, and it was White who emerged as the alpha dog after dominating in the one-on-one session. That wasn't only against running backs and tight ends but also in coverage on wide receivers when he flashed out and played some cornerback. White is really put together for a linebacker and has great athleticism and ball skills for the position.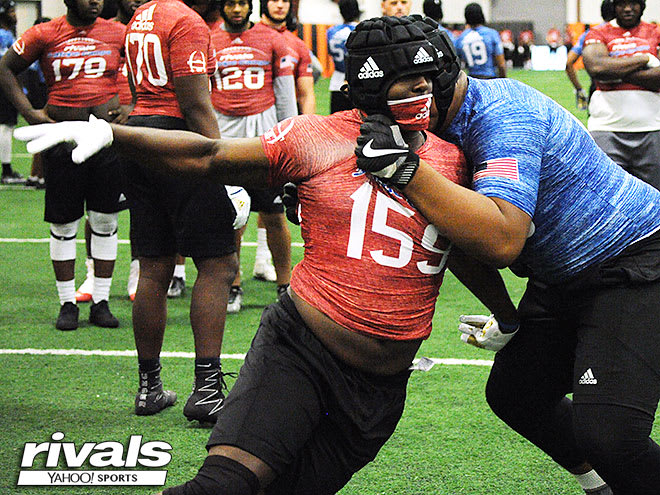 Recruiting Wrap: Landry holds double-digit offers, with his most recent coming from Kansas State.
Performance: Measuring in at 6-foot-3 and 247 pounds, Landry has the ideal frame and game for that strongside, or five-technique, defensive end position. Possessing the strength to battle with offensive linemen at the point of attack and the speed and technique to get by them, Landry proved a very difficult matchup for even the best offensive linemen at Sunday's camp and walked away with position MVP honors.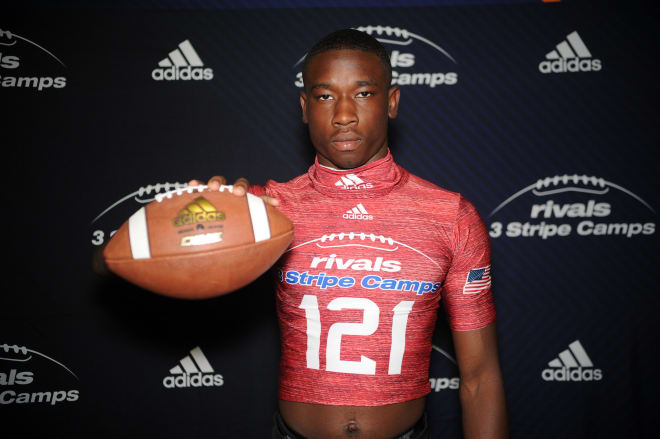 Recruiting Wrap: Green holds nearly 30 offers and made a recent visit to TCU prior to Sunday's camp.

Performance: Green is a long, rangy defensive back that could slide in as a safety in addition to being a top corner. He won not only the defensive back MVP award at the camp, but a trip to this summer's Rivals Five-Star Challenge presented by adidas with his pure cover skills in the WR/DB one-on-ones. Few corners have the natural anticipation that Green does for knowing when a pass is coming his way and to make a play on the ball.
Recruiting Wrap: Orji recently made unofficial visits to Georgia and LSU and is well over double-digit offers.
Performance: Orji played his way into the Rivals Five-Star Challenge presented by adidas on Sunday after a very well-rounded performance. As a linebacker that makes his hay tracking down players out of the backfield, he showed poise and agility in pass coverage that wasn't quite where it needed to be at this same event one year ago. He was nearly a late addition to the Rivals Five-Star Challenge last year as well, but punched his ticket the old-fashioned way this year.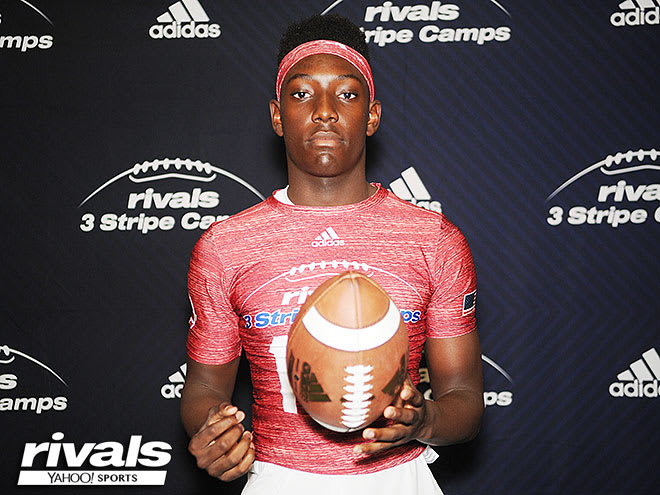 Recruiting Wrap: Earlier this spring McKinley announced a list of nine schools he's seriously considering going forward in his recruitment.
Performance: The book on McKinley is that he's not the biggest cornerback on the scene, but he's never shied away from playing with some physicality. Against a cast of big receivers, McKinley often took the upper hand in one-on-one reps with big jams at the line. Even on a day where quarterbacks across the board were throwing pretty accurately, McKinley was able to make several deflections as well.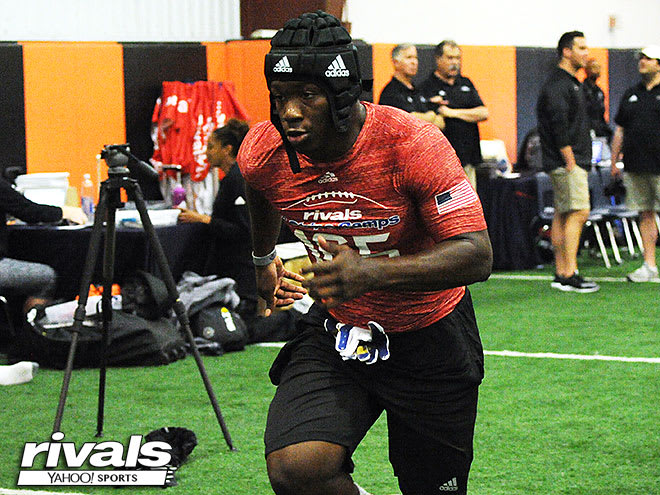 Recruiting Wrap: Ole Miss may have the inside track after Bailey had a good visit to Oxford last month. He plans to see LSU next.
Performance: A solidly-built inside linebacker prospect, Bailey's game is not best appreciated in a camp setting. That being said, he ends up on this list, so the four-star obviously still was among the best at his position. Although his game is primarily filling gaps and playing downhill, he showed the ability to play in space and made sure every potential receiver who came near him knew he was there.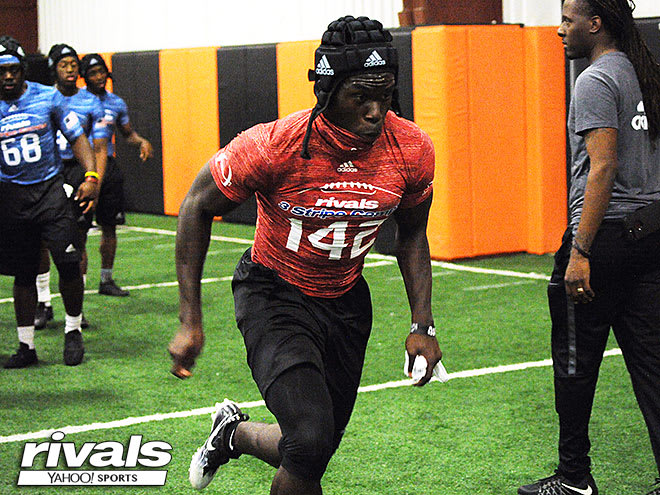 Recruiting Wrap: Vongor recently committed to TCU.
Performance: Vongor has always been a thick defensive back, but with the addition of open-field tackle simulation one-on-one reps in this year's camp events he was really in his element. As a bigger safety, one-on-one reps in coverage aren't the most favorable situation for him, but at this point he's grown into a capable pass defender and held his own in those matchups as well.
Recruiting Wrap: Redmond has 13 offers and has been most actively involved with Nebraska and Oklahoma. He took a visit to TCU ahead of Sunday's camp.
Performance: Redmond got off to a fast start in the camp with his reps against offensive linemen. He was a successful speed rusher off the edge, but is thick and was able to win battles with his strength as well. The offensive line group had some girthy bodies with which to contend, and Redmond was crafty enough to figure out ways to get the best of most of them throughout the afternoon.
Recruiting Wrap: Gates still awaits his first scholarship offer. He made a winter unofficial visit to Oklahoma State.
Performance: After the first half of the day the linebacker coaches were calling Gates the alpha dog of the group; it was only a remarkable one-on-one session from White that kept him from the position MVP honors. Gates is built like a brick house and appears well-suited for the position from a size standpoint. He played a little stiff in space, but ended his day with an excellent interception when he undercut the receiver.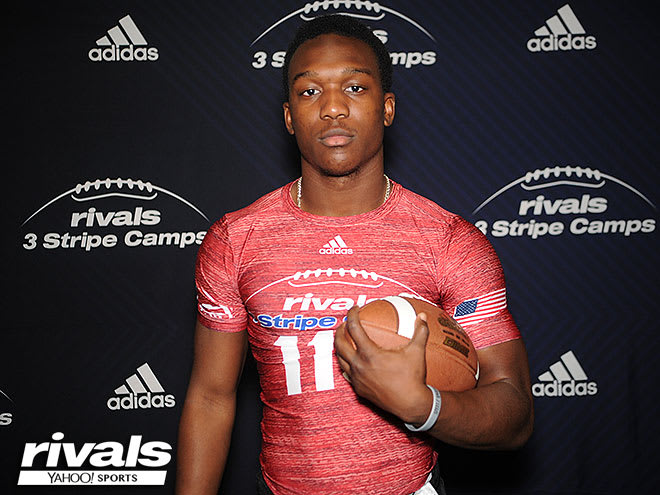 Recruiting Wrap: Cardwell has a handful of offers from including Duke, North Texas, SMU and others.
Performance: Cardwell was sharp in coverage, not only keeping pace with receivers step-for-step, but not getting shook on hitches or jukes. Cardwell was exceptionally strong in anticipating when the pass was coming and breaking back to it to make deflections and win reps. Where other corners were taking advantage of the tighter space available to press and jam indoors, Cardwell just did a nice job running with guys.
Recruiting Wrap: Tatum has not made any visits recently, but is feeling good about his current relationships with Georgia, TCU, Oklahoma and Texas. He expects to attend spring games at Oklahoma and Texas.
Performance: Tatum gave Landry a tough run for the Defensive Line MVP honors, and maybe was hurt by having such easy wins on several reps and not getting a chance to show off his full complement of tools. At 6-foot-5 and 258 pounds, Tatum has great length for the defensive end position, but what stood out Sunday was his speed. Offensive tackles just were not quick enough to kick out and stop him from getting to the quarterback.
Recruiting Wrap: Osagiede holds a half dozen offers from FCS and Group of Five schools, with his most recent addition coming from Texas State.
Performance: At just 6-feet tall, Osagiede has had to overcome concerns about his height, but when it comes down to it the three-star can flat out play ball. He uses his low center of gravity to get underneath taller offensive tackles and work leverage from that position. What really caught our attention, though, was his ultra-quick first step and how fast his hands move, both of which allow him to get to the quarterback efficiently.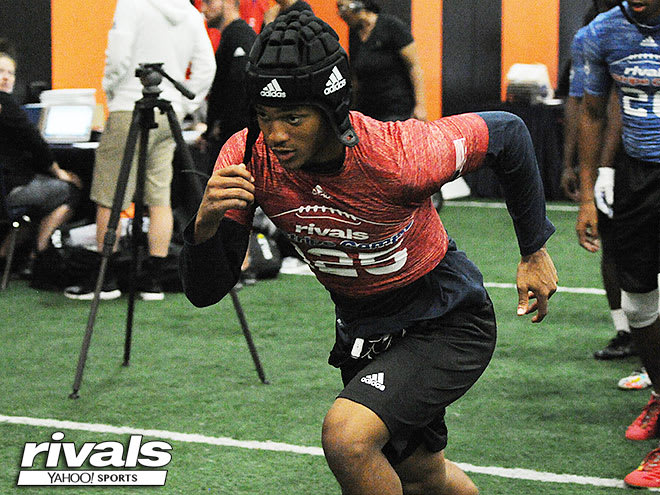 Recruiting Wrap: Mayfield currently has five offers, headlined by Minnesota and Texas Tech.
Performance: While many of the quarterbacks did a solid job of hitting their targets, Mayfield was a thorn in their collective sides with the number of pass breakups he created throughout the afternoon. Mayfield was one of the bigger defensive backs, physically, but that was advantageous against the talented wide receiver group, and he was a common name discussed among all Rivals staff.