Recruiting Rumor Mill: Prospects planning spring visits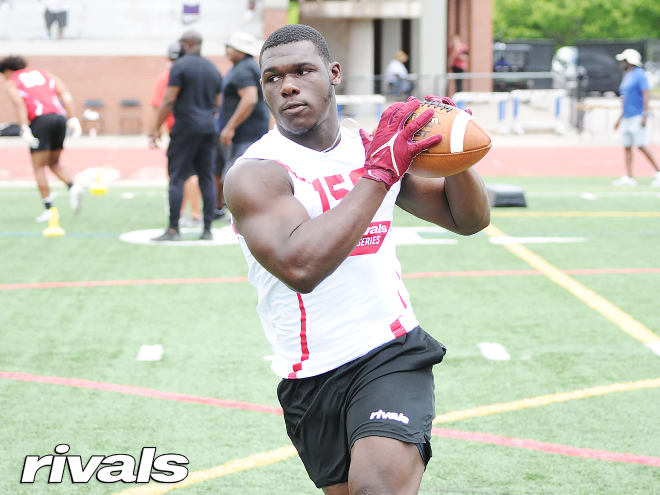 Plans are being made for visits coming up after the dead period and top lists are being formulated as there's no quiet time in recruiting. Here's the latest on what we're hearing in this week's Recruiting Rumor Mill:
Earlier this month, Adams put out a top four of Penn State, Pitt, West Virginia and Virginia Tech but almost that quickly things have changed. After an Alabama offer, the word is that the four-star receiver from Virginia Beach (Va.) Green Run wants to revisit his top programs because there could be other schools he needs to investigate moving forward. The Crimson Tide will be one of those teams.
*****  
Clark has been one of the hottest prospects on the recruiting trail over the last few weeks and now boasts over 20 offers with visits being figured out for March. There are some big ones coming as the Phoenix (Ariz.) Mountain Pointe four-star all-purpose back will see USC, Georgia, Alabama and Texas in the coming weeks.
*****  
It might be a little early for favorites as the four-star athlete has not taken any visits yet but that should change in the coming weeks. The Pine Bluff, Ark., receiver who had 438 receiving yards and eight touchdowns this past season will see Auburn, LSU and Oklahoma in March and that could help shape his thinking even more.
*****  
A new offer from LSU is "definitely one to look at and keep a connection with," but so many programs have tried to flip Davis without any luck yet. The Albany (Ga.) Dougherty four-star running back has been committed to the Seminoles since February 2021 and it seems to only get stronger as more teams try to come in. A massive list of schools want him to visit this offseason with Florida State, Georgia, Georgia Tech, Arkansas, LSU, Ohio State, Ole Miss, Tennessee, Miami, Colorado and Notre Dame among them.
"There's a lot more," Davis said.
*****  
A new offer from LSU does make things interesting especially if that relationship continues to blossom but as of the last few days it has been Miami, Georgia, Cincinnati, Arkansas and Georgia Tech as the top teams for the three-star defensive tackle from Greer (S.C.) Riverside. Relationships are going to be big with Downs and he's talked often with those coaching staffs.
*****  
A new offer from Alabama definitely puts the Crimson Tide among Flowers' top programs with USC, Oregon, Texas Tech and Michigan State so far as the four-star safety from Forney, Texas as he looks for visits coming up next month. With more than 20 offers, Flowers will see the Red Raiders in early March and then head to Oregon and USC by the end of the month.
*****  
Now with more than a dozen offers, it's actually the newest ones that are particularly standing out to the three-star defensive end from Rogers, Minn. New offers from Oregon, Miami and Oklahoma particularly have Gilmore's attention as he plans to visit those three programs along with Minnesota, Purdue, Kansas State, Kansas, Missouri and Iowa this offseason.
*****  
A new offer from Alabama is definitely big for the four-star quarterback and when he visits there in early March he's looking for a family environment and to have talks with new offensive coordinator Tommy Rees about being his guy for the 2025 recruiting class. That could move the Crimson Tide way up but Ole Miss has been the program in the most contact and a visit to Oxford in late March is also big. The Warner Robins (Ga.) Houston County standout also has family connections to Georgia so the Bulldogs will be there until the end as well.
*****  
The chatter is that it would now be a total surprise if Jones does not end up at Georgia as the four-star athlete from Swainsboro, Ga., is planning two more visits to Athens in the coming months. One is coming the first weekend of March and then an official visit with the Bulldogs will happen in early June before a trip to Alabama the following weekend. The Crimson Tide or another SEC program could surprise but Georgia feels like the big favorite.
*****  
Nebraska, Oklahoma, LSU, Arkansas, Texas A&M and Houston made the top six for the four-star receiver from Missouri City (Texas) Hightower with Baylor and Colorado as two other programs to watch. The rumor is that the Aggies look best in his recruitment right now and could be tough to beat with Oklahoma and Arkansas very much in the running but the plan is to visit Houston, LSU, Oklahoma, Nebraska, Baylor and Arkansas soon.
*****  
The three-star safety from Richmond (Va.) Trinity Episcopal has 25 offers so there's still a long way to go in terms of making a decision but so far Minnesota, Duke, Virginia, Stanford, Virginia Tech and North Carolina are standing out most. Once Rainer can get back on the road it will be super important for Rainer to figure things out further as he'll see West Virginia (March 4), Virginia Tech and Virginia at the end of March along with Minnesota and then North Carolina and Stanford in early April.
*****  
A big round of visits is coming up for the four-star defensive end from Tucson (Ariz.) Salpointe as Rushing will see Miami, Texas, Tennessee and Arizona by mid-April and then a decision could be coming soon. It's also an interesting development that his brother, Cruz, has transferred from Florida to Arizona which means the Wildcats could be a real possibility to land the local standout.
"I will know by end of spring," Rushing said.
*****  
Virginia Tech and some SEC programs were believed to be early front-runners for Soles but in recent days Alabama came through with an offer and now everything might have changed. When the three-star defensive end from Powell, Tenn., landed the offer he couldn't control his emotions and was jumping up and down with his teammate. Developing a relationship with Alabama coach Nick Saban will be the next step.
*****  
With close to 30 offers, a top 15 is expected sometime next month which would be a significant cut to Thomas' list and the word is some teams are already looking pretty strong. A new offer from Oregon has moved the Ducks up "a lot more" and then Georgia, Tennessee and Texas A&M should be three others to watch early on.
*****  
Even with more than 25 offers, Waller's newest one from Michigan is a huge one and could play a massive role in his recruitment moving forward. The 2025 standout from Hesperia (Calif.) Sultana has dreamed about playing for the Wolverines since he was eight years old and so that offer is definitely big. Oklahoma, Penn State, Georgia, Texas A&M, Oregon and Ole Miss have also made a big impression.
*****  
The 2024 defensive end from Hudson, Fla., has seen his recruitment get much busier in recent weeks but already a few programs are starting to stand out. UCF, Florida State and Cincinnati would be the top schools for Williams at this point with trips to South Florida, UCF and FSU coming up after the dead period.
*****
Williams now sits with nearly 40 offers and is one of the hottest recruits in Florida. That's still a massive list that will need to get cut down but his visits in March and April are telling as to which schools appeal to him as Williams should be going to Texas A&M and North Carolina next month and then head to Oregon in April.