Recruiting Rumor Mill: Plenty of chatter from across the country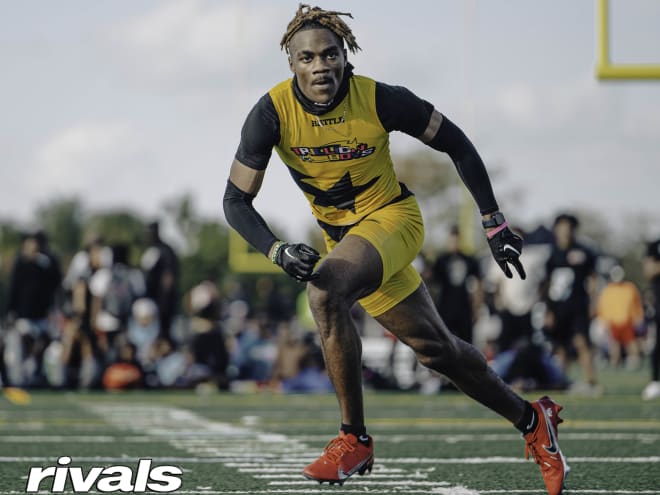 Whether it was visits across the country or an absolutely loaded OT7 regional event in Phoenix, there are a lot of rumors and nuggets of news coming out this week. Here is the latest in this week's Recruiting Rumor Mill.
Auburn could be making a real run at Bolden but it will still take time to decipher whether his comments are a post-visit high or have real traction in his recruitment. The high four-star athlete from Buford, Ga., was on The Plains Friday and he spent time with coach Hugh Freeze and the staff, players on the team, walked campus to see what it was like when classes were in session and got an entire feel for the college town - and he loved it. Georgia, Clemson, Alabama, Ohio State and others are also in this but Auburn has moved way up.
"Auburn has something special brewing," Bolden said.
*****
Florida State, LSU and Penn State are three programs that are sticking around heavily with the high three-star receiver from Phenix City (Ala.) Central and a big visit to Auburn is coming up this weekend. Coleman has been to The Plains numerous times but not with the new coaching staff in place yet and he wants to see their vision for throwing the ball as the Tigers are definitely considered one of the frontrunners. Recent visits to both Tallahassee and Baton Rouge went really well though as Coleman is not yet ready to name clear favorites.
*****  
After visiting Florida State for Legacy weekend, the 2025 high four-star receiver from Ackerman (Miss.) Choctaw County is telling people he likes the Seminoles a whole lot in his recruitment right now. A commitment is probably not imminent since he still has so much time and Cunningham also likes Alabama, Florida, Ole Miss and Mississippi State a lot but the Seminoles have set the bar very high.
*****  
Tennessee is making a serious and concerted push to flip the 2025 four-star defensive back from Ohio State and the word is that the Vols' pitch is influencing Gilbert's recruitment at this point. Committed to Ohio State since the summer, Tennessee defensive coordinator Tim Banks is the point man in this recruitment and the Atlanta (Ga.) Douglass standout is listening as Georgia is also getting more involved.
*****  
A lot of people think Georgia is a near lock to land the 2025 four-star quarterback from Warner Robins (Ga.) Houston County but word is that might not be the case as Ole Miss, Alabama, Ohio State, Penn State, Tennessee and Florida seem to have the edge right now. A recent visit to Tuscaloosa definitely caught his attention especially after starting to build a relationship with new offensive coordinator Tommy Rees.
*****  
LSU was already a key player in Hibbler's recruitment and after a recent visit to Baton Rouge, the Tigers have only moved higher. The Lexington (Miss.) Holmes County four-star defensive tackle loved how much attention he received from the LSU coaching staff and he especially appreciated how they treated his family and made them feel like part of the community already. LSU and Mississippi State look very strong here with Auburn, Texas and others involved, too.
*****  
There are more visits to be taken and a lot more schools could get involved as House takes a bigger role in the linebacking corps at Bellflower (Calif.) St. John Bosco but right now Tennessee has the edge in his recruitment. A visit to Oklahoma coming up could change things up and Washington and other Pac-12 programs have been poking around but the Volunteers have left the biggest impression and he plans to be in Knoxville for their spring game.
*****  
The 2025 four-star outside linebacker had already been acquainted with Oklahoma defensive coordinator/linebackers coach Ted Roof from a previous camp but an extended phone conversation in recent days - and an offer from the Sooners - has definitely piqued Jones' interest even more in the Big 12 power. Jones also loves coach Brent Venables' energy and it could be another factor as Oklahoma, Nebraska, Wisconsin, Notre Dame and USC are the schools most in the running right now.
*****  
Baylor, Oklahoma and TCU have made the biggest impression on the Missouri City (Texas) Marshall wide receiver and a recent return trip to Waco definitely left another big impression on Lair and his relationship with the Bears. A recent visit to LSU went well but the Tigers haven't offered yet so while the message was that "LSU is home" Lair is more focused on others until maybe an offer comes.
*****  
Tennessee made a huge impression on the high three-star running back from Salem, Va., during a recent visit where he felt like family, loved the coaches and how genuine they were and the culture of the school and the program. The Vols are making a significant run at him now with South Carolina, Penn State, Nebraska and Rutgers also on that top list.
"Even though it was my first visit to Tennessee it was definitely one to remember," Lewis said.
*****  
A family legacy to Vanderbilt where his grandfather coached, the Commodores are definitely a school to watch for the 2025 four-star quarterback from Brentwood (Tenn.) Brentwood Academy but now there's a new serious contender in the mix. MacIntyre loved his recent visit to Clemson, felt a "true family feel" there and he felt it rang true when the coaches told him there's nothing he cannot do at Clemson. Still, visits to LSU, Alabama, Notre Dame, Michigan and Tennessee are coming up.
*****  
An early commitment to Arkansas, Russell backed off that pledge in October as the Razorbacks remain a serious contender for the four-star running back from Benton, Ark. But the word is that Tennessee is major a significant move in Russell's recruitment and is now clearly one of the top schools along with Arkansas, South Carolina, Baylor and Texas A&M.
*****  
This could end up as a battle between Alabama and Georgia for the 2025 four-star offensive tackle from Evans, Ga., but Florida could be entering that fray after a recent visit to Gainesville. Short loved the educational support facilities there, he appreciated how "unbelievably welcoming" the staff was to his family and he got to watch QB Anthony Richardson's 40-yard dash at his pro day with coach Billy Napier. That moment especially stood out.
"I'll definitely be back," Short said.
*****  
An LSU commit since July, Stone remains pledged to the Tigers but other visits are coming before the Fairburn (Ga.) Langston Hughes four-star decides to shut things down. Over the next few weeks, Stone will see Texas, Oklahoma, USC and Alabama and the Sooners are making an aggressive push to flip him. But will it work?
"I love LSU," Stone said. "LSU, LSU, LSU. I love LSU."
*****  
Florida State has emerged as the front-runner for the 2025 four-star athlete from Folkston (Ga.) Charlton County as the Seminoles have become the top school after he visited for Legacy Weekend. The Noles now have the edge as the 6-foot-8, 230-pound standout who probably ends up as an edge rusher loved his time in Tallahassee but there's no doubt Georgia will not go down without a fight along with Tennessee and other SEC programs.