RCS Philadelphia: How Rivals camp, other events will impact rankings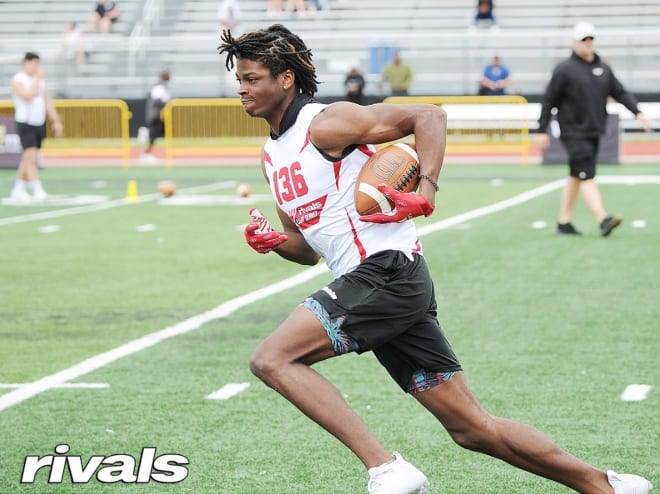 Three-star receivers prove to be underrated.
The MVP award for the receivers on Sunday came down to Demitrius Bell and Yazeed Haynes, both three-star prospects and both significantly underrated.
Haynes, who edged out Bell for the award, is a Rutgers commit and the Scarlet Knights should be really excited to already have him on board. Measuring in at 6-foot-1 with a 6-foot-4 wingspan, Haynes is a versatile receiver that can play on the outside or the inside. The Pennsylvania native had the straight-line speed to pull away from nearly every cornerback when they were in the open field. Haynes also showed off really impressive short-area quickness, something that we weren't expecting to see from him coming into the event. That footwork and overall suddenness takes his game to a different level and it was very hard for any cornerback to keep him in check. Those long arms and reliable hands should make him a top target once he gets to the Power Five level.
Bell looked like one of those receivers that you couldn't tackle in a phone booth. He will likely play in the slot at the next level but he has the size and strength to be able to compete with some of the bigger cornerbacks and safeties he'll come across. Bell plays with an aggressive style and is able to fight off physical defenders. The best part about his game is his overall quickness. The fancy footwork he shows off to break press coverage and get into the open field wowed many who were in attendance. Creating separation was no issue for Bell and he should be one of the top receiver targets for Power Five programs across the country.
*****
Samson Okunlola was a man on a mission.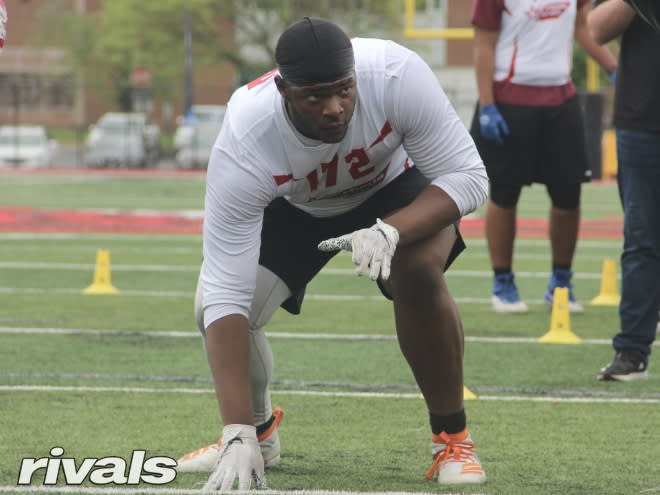 Okunlola arrived at the camp on Sunday in Philadelphia with a mission in mind and he succeeded on all fronts. The 6-foot-5, 315-pound tackle from Massachusetts was about as impressive as an offensive lineman can be in the camp setting. Physically, Okunlola doesn't carry much bad weight, and he looks like an elite athlete at the position. He has the flexibility to be able to consistently play with the proper pad level, too.
As one of the top wrestlers in his weight class, Okunlola has a great understanding of leverage and how to use every ounce of his strength. That immense playing strength was evident during one-on-ones, specifically on one rep when everyone could hear the pop when Okunlola shot his hands into the defensive lineman's chest and took him off his feet. His lateral agility is also special for a player his size and it's what keeps defensive linemen out of the backfield when they try a countermove.
It's hard to envision a world where Oklahoma isn't at least in the top five at the at his position group when the rankings are updated early next month. Sitting at No. 6 in the offensive tackle rankings and No. 64 in the Rivals250, Okunlola is poised for a substantial move up the rankings.
*****
East Coast 2024 defensive backs stand tall.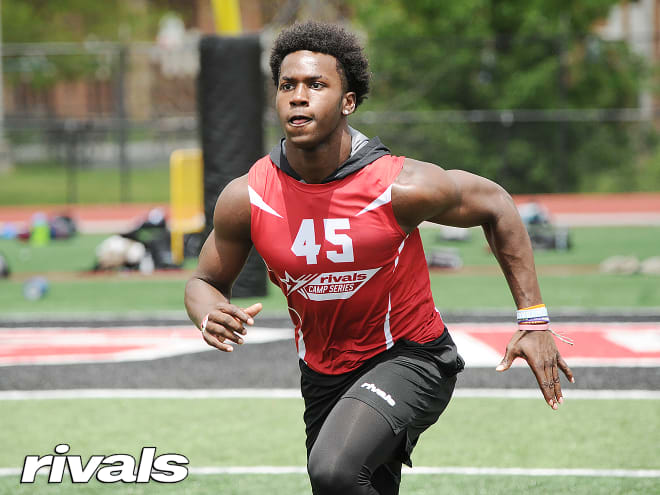 The position group that was by far the deepest on Sunday: the defensive backs. Collin Gill, Saboor Karriem, KP Price and Tawfiq Byard led the way for the 2023 defensive backs. All are currently rated as low three-star prospects and will likely end up as safeties at the next level.
The 2024 defensive backs stole the show from the 2023s. Rivals250 prospect Omillo Agard won the MVP, but it could have easily gone to fellow Rivals250 prospect Boo Carter, three-star Kenneth Woseley or Rivals250 prospect Braydon Lee. Agard hasn't shown much physical development since the end of the season but he is as quick as ever, has crisp footwork and has impressive instincts. Carter flew in from Tennessee and the trip was definitely worth it. He was dominant at times on Sunday and let up very few catches, which can also be said of Woseley and Lee. Woseley was on point on Sunday, using his combination of speed and physical style to keep the ball out of his receivers' hands. Lee has the natural gifts of height and length and his overall speed and quickness haven't let him down, either. Expectations were high for him coming into the event and he certainly met them.
Defensive backs Jaylen McClain and Cam Richardson had their moments as well. The 2024 prospects out of northern New Jersey made a number of plays on the ball and did a good job disrupting the timing between the quarterbacks and receivers.
*****
Scouting notes on the New England headliners.
Twelve schools in Connecticut and Massachusetts - home to a large portion of New England's major prospects - worked together to put together a schedule of "Show Days" so college coaches could conveniently see workouts at each of the schools on Monday and Tuesday. Coaches from more than 40 different schools were spotted over the two days, including coaches from more than 10 Power Five programs. Rivals.com was also on hand to see how many of the top prospects in the area have been progressing.
Getting a chance to see 2023 offensive lineman Miles Walker was one of the main attractions on this trip, and he didn't disappoint. Already rated a high three-star prospect, Walker will likely be on the rise in the next rankings update. He showed excellent athleticism for his size and the quickness and aggressiveness college coaches are looking for. Getting to see him in person really helped underscore the type of athlete that he is. Walker did an excellent job moving through the agility drills and working in his pass sets. Walker has the versatility to play either the tackle or guard spot and that should make him a more attractive prospect for college coaches.
After looking underrated at his workout on Monday, Penn State, Indiana, Texas A&M, and Iowa confirmed that belief by extending offers to Walker on Wednesday.
One of the other big stops on day one was The Loomis Chaffee School, home to multiple four-star prospects in the 2023 and 2024 classes. Olaus Alinen, a 2023 Rivals250 offensive lineman, did not work out and neither did 2024 four-star Jerod Smith. Four-stars Dante Reno and Jacob Smith did get some work in between rain showers. Smith looks even bigger and more agile than we had seen before, and when he was going through the bag drills he showed off more of the aggressive style that we've come to expect from him. Reno was working in less-than-optimal conditions, but he seemed to handle it fine. He'll be one to keep an eye on throughout the summer.
Ryan Puglisi, a 2024 quarterback that was at Groton (Mass.) Lawrence Academy last year, has made major strides since last year. He's a couple inches taller and added significant muscle mass. The gusts of wind during his workout were so strong they would have taken Josh Allen's passes for a ride. That being said, Puglisi was largely on point during the session and showed signs of serious improvement.
Day two of the "Show Days" featured another workout from Okunlola at his school. Double-digit Power Five schools were in attendance to get a close look at him, but it was a very light workout.
Penn State four-star tight end commit Andrew Rappleyea did a very good job during his workout. He ran crisp routes and showed more explosiveness than expected. Rappleyea has clearly been working on his short-area quickness and it has definitely helped his route-running abilities. He ended the day with a very impressive one-handed catch down the sideline.
While they weren't officially part of the "Show Days," dozens of college coaches stopped by Catholic Memorial to see most of their players work out. Notre Dame four-star defensive line commit Boubacar Traore looked like he was in great shape and moved well during the conditioning drills.
Oluwakoleade Osinubi and Boston College receiver commit Jaedn Skeete played well at the Rivals Camp on Sunday and also didn't disappoint during the workout at their school.
Highly touted 2024 offensive lineman Guerby Lambert definitely has the skill set to be considered one of the top 15 offensive tackles in the 2024 class. He's a legitimate 6-foot-7 and carries his 300-pound frame well. Lambert doesn't have trouble bending to get into his pass set and seems to have the quickness to keep defensive ends from getting around the edge.
There will be plenty more scouting news and notes about other high-end and emerging prospects from New England in the coming days.