Post NFL-Combine stock report: TE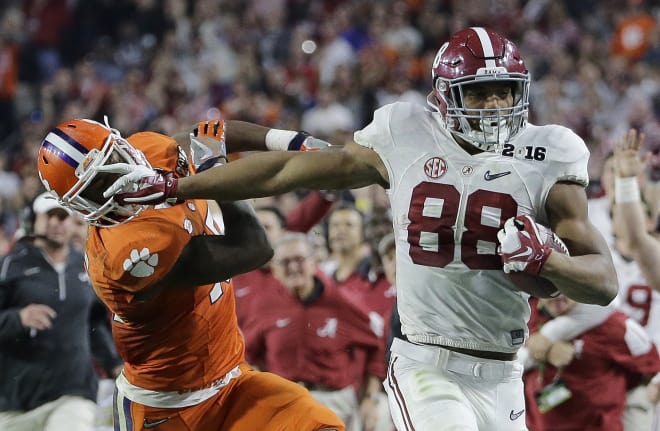 The NFL Scouting Combine is finished and it's time again to look at each position for the upcoming NFL Draft. Today, we move to tight ends with the top five and then two others to watch.
POST-COMBINE STOCK REPORT: QB | RB | WR
TOP FIVE
Recruiting: The top-ranked tight end in the 2013 class and a five-star prospect, Howard committed to Alabama before his junior season over Auburn, Florida State and others.
Stats: Howard finished the 2016 season with 45 receptions for 595 yards and three touchdowns. He led the Crimson Tide in their national championship loss to Clemson with four catches for 106 yards and one score. Howard did 22 bench reps at the combine and ran the 40-yard dash in 4.51 seconds, the same time as LSU running back Leonard Fournette.
Stock report: Steady
Farrell's take: Howard is the most athletic player I have ever scouted at the position. Simply put, Howard is a freak of nature and he proved that at the combine. Considered by many to be the safest pick in the first round, he could go as high as top five. One underrated part about Howard's game? His hands, he rarely drops anything. Howard also proved to be a better blocker than I expected.
Recruiting: Njoku picked Miami over Ohio State, Boston College, Temple and others after decommitting from Rutgers. He grew up a fan of the Hurricanes.
Stats: This past season Njoku finished with 48 receptions for 698 yards and eight touchdowns. In the 2015 season, Njoku only had one touchdown catch.
Stock report: Steady
Farrell's take: Njoku was a freaky athlete who was very raw coming out of high school. In fact, back then he was better known for his ability on the track than he was as a football player. Njoku didn't kill the combine as many expected but he certainly tested well and remains in the mix for being the second tight end off the board.
Recruiting: Engram committed to Ole Miss over Wake Forest, Marshall and a bunch of low-level FBS offers. UCLA was also showing interest before Engram picked the Rebels in the summer before his senior season.
Stats: Engram led the Rebels with 65 receptions for 926 yards and eight touchdowns. He ran a 4.42 40-yard dash at the combine and that could quickly move him up draft boards.
Stock report: Up
Farrell's take: Okay, I'm sold now. I wasn't sold on Engram out of high school because he was essentially a wide receiver projecting to tight end. Despite his production, I felt that would hinder his NFL evaluation. But he was amazing at the combine and could play outside or flex in the NFL. He's a first-rounder now.

Recruiting: Ranked as a four-star quarterback in the 2013 class, Hodges picked Virginia Tech over offers from Ohio State, West Virginia, Illinois, Maryland and others.
Stats: Hodges had 48 catches for 691 yards and he tied a team-high with seven receiving touchdowns in 2016. He had the top vertical jump for 2017 tight ends and set the tight end combine record in the broad jump at 11 feet, two inches.
Stock report: Steady
Farrell's take: Hodges has blossomed into a huge tight end. He is hard to handle because he's so big and sneaky-fast downfield. Hodges can stretch the field and also do damage over the middle. He tested well but the big question is whether he can play as an inline tight end because he wasn't asked to do that at Virginia Tech.
Recruiting: Ranked as a three-star receiver out of Norman, Okla., Kittle committed to Iowa after a last-second offer. Air Force was his only other listed offer. His father, Bruce, coached at Oklahoma and played at Iowa.
Stats: Kittle finished fourth on the Hawkeyes with 22 catches for 314 yards and four touchdowns this past season. He finished third among tight ends at 4.52 in the 40 and third in the broad jump at the combine. Kittle also did well in the other testing events.
Stock report: Up
Farrell's take: Kittle was the tight end surprise of the combine with his amazing athleticism and speed, and you wonder why he didn't have more production in college. He is shooting up the boards.

TWO TO WATCH
Recruiting: Butt committed to Michigan a few weeks after National Signing Day over several Big Ten and MAC schools and others, including Stanford, Tennessee and UCLA. He grew up an Ohio State fan.
Stats: Butt finished second on the team in 2016 with 46 receptions for 546 yards and four touchdowns. He tore his ACL in the Orange Bowl against Florida State.
Stock report: Down
Farrell's take: The former four-star is probably just behind Howard on this list when it comes to being well-rounded as he can block, catch and work inline and outside effectively. The NFL likes tight ends that can do it all, but teams are enamored with athletic freaks, which is why Njoku, Engram and others are ahead of him. I still think he could be the next Jason Witten if he finds the right home.

Recruiting: The three-star prospect committed to Clemson in early March of his junior year over offers from Louisville, South Florida and Central Florida. He was the No. 13 tight end in the 2013 class.
Stats: Leggett recorded 46 catches for 736 yards and seven touchdowns this season. He had seven catches for 95 yards in Clemson's win over Alabama in the national championship.
Stock report: Down
Farrell's take: Leggett was a tall, skinny kid coming out of high school who fell short of four-star status by a few spots and has since proven us wrong. He was under-recruited and is another great example of the Clemson staff seeing something many other programs missed. I'm disappointed that he didn't run at the combine and I think that will hurt his draft stock. Compared with other tight ends in this draft class, Leggett is not quite as explosive or consistent catching the ball as others.