Post-NFL Combine stock report: RB
TOP FIVE
Recruiting: Fournette picked LSU over Alabama at the Under Armour All-America Game. The Tigers were considered the favorite for a long time.
Stats: The former five-star rushed for 843 yards and eight scores in an injury-plagued season after rushing for 2,206 yards as a sophomore.
Stock report: Steady
Farrell's take: Fournette worried some by showing up a bit heavier than expected at the NFL Combine but those concerns faded away once he busted off a 4.51 in the 40-yard dash. I think Joe Mixon is the most talented running back in this draft, but his off-field concerns have him lower on this list. Durability is Fournette's only question mark.

Recruiting: Cook originally committed to Clemson, and one reason was because he liked how the Tigers utilized C.J. Spiller. After attending the Florida spring game, Cook switched his commitment to the Gators. His final decision came at the Under Armour game when he picked Florida State.
Stats: Cook rushed for 1,765 yards and 19 scores last season and caught 33 passes for 488 yards and another score.
Stock report: Steady
Farrell's take: Cook didn't run as fast as many expected but, like in high school, his versatility and three-down ability will have teams very interested. He's proven to be a workhorse at Florida State and he's dynamic in the open field. In high school he was a home run waiting to happen when he touched the ball.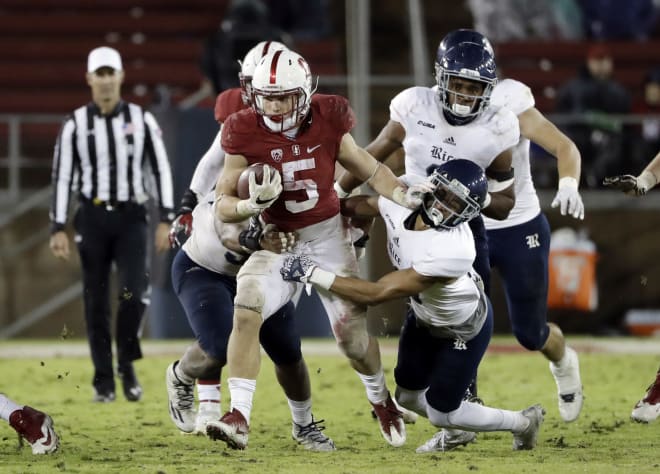 Recruiting: In May before his senior season, McCaffrey committed to Stanford, the same school where his father played college football. McCaffrey's mother played soccer for the Cardinal as well. Michigan, Ohio State, Florida State, Oregon and many others were also involved.
Stats: The former four-star rushed for 1,603 yards and 13 scores last season and caught 37 passes for 310 yards and three more touchdowns.
Stock report: Up
Farrell's take: Still the No. 3 back in the draft, McCaffrey did help himself because some wondered whether he'd fall out of the first-round discussion. Despite poor bench numbers, he did well in every other testing category. He's a great athlete and dominated weak competition in high school, good competition in college and could be one of the more versatile running backs in the NFL soon enough.
Recruiting: Mixon took all five official visits to Oklahoma, Wisconsin, Florida State, Cal and Washington before committing to the Sooners.
Stats: The former five-star rushed for 1,274 yards and 10 scores and caught 37 passes for 538 yards and five more touchdowns last season.
Stock report: Up
Farrell's take: We all know the off-field stuff, we've all seen the video and we all have our opinion about where he should be drafted (or if he should be drafted at all) but make no mistake about it: Mixon is the best running back talent in this draft. So why is he behind the big three on this list? He's a complete wildcard. Mixon could develop into an NFL superstar or make another dumb decision and never be heard of again.

Recruiting: Kamara was a high four-star out of high school and signed with Alabama, but he left Tuscaloosa after a redshirt season for Hutchinson (Kan.) C.C., where he was a five-star prospect. He signed with Tennessee out of junior college over Georgia and others.
Stats: Kamara was third on the Vols in rushing with 596 yards along with nine rushing touchdowns on 103 carries. He was tied for second with 40 receptions for 392 yards and four TDs.
Stock report: Up
Farrell's take: Kamara helped himself a lot at the combine with a 4.56 40-yard dash and an amazing vertical and broad jump. He has some off-field concerns as well although nothing close to Mixon's issues. He was a blazer out of high school and his JUCO film is a thing of beauty so talent was never a concern for us at all. I'm surprised he wasn't utilized better at Tennessee.
TWO TO WATCH
Recruiting: Samuel chose Ohio State over Rutgers and many others. Urban Meyer was personally involved in Samuel's recruitment and said the Buckeyes would use him like Percy Harvin.
Stats: Samuel rushed for 771 yards and eight touchdowns and he led the team with 74 receptions for 865 yards and seven scores this season.
Stock report: Up
Farrell's take: A 4.31 40-yard dash will turn heads and Samuel could be listed as an "athlete" if that was done for the draft. We had him as a wide receiver out of high school but he touched the ball in so many ways that he could have been a running back as well. We put him in this category because I think he'll be a scary third-down back in the NFL. When he ran that 40 time the first thing I thought of was how many told me his high school highlight film had been sped up. He's been that fast for that long.

Recruiting: Foreman and his brother, Armanti, committed to Texas in the summer before their senior seasons. He was a two-star athlete who also had offers from Houston, Illinois, Missouri, UTSA, Texas State, Utah State and Washington State.
Stats: Foreman rushed for 2,028 yards and 15 touchdowns last season. He averaged more than six yards per carry and about 184 rushing yards per outing.
Stock report: Down
Farrell's take: A two-star out of high school, Foreman was a throw-in as Texas wanted his brother more. He wasn't the 235-pound beast we saw killing Big 12 defenses last year. Foreman hurt himself at the combine by not being able to test beyond the bench and that will lead to more questions about his speed. That was one of our main issues out of high school as well but he proved us wrong in college. He could do the same in the NFL.