Post-NFL Combine stock report: QB
The NFL Scouting Combine is finished and it's again time to look at each position for the upcoming NFL Draft. We start with quarterbacks with the top five and then two others to watch.
TOP FIVE
Recruiting: Watson committed to Clemson about a year before National Signing Day and stuck with the Tigers despite pressure from many programs. Ohio State, Auburn, LSU, USC, Oregon and Georgia were a few that stayed involved.
Stats: The former five-star threw for 4,593 yards and 41 touchdowns against 17 picks last year in leading his team to a national title. He also rushed for 629 yards and nine more scores.
Stock report: Steady
Farrell's take: Watson helped himself at the combine for sure, although now there are questions about his arm strength due to velocity ratings. But keep in mind these are the same questions that led everyone but Rivals.com to rank him below a five-star. People keep looking to find things wrong with Watson rather than relying on scouting instincts that show he has franchise quarterback abilities. He has many things that can't be taught, same as out of high school.

Recruiting: Trubisky committed to North Carolina over Tennessee, Michigan State, Ohio State, Cincinnati, Minnesota, Northwestern and others shortly after a visit to Chapel Hill in the spring before his senior season.
Stats: The former three-star threw for 3,748 yards and 30 touchdowns against only six picks last season. Trubisky also rushed for five TDs.
Stock report: Steady
Farrell's take: Some like Trubisky better than Watson and feel he will be drafted higher, which could happen, but it would be a mistake. His body of work is limited. He was solid at the combine but certainly not spectacular. He's always been my No. 2 at quarterback in a bad class, and that hasn't changed. However, he proved to us in college he was better than his mid three-star rating, so he could do the same in the NFL.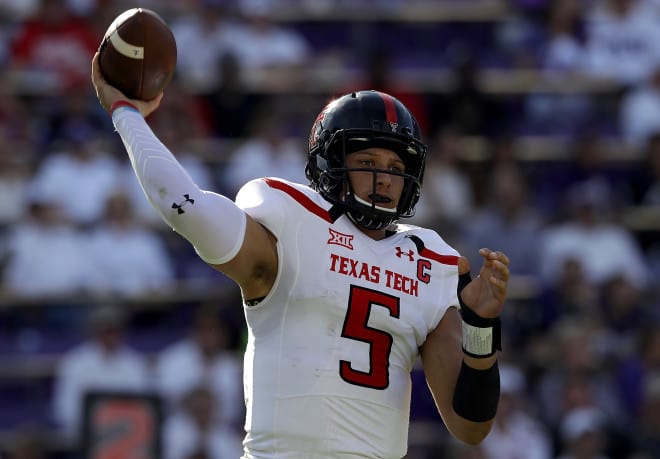 Recruiting: Mahomes was a high three-star prospect who put up big-time numbers in high school. He picked Texas Tech over Houston, Rice and others.
Stats: Mahomes completed 388 of 591 passes (65.7 percent) for 5,052 yards with 41 touchdowns and 10 interceptions this past season. He also rushed for 12 scores.
Stock report: Up
Farrell's take: Mahomes is a gunslinger with a great arm who can throw from all angles. Out of high school he was a big, dual-threat kid who was raw but had upside yet his recruiting never took off beyond regional interest. Now that he's put up crazy numbers in college and looked good at the combine, an NFL team will reach into round one and take him. I'm not as high on him as some others, though.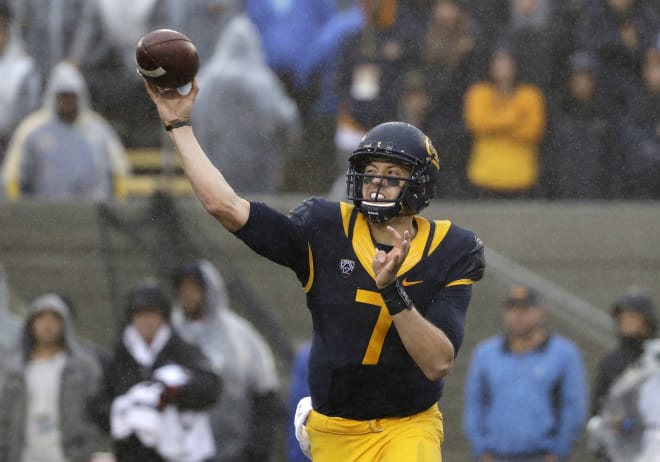 Recruiting: Webb originally committed to Texas Tech out of high school over offers from Indiana, Iowa, TCU, UTSA and Utah State. He then announced he would be a graduate transfer to Colorado but changed his mind and by last spring was headed to Cal.
Stats: Webb completed 382 of 620 attempts (61.6 percent) for 4,295 yards with 37 touchdowns and 12 interceptions this past season.
Stock report: Up
Farrell's take: I really liked Webb at the combine. He's big, he has a cannon of an arm and he reminds me a bit of Mike Glennon, who is a guy who has taken some time to develop as a pro and is still a bit raw. Webb, in a couple of years, could be a starter in the NFL. Out of high school, I liked him better than many others and felt he was a fit for an offense where the ball came out quickly, and he could make instant decisions rather than scan the field. He'd need to do that in the NFL as well.

Recruiting: Less than 48 hours after visiting Notre Dame and landing his offer, Kizer committed to the Irish. Prior to that offer, Kizer had Tennessee, LSU and Alabama as his three favorites. He was also keeping a close eye on whether Ohio State would offer.
Stats: Kizer threw for 2,925 yards and 26 touchdowns against nine interceptions last season. Kizer has a record of 3-10 as a starter in games decided by eight points or less the last two seasons, so he did not show a penchant for pulling out tight games in the fourth quarter. He completed less than 59 percent of his passes this past season.
Stock report: Down
Farrell's take: I thought Kizer looked bad at the combine. His footwork was sloppy, his accuracy was way off, and he's an above-average arm with many question marks. Scouts still like him, however, and someone could dip into round one and nab him, but that's a big reach. He's the same as he was out of high school – raw, unpolished and inaccurate too often.
TWO TO WATCH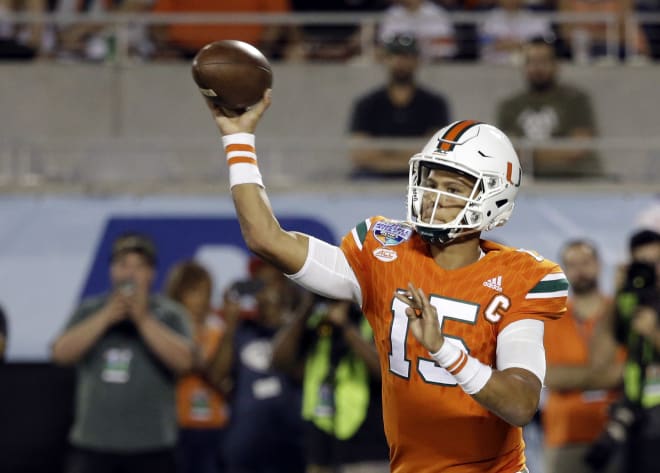 Recruiting: Kaaya committed to Miami in May before his senior season, but Boise State made a late push and the four-star showed interest. UCLA and USC also stayed involved for a long time, but in the end it was a two-horse race for Kaaya between the Hurricanes and the Broncos.
Stats: The former four-star threw for 3,532 yards with 27 touchdowns and only seven interceptions this past season.
Stock report: Down
Farrell's take: Kaaya had a better combine than many expected but is still being passed up on boards now by Mahomes and Webb. His arm strength is average, he never put together an elite season in college and he doesn't strike me as the guy who could lead a team to comeback victories. He should have stayed an extra year. He reminds me of the kid we saw in high school, honestly, someone who flashes at times but makes some head-scratching mistakes.
Recruiting: Peterman had a final five of Vanderbilt, Florida State, Wake Forest, Cincinnati and UConn but that quickly changed once the Vols offered. Peterman played very little in two years in Knoxville and transferred to Pitt.
Stats: Peterman completed more than 60 percent of his passes for 2,855 yards with 27 touchdowns and seven interceptions this past season. He also rushed for three scores.
Stock report: Up
Farrell's take: Peterman didn't look great at the combine but his stock is up a bit because many others looked downright bad. This shows how poor the quarterback class is because his footwork looks poor, he has a big arm like the rest but is inaccurate downfield. Everyone talks about Watson's struggles with the deep ball, but at least he can make plays with his legs. No one else on this list has proven that with the same consistency, including Peterman.