Rival Views: Mike Farrell's NFL mock draft 2.0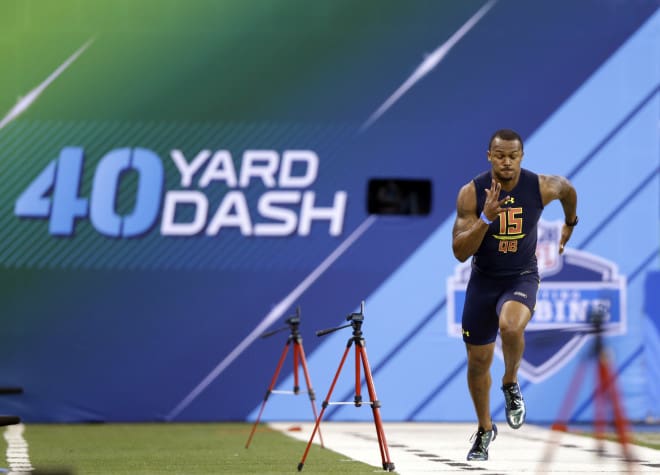 Now that the NFL Scouting Combine is in the books, it's time for Mock Draft 2.0. Here is a breakdown of each pick from Rivals.com National Recruiting Director Mike Farrell.
RELATED: Gorney Mock 2.0 | Farrell Mock 1.0
1. CLEVELAND BROWNS
I still think this should be DeShaun Watson, but I doubt the Browns will be able to pass on the biggest athletic freak of the draft in Garrett.

2. SAN FRANCISCO 49ERS
Some say that the 49ers don't have a quarterback in their top five, but I still don't think they can pass on the only franchise quarterback in the draft unless they trade for Kirk Cousins.

3. CHICAGO BEARS
The Bears signed Mike Glennon, so reaching on a quarterback here doesn't seem likely and they need help at defensive back.

4. JACKSONVILLE JAGUARS
5. TENNESSEE TITANS
With Lattimore and Adams gone, the Titans need defensive back help and are lucky this is a deep draft in the secondary. Hooker is athletic and a great fit.

6. NEW YORK JETS
I'll stick with this prediction as Fournette's 40 time convinced teams he has the speed needed. The Jets could use a franchise running back.

7. LOS ANGELES CHARGERS
The Chargers need defensive help, but I don't think they will pass on the most explosive wide receiver in the draft, even if this is a bit of a reach.

8. CAROLINA PANTHERS
The first true stunner of the draft? Watch out for this. The Panthers wanted a running back, but there are plenty they can land in round two and the need for an elite tackle is huge. This won't be popular with fans, but could be a home run.

9. CINCINNATI BENGALS
Foster screwed up at the combine and there are questions about his character now, but have the Bengals ever cared about that?

10. BUFFALO BILLS
The Bills were hoping Watson would fall this far and there are question marks at quarterback, but an elite, big wide receiver can help any quarterback.
11. NEW ORLEANS SAINTS
Defense is a huge need and Thomas is a pleasant surprise at No. 11. He only helped himself at the combine and will plug in right away.
12. CLEVELAND BROWNS
The Browns love Trubisky and never expected him to fall to their second first-round pick, so they will be ecstatic landing Garrett and the quarterback they coveted. This is of course far-fetched because you know someone will trade up to get Trubisky or the Jags, Jets or Bills will jump on him.
13. ARIZONA CARDINALS
They were praying Trubisky would fall one more spot as quarterback is a need and I don't see them reaching on DeShone Kizer or someone else. Howard is elite and too good to pass up.
14. PHILADELPHIA EAGLES
Offense will be tempting, especially at running back or with wide receiver Corey Davis still out there, but Alshon Jeffrey was signed for a reason and the cornerback need is great.

15. INDIANAPOLIS COLTS
I'll stick with this landing spot for Allen, who didn't test great and has some health concerns but is still too talented to pass on here.

16. BALTIMORE RAVENS
There are needs on defense, but passing on a big, physical receiver like Davis who fell this far will be unlikely.
17. WASHINGTON REDSKINS
Barnett didn't help himself much at the combine, but his on field production is off the charts and the need at end takes priority over some tempting offensive options.
18. TENNESSEE TITANS
Sidney Jones could be tempting and fans might think it's stupid to take two defensive backs in the same draft, but why not take two elite athletes who have played together and are winners?

19. TAMPA BAY BUCCANEERS
Running back will be tempting here, but the defense needs more help. Peppers might not have a true position, but lock him in at safety in Tampa and watch him lead.

20. DENVER BRONCOS
The offensive line needs help and Robinson is good value down here. There is such a dropoff after the top two tackles that Denver is happy he is available.

21. DETROIT LIONS
The Lions obviously need a running back and Cook at No. 21 is too good of a value for Detroit to pass up.

22. MIAMI DOLPHINS - LB HAASON REDDICK, TEMPLE
The Dolphins need an athletic guy who can play all over the field at linebacker and Reddick has shown he can be that guy as well as having the ability to blitz off the edge.
23. NEW YORK GIANTS
The Giants were hoping Reddick would fall to them here, so instead they will go offense and add another offensive weapon who could be a couple years away from greatness.
24. OAKLAND RAIDERS
I had Sidney Jones slotted here in my first one but with his injury at Pro Day I think the Raiders dip into their need at tight end. Engram is essentially a wide receiver in a tight end's body and another huge weapon for Derek Carr.

25. HOUSTON TEXANS
It is either Kizer or Mahomes here and I don't think the Texans are enamored with the former. They could go offensive line here with Ryan Ramczyk, but Mahomes intrigues them long term.

26. SEATTLE SEAHAWKS
The offensive line needs help and Ramczyk was once the top tackle in the draft, so the Seahawks are happy he's fallen here.
27. KANSAS CITY CHIEFS
A quarterback will be a temptation here, as well as a defensive back, but an inside linebacker is a huge need and Davis is a guy that fits.

28. DALLAS COWBOYS
An edge rusher is a must and Harris also showed off his ability to cover a ton of room in space. I had Taco Charlton here, but now Harris is more coveted.

29. GREEN BAY PACKERS
People think I'm crazy for this one, but we all know running back is a need and another weapon for Aaron Rodgers can't hurt despite defensive needs.
30. PITTSBURGH STEELERS
A 3-4 pass rusher is needed and a guy like Takkarist McKinley will be tempting, but the production of Williams and his speed off the edge will win the day.
31. ATLANTA FALCONS
Adams should go higher in what is a weak defensive tackle class, at least when it comes to pure inside guys, and the Falcons could have the steal of the draft here.
32. NEW ORLEANS SAINTS
McMillan helped himself with a very good combine and the Saints need help everywhere at defense. He can play inside or outside for them.