Rival Views: Mike Farrell's NFL mock draft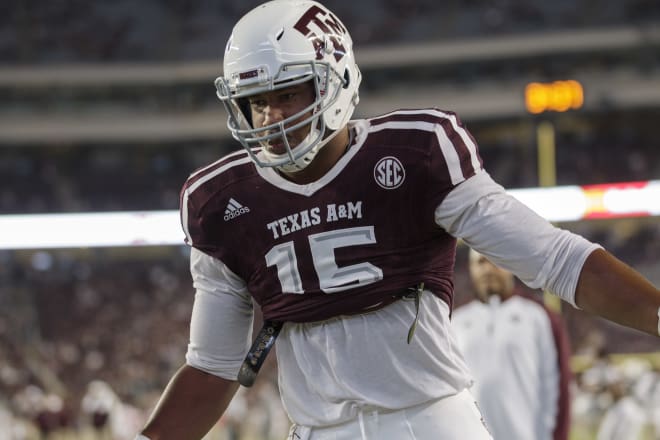 In conjunction with the start of the NFL Scouting Combine, Rivals.com is releasing its first mock drafts leading up to April's NFL Draft. Here is a breakdown of each pick from Rivals.com National Recruiting Director Mike Farrell.
RELATED: Adam Gorney's Mock Draft

No. 1 Cleveland Browns
I think Deshaun Watson should be the pick here but I doubt the Browns will be able to pass on the biggest athletic freak of the draft in Garrett.
No. 2 San Francisco 49ers
The 49ers are quarterback starved and Watson is the best in the draft and a pure winner and leader. This could be a game-changer for the franchise.
No. 3 Chicago Bears
This is a bit of a reach for a one-year starter, but the Bears are desperate for their quarterback of the future and the dropoff after Trubisky is massive.
No. 4 Jacksonville Jaguars
Pairing Adams with Jalen Ramsey will make the Jaguars' defensive backfield elite for years to come. The franchise needs Adams' ability to support the run.
No. 5 Tennessee Titans
The top cornerback in the draft class will be too hard to pass up despite how deep the position appears to be in this class. The Titans need help on the outside on defense.
No. 6 New York Jets
An elite power running back is needed in New York, especially with the franchise's quarterback situation. Fournette is that guy.
No. 7 Los Angeles Chargers
The defense needs help and Hooker covers a ton of ground and is a ballhawk in the secondary. The team has many needs, but Hooker's athleticism will be hard to pass up.
No. 8 Carolina Panthers
The Panthers need to give Cam Newton more weapons. Cook's ability in the passing game as well as his elite speed will make him a nice pick here.
No. 9 Cincinnati Bengals
The Bengals need a linebacker who can tackle and make a difference in the offensive backfield and Foster brings all of that to the table.
No. 10 Buffalo Bills
The Bills have many needs, but a big wide receiver like Williams who can dominate in the red zone will be tempting. Will they go with a Clemson wide receiver like they did with Sammy Watkins? They could.
No. 11 New Orleans Saints
This might be high for many but White's coverage ability and the chance he could impact on special teams makes him an attractive choice. Being a home-state star doesn't hurt either.
No. 12 Cleveland Browns
The Browns had hoped a quarterback would fall this far but no such luck. I don't see them reaching on DeShone Kizer or anyone else. The heir apparent to Joe Thomas is a nice pick.
No. 13 Arizona Cardinals
The Cardinals need defensive help, but passing up on the eventual replacement for Larry Fitzgerald - and a guy many think could be even better than Mike Williams - would be tough.
No. 14 Indianapolis Colts
The Colts need offensive line help, but with Allen sliding this far, they won't be able to pass him up.
No. 15 Philadelphia Eagles
Cornerback is a big need for the Eagles and Tabor's ability to be around the ball and his size will be coveted, especially with the draft's top two wide receivers already off the board.
No. 16 Baltimore Ravens
The Ravens need a dominant force at end and Barnett could be as good as anyone in this draft with his motor, work ethic and ability against the run.
No. 17 Washington Redskins
With Su'a Cravens a hybrid guy last year that the Redskins coveted, this year it's Peppers, who is even more versatile and solves their need at strong safety.
No. 18 Tennessee Titans
With cornerback addressed, the Titans need a WR1 for Marcus Mariota. They would have liked a bigger option, but Ross can do some serious damage with his speed and ability after the catch.
No. 19 Tampa Bay Buccaneers
A disruptive force along the defensive line is needed and Thomas has shown his ability to work inside and outside in college.
No. 20 Denver Broncos
The Broncos have a huge need at offensive line and Robinson is an elite talent who was once thought to be a top 10 pick.
No. 21 Detroit Lions
The defense needs some help and defensive line will be tempting, but Wilson will be too hard to pass up.
No. 22 Miami Dolphins
The Dolphins need a pass rusher and Harris has a great motor and is explosive off the edge. He's great value here at No. 22 in a deep draft at end.
No. 23 New York Giants
There are other needs for sure but an athletic tight end like Howard could really help the offense. He might be too tempting at this spot.
No. 24 Oakland Raiders
It's a deep cornerback class and the Raiders need one. Many feel Jones could be the best of the bunch in a couple of years.
No. 25 Houston Texans
An inside linebacker is needed and Davis is a guy who brings a lot to the table. He is just behind Foster in the mind of many as an elite talent.
No. 26 Seattle Seahawks
Offensive tackle is a huge need and Bolles can be franchise talent. He could be a steal this late in the first round.
No. 27 Kansas City Chiefs
The next Derrick Johnson? It could be Cunningham, who can do so many different things and is scheme versatile.
No. 28 Dallas Cowboys
The Cowboys badly need a rush end who can help that pass rush and Charlton is a physical freak who might not be as refined outside as some others but can work inside very well.
No. 29 Green Bay Packers
The Packers need help at running back and McCaffrey's versatility would also help the offense. Needs on defense could be more pressing, but can they pass up this Swiss Army Knife offensive weapon?
No. 30 Pittsburgh Steelers
Jarvis Jones was supposed to be that hybrid outside pass rusher the Steelers need. Williams could fill in nicely and bring a pass rush.
No. 31 Atlanta Falcons
An athletic defensive tackle is needed in Atlanta. Adams can not only push the pocket but also shoot the gap. Teams will begin to realize that Adams is the best pure inside guy in this draft.
No. 32 New England Patriots
What do the Patriots like? Versatile players who bring more than one thing to the table. Anderson is a big linebacker who can cover space but is also an elite pass rusher.