NFL Draft: Top 10 former four-star prospects drafted in 2018
RB Saquon Barkley (Penn State): No. 2 overall to N.Y. Giants  
The skinny: Barkley was originally committed to Rutgers, but re-opened his recruitment as additional offers began to pile up. Penn State almost immediately became the favorite, as the Nittany Lions made Barkley a recruiting priority, which eventually led to his commitment. At Penn State, Barkley made an immediate impact as a true freshman and then he continued to elevate his level of play over the next two seasons.
Farrell's take: Barkley was an upright slasher who showed good receiving skills out of high school, so it's not a huge surprise he made a big impact in his first three years. But to this level? That's a bit of a surprise, as he became the dominant Big Ten back and has been in my top five players overall all this past season. His lower-body strength and power to run through some arm tackles has improved greatly. A very athletic kid, Barkley was a guy who pushed for Rivals100 status but is showing us he should have been ranked higher. Much higher. The Giants are thrilled to have him as the linchpin of their offense for years to come.

QB Sam Darnold (USC): No. 3 overall to N.Y. Jets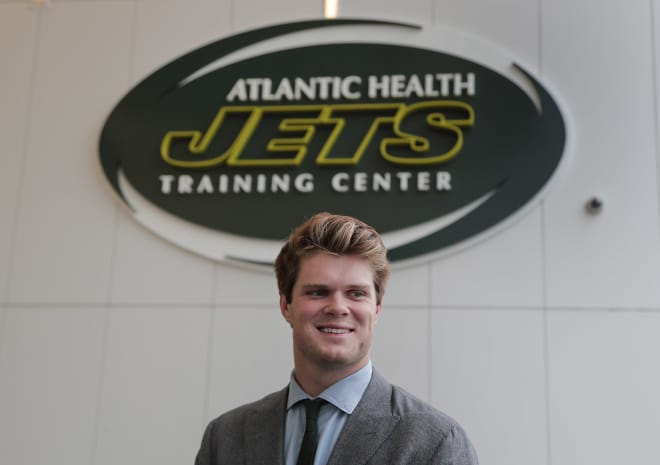 The skinny: Darnold took unofficial visits to Duke, Oregon, Northwestern and Utah, but ultimately Darnold's familiarity with the in-state Trojans put USC over the top. After taking over for Max Browne early in the 2016 season, Darnold controlled the Trojans' offense for the next two seasons. Despite some inconsistent play in 2017, his overall skill set and potential still made him one of the most sought-after players in the 2018 draft.
Farrell's take: Darnold slipped in our final rankings after a rough week at the US Army All-American Bowl, but being No. 8 at dual-threat quarterback isn't so shabby. Some of the things we worried about in high school are still there (turnovers, etc.), so it will be interesting to see how his career plays out. I'm not in love with his potential as others are, but the Jets are banking on him being their franchise guy.

LB Roquan Smith (Georgia): No. 8 overall to Chicago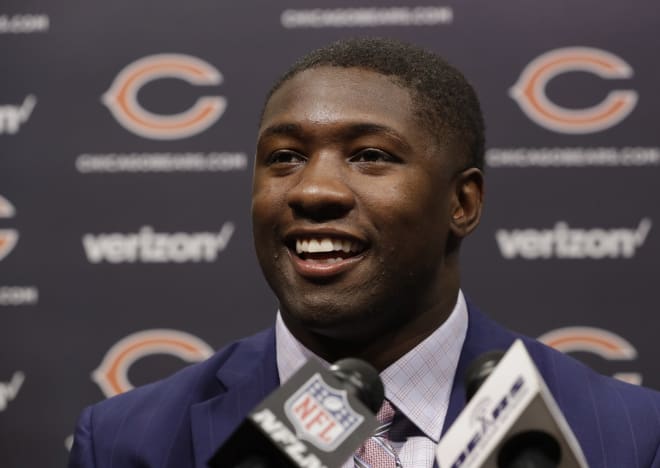 The skinny: Smith, who took official visits to Georgia, Michigan, UCLA, Texas A&M and USC, initially committed to the Bruins on Signing Day, but never faxed over his letter of intent. Upon finding out that his recruiting coach, Jeff Ulbrich, was leaving the Bruins, Smith decided to take a step back and finally committed to the Bulldogs almost two weeks later. Smith had a huge 2017 season with the Bulldogs, becoming their unquestioned leader on defense while helping them to the national championship game.
Farrell's take: The best pure tackler in the nation, Smith had an amazing final year. When he decided not to head West and delayed his process, I didn't think a ton of it. While I thought he was good and a Rivals100 prospect, he was undersized and I wasn't sold on how effective he would be at the next level. Man, was I wrong. He's an absolute terror, and you could argue that no linebacker in the country arrived to the football faster. He's a quick-twitch kid, has added good size and the Bears saw a need filled in the top 10 with this pick.

OT Mike McGlinchey (Notre Dame): No. 9 overall to San Francisco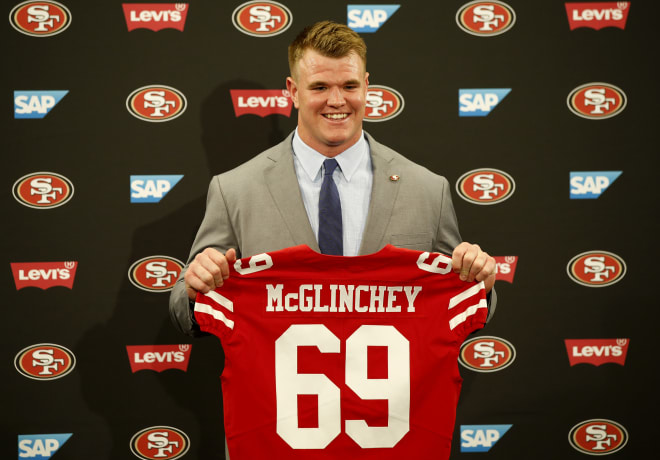 The skinny: After trimming his list down to Notre Dame and Boston College, McGlinchey committed to the Irish despite having several ties to the BC program. McGlinchey started at right tackle in 2015 and then left tackle in 2016 in South Bend, before surprising many by returning for his senior season. In his final season he helped anchor a powerful Irish rushing attack along with first-round selection Quenton Nelson.
Farrell's take: I'm down on McGlinchey after this past season even though many still had him projected as a first-round guy and the 49ers decided he was worthy of a top 10 pick. He has trouble with outside speed and I worry he might not be effective at left tackle as a result. In high school, I thought we might have under-ranked him, however, even though he was very tall and a tad awkward and lacked upper-body strength. His footwork, length and willingness to be physical made me think this could be a five-star and future first-rounder. But I went conservative. Now, based on his draft status at least, I was wrong. Some feel his footwork hasn't progressed to that of an elite left tackle, so time will tell if he can right the ship.

OT Kolton Miller (UCLA): No. 15 overall to Oakland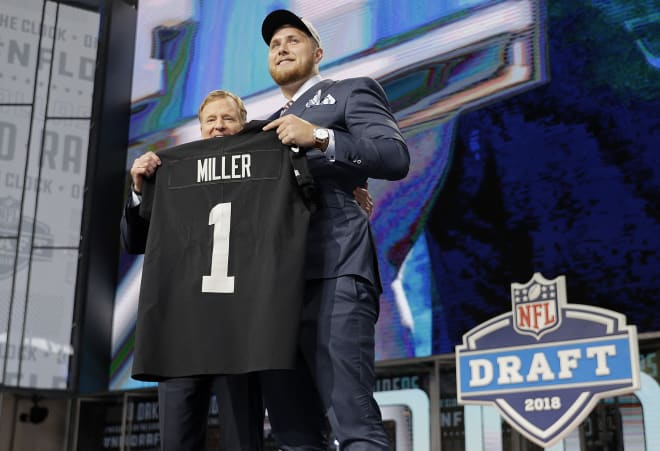 The skinny: Miller took official visits to Wisconsin and Oregon State before making his way to Westwood in mid-January. A couple of days after the conclusion of his official visit to UCLA, he committed to the Bruins. Miller's steady improvement, huge size and surprising athleticism quickly moved him up NFL draft boards over the last year.
Farrell's take: Miller had a nice combine, but I'm not a huge fan of his film and think he's too erratic with his footwork. But at his size, scouts were intrigued and he ended up going much higher than expected to the Raiders. Out of high school, we had him as a four-star outside our Rivals250 because of his size and ceiling, but something about him – from footwork to a lack of toughness – stands out to me and tells me he's going to be a bust. I saw the ceiling in high school, but I still think he has a ways to go to reach it, and he won't get there in the NFL.

OLB Tremaine Edmunds (Virginia Tech): No. 16 overall to Buffalo 
The skinny: Despite his father having played at Maryland, it was the pull of playing with his brothers at Virginia Tech that led Edmunds to Blacksburg. After making only a minimal impact in 2015, Edmunds quickly became one of the top defensive playmakers for the Hokies in 2016. He followed that up with another huge season in 2017 and quickly caught the attention of most NFL scouts.
Farrell's take: With good length and a great frame to build on, Edmunds was a four-star out of high school who had his senior season cut short with a broken collarbone. Edmunds had good athleticism, projected as an outside linebacker with good speed and perhaps was a bit under-ranked coming out because of the lost time to injury. His tackling ability improved greatly in college under Bud Foster, and now he's considered a steal for the Bills at No. 16 overall. He has a chance to be an absolute star.

C Billy Price (Ohio State): No. 21 overall to Cincinnati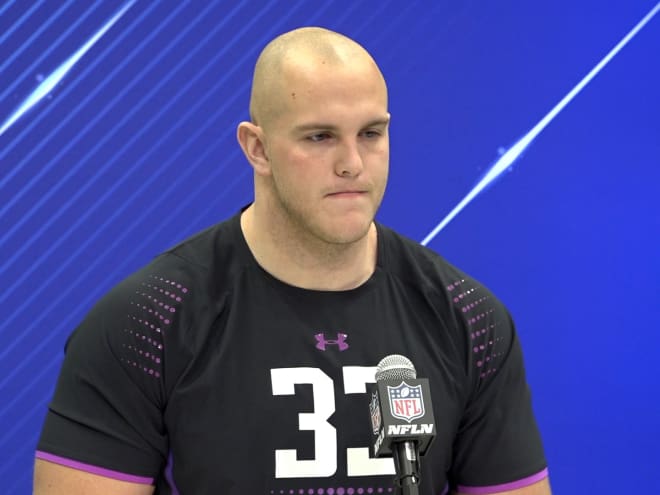 The skinny: Price, who was actually recruited as a defensive tackle, committed to Ohio State only a few days after taking a visit to Columbus. While Michigan, Notre Dame and Michigan State were also involved, Ohio State became the immediate favorite when it offered. Price became the anchor of the Buckeyes' offensive line, winning the Remington Trophy last season as the nation's top center while also starting 55 straight games
Farrell's take: Price was ranked as a defensive tackle out of high school and one we liked very much. He took that defensive mentality and applied it to the offensive line and had a great career at Ohio State. We liked his pad level, aggressive nature and willingness to mix it up on the interior out of high school, as well as his smarts. He was also very strong. Center is a position coveted in the draft, so the Bengals are counting on him being a longtime starter.

OT Isaiah Wynn (Georgia): No. 23 overall to New England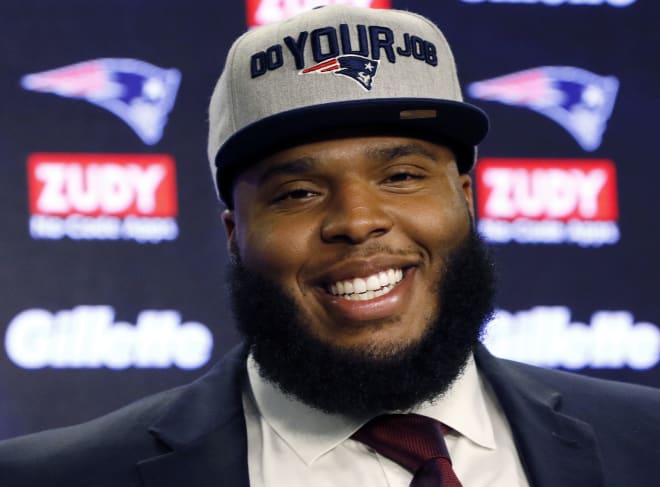 The skinny: While offers piled up for Wynn, Georgia was always seen as a top contender for the four-star offensive guard. After taking several of visits to Athens, he ended his process with a commitment to the Bulldogs during the summer leading up to his senior season. Wynn's improvement at Georgia was one of the reasons that the Bulldogs experienced the success that they did on the field over the last two seasons. His blocking was also key in helping both Nick Chubb and Sony Michel achieve impressive collegiate careers.
Farrell's take: Wynn was an undersized guard coming out of high school who was still very highly coveted and rated because of his footwork, toughness and willingness to do the dirty work in the trenches. This is an odd pick, because the Patriots need a tackle and Wynn is vertically challenged. But if anyone can make this work, it's New England.

WR D.J. Moore (Maryland): No. 24 overall to Carolina 
The skinny: As his offer list grew and grew, Moore committed to Maryland during the summer before his senior season, shortly after a visit to College Park. Moore also considered Indiana, Illinois, Pitt, Rutgers and Virginia at the time of his decision. With the Terps, Moore quietly became one of the more productive and consistent wide receivers in the Big Ten over the last two seasons. He solidified his status in the first round by posting a 4.42 40 at the NFL Combine.
Farrell's take: We liked Moore out of high school as a four-star, but he didn't have great size and wasn't very strong, so he didn't crack our Rivals250. I remember he dominated at a few events and showed great hands and his film was solid, but he has clearly taken his game to the next level. Now the Carolina Panthers are counting on him being a franchise guy. I'm not sold he can do that.
CB Mike Hughes (UCF): No. 30 overall to Minnesota 
The skinny: Hughes initially committed and signed with North Carolina after also taking official visits to NC State and Florida. After one season at Chapel Hill he was dismissed from the program, which led him to Garden City Community College in Kansas. A JUCO All-American in his one season at Garden City, Hughes looked to be heading to South Carolina before graduation delays led to his arrival at UCF. While he only spent one season in Orlando, he was highly productive, with 49 tackles, four interceptions and 11 pass break-ups.
Farrell's take: We had Hughes as a four-star athlete coming out of high school because he had the ball skills to play offense and the coverage skills to play defense. He wasn't very big but he was instinctive and physical. The Vikings think he can be a lockdown guy, and so do I.
FOR MORE UCF-RELATED SPORTS NEWS, GO TO UCFSPORTS.COM