NFL Draft: Top 10 former five-star prospects drafted in 2018
OL Quenton Nelson (Notre Dame), No. 6 overall to Indianapolis
The skinny: Nelson trimmed his list to Notre Dame, Penn State, Ohio State, Boston College and Rutgers, but always considered the Irish as his leader. A spring visit to South Bend put the Irish over the top and a commitment followed in early May. Becoming a starter in 2016, Nelson became one of the top overall offensive linemen in the country over the two seasons from his guard position.
Farrell's take: The best pick in the entire draft? I really liked Nelson on film, but when I first saw him in person at our New Jersey RCS Camp, I remember being wowed and felt he was a five-star prospect. He was huge, had good feet and physical. It's not shocking to see him working inside at the next level, but he could play tackle as well if needed. He was raw as a prospect out of high school but he has developed so nicely and there is still more room for growth in his game. He was always trying to prove he should be higher ranked as a prep and I would imagine he's still trying to improve his stock now. This could be the safest and best pick in the draft.

QB Josh Rosen (UCLA), 10th overall to Arizona
The skinny: UCLA, along with Stanford, was always considered one of the front-runners for Rosen. After taking a few visits, including one to Michigan just days before his announcement, Rosen decided to stay local and committed to the Bruins. After seeing his 2016 season derailed due to injuries, Rosen returned in 2017 to once again prove himself as one of the top overall quarterbacks in the country.
Farrell's take: In all my years of scouting, Rosen was the best high school quarterback I've seen prior to Trevor Lawrence this past cycle. There's something about his attitude and cockiness that leads you to believe the game will never be too big for him and that he will excel regardless of the circumstances. I'm kicking myself that we didn't keep him as No. 1 in 2015, and flipped him and Byron Cowart. That's on me. His outspoken nature is also a breath of fresh air and the Cardinals got a kid who will play with a chip on his shoulder.

DB Minkah Fitzpatrick (Alabama), No. 11 overall to Miami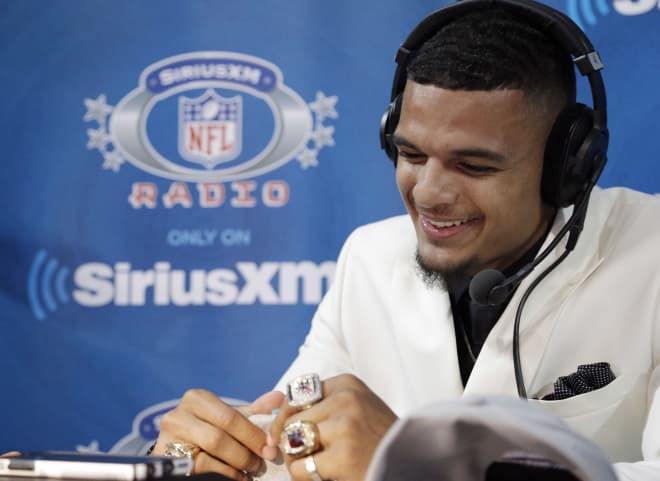 The skinny: Fitzpatrick committed to Alabama over Florida State. While he did take an official visit to Tallahassee after making his commitment, he ultimately signed with the Crimson Tide. Fitzpatrick contributed immediately for the Crimson Tide and raised his level of play every season after. By the time his final season in Tuscaloosa concluded, he was the unquestioned leader of the Tide defense while also helping propel the team to a national championship victory over Georgia.
Farrell's take: I watched Fitzpatrick since he was a freshman in high school. He has always been a five-star talent, but scouting him so much might have led to expectations that were too high. It's why we moved him from cornerback to safety in the end because he struggled in solo coverage against elite wide receivers. So much for that, huh? Fitzpatrick's instant impact as a freshman on the Alabama defense was amazing and he took it to the next level each year. The Dolphins will be very happy with this pick as he can do so much.

DT Da'Ron Payne (Alabama), No.13 overall to Washington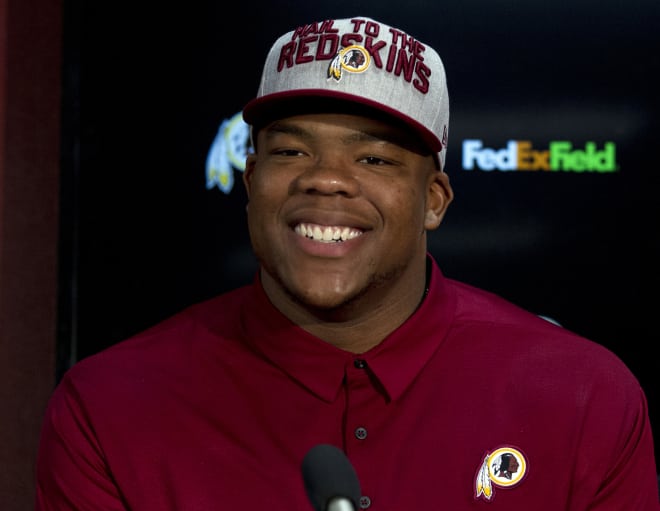 The skinny: Payne trimmed his list to Alabama, Auburn and Mississippi State before committing to the Crimson Tide at the Under Armour All-American game. As a true freshman, Payne showed his potential, before continuing to improve his game over his final two seasons. While his overall play with the Tide was impressive, he will likely be most remembered for his dynamic athleticism in the 2017 national semifinals against Clemson when he had an interception and also caught a touchdown pass.
Farrell's take: Payne still could be one of the most underrated prospects in the draft despite being picked higher than some thought. He is an absolute monster, built like a block and able to hold up blockers at the point of attack and push the pocket. At times on the camp circuit he would show his pass rushing moves, especially a nice inside rip, but other times he was stoned despite his size, which was puzzling. However, with the ability to bull rush and be more physical in pads, he was unstoppable and showed off light feet and the ability to shoot the gap. He was obviously a special prospect based on his ranking and has lived up to the billing. He's a prospect who can play over center or in a 4-3 scheme so scouts love his scheme versatility. The Redskins got a good one who will impact for years.
DB Derwin James (Florida State), No. 17 overall to L.A. Chargers
The skinny: James avoided any recruiting drama by committing to Florida State almost three years prior to National Signing Day. Then, unlike many current recruits, he remained extremely firm with the Seminoles during this time. James bounced back from missing a majority of the 2016 season due to an injury with a strong 2017 season, which quickly put him back on the NFL Draft radar.
Farrell's take: I've said it before and I will say it again: James is the most athletic and dynamic safety I have ever scouted, and that's saying something. After an average start, he came on and became a dominant defensive back as expected his freshman season. His sophomore season was a washout due to injury but he rebounded his junior year. He can blitz, tackle in space and support the run, and he can cover a ton of ground in the passing game. And this is only the beginning, as he will be an absolute star beyond college football. The Chargers got one of the steals of the draft.

LB Rashaan Evans (Alabama), No. 22 to Tennessee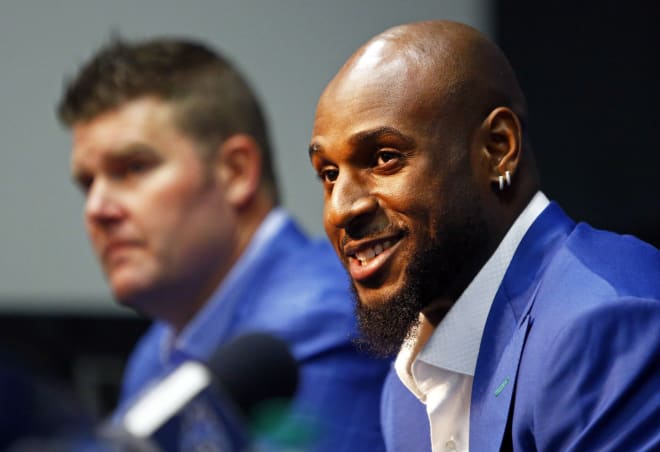 The skinny: While UCLA received an official visit during his senior season, it came down to an in-state battle between Alabama and Auburn for Evans. After officially visiting both in January, Evans committed to the Tide on National Signing Day, despite attending Auburn High School. As with many Tide defensive players, Evans waited his turn in Tuscaloosa before becoming one of the top overall playmakers on the unit in 2016 and 2017.
Farrell's take: Evans was a quick, athletic linebacker who played with the speed of an outside guy but could hit like an inside linebacker. I remember he completely laid out future teammate Cam Robinson at the Under Armour All-America Game practices when the offensive lineman, who had 100 pounds on him, tried to get to the next level. Evans was great at shedding opponents and worked well off of contact, and he could also cover in space and get skinny when needed. The Titans got more athletic on defense.
WR Calvin Ridley (Alabama), No. 26 overall to Atlanta
The skinny: Ridley was an early commitment to the Crimson Tide, and while rumors persisted throughout his senior season and leading up to signing day that he was taking a look at other programs, he stuck with his word and signed with Alabama. Ridley immediately became a reliable and explosive part of the Alabama offense upon his arrival in 2015.
Farrell's take: Ridley set freshman records at Alabama as a receiver, the same place where Julio Jones and Amari Cooper dominated, so that's heady stuff. Ridley was always an elite prospect in high school and a no-brainer five-star from the start. He was an accomplished route runner, had solid size and amazing hands. He just needed to fill out and find his way into the Alabama offense. Now he could be one of the steals of the draft and makes the Falcons even more dangerous on offense.
RB Sony Michel (Georgia), No. 31 overall to New England
The skinny: Michel committed to Georgia over Miami and Notre Dame in the spring. Florida and Florida State were also considered contenders at the time of his decision. Sharing carries with Nick Chubb throughout his time in Athens, Michel has still been able to showcase his abilities. He especially impressed during the Bulldogs' run to the national championship game during the 2017 season, when he often became the offense's top weapon.
Farrell's take: Michel, in the same class as teammate Chubb, was the more well-rounded back of the two and that was the case out of high school. He can run inside, bounce it outside and he is a more natural pass-catcher and better blocker. A star since he was in the eighth grade, Michel has a chance to be an amazing NFL player and had a breakout playoff game against Oklahoma that had scouts excited. Michel was projected to land in the second round but the Patriots might have a round one steal.

WR Christian Kirk (Texas A&M), No. 47 overall to Arizona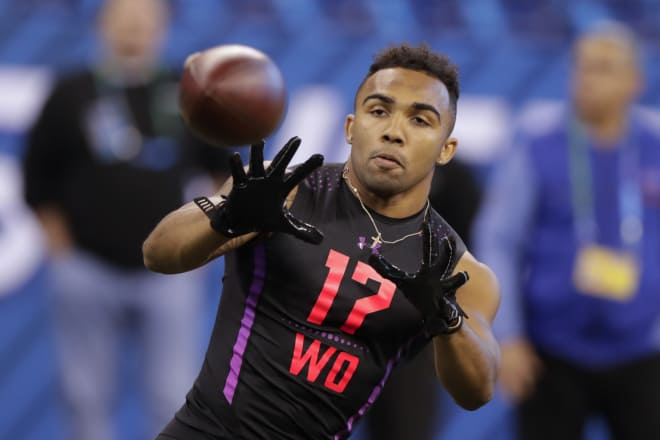 The skinny: Kirk, who was considered a lean toward the Aggies, took official visits to Texas A&M, Arizona State, UCLA and Auburn before making his commitment. There was a heavy push for him to stay in-state and play for the Sun Devils, but at the end he committed to the Aggies due to his relationship with the coaching staff. Excelling at both receiver and as a kick returner, Kirk became one of the more dynamic weapons in college football during his three seasons.
Farrell's take: Kirk's size was always the only question mark, but we pushed beyond that and made him the rare 5-foot-10 five-star wide receiver and he lived up to that billing. We expected him to hit the ground running with his route-running and ability to separate. His performance at our Rivals100 Five-Star Challenge in Chicago is what sealed the deal for us as he was simply unstoppable. The Cardinals needed a wide receiver and they got one who can also impact on special teams.

RB Derrius Guice (LSU), No. 59 overall to Washington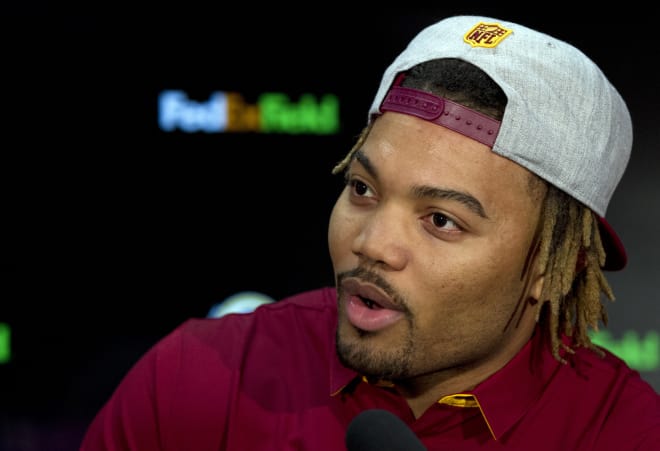 The skinny: Guice committed to LSU during the spring of his junior year, but then ended up taking an official visit to Alabama in January. While rumors persisted that he may look to flip, he did sign with the Tigers on National Signing Day. With Leonard Fournette hampered by injuries in 2016, Guice quickly made a name for himself with an excellent season for the Tigers.
Farrell's take: Injuries hurt Guice a bit and he didn't have the breakout season many expected, so he was a borderline first-rounder who slid to round two. That being said, he's been very impressive at times and has the potential to be a franchise back. I loved Guice out of high school because he was mean and nasty. He was the kind of kid, similar to Eddie Lacy, who hated to be tackled and would fight hard for extra yardage and wear down defenses. He also had very good speed and vision, and light feet, but it was his desire when running that pushed him to five-star status. He has first-round talent and the Redskins could be very happy with this pick.