NFL Draft: These 10 could be first-rounders in 2019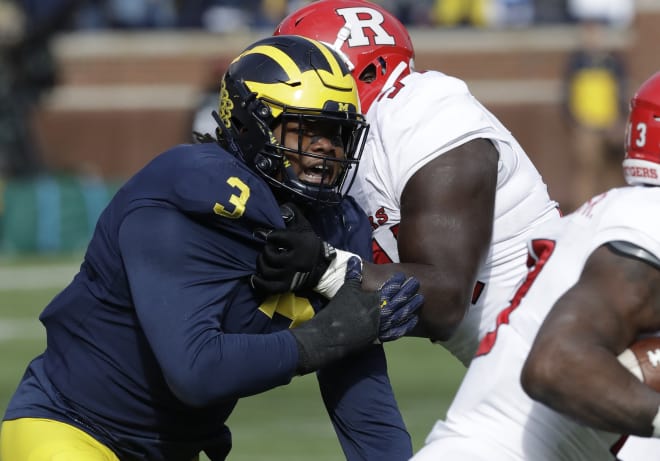 Recruiting: On National Signing Day, Gary picked Michigan over Clemson. The Wolverines were considered the front-runner for some time. Alabama and Auburn were also in the running late in the recruiting cycle.
Farrell's take: He is arguably the most athletic player in the country for his size and pushed to our No. 1 overall spot based on his ability to play end or tackle with ease and dominate at both. He has No. 1 overall pick potential. I remember his improvement in high school from a kid who was very upright and raw to a terror by his senior year.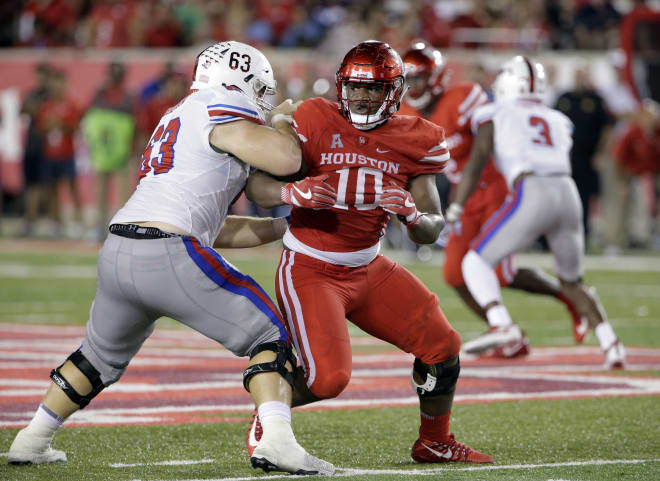 Recruiting: In May before his senior season, Oliver committed to Houston and then-coach Tom Herman. He named the Cougars the front-runner in April. LSU, Alabama, Texas and many others were involved with the five-star prospect.
Farrell's take: Oliver was a blocky but athletic defensive tackle when I first saw him. He grew into a stout, solid and super-quick gap shooter by the end of the rankings cycle. Oliver had such great instincts and followed the football so naturally that he was effective blowing up plays in the run game and getting after the passer. And his snap anticipation was off the charts, as well. Oliver was given his fifth star in our final 2016 rankings cycle and that was one of our better decisions, as he's already a dominant college player and has an amazing future.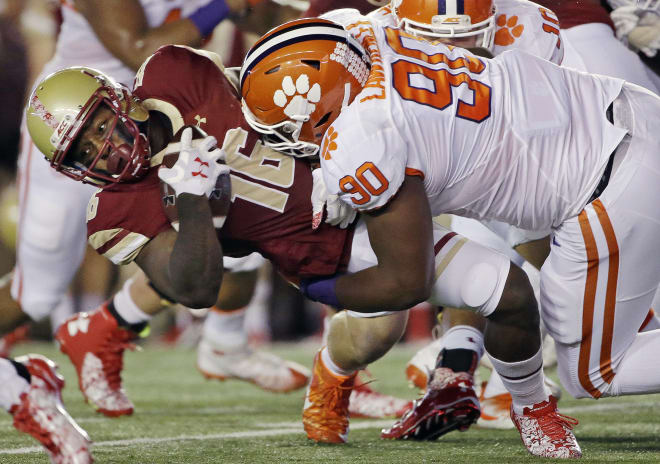 Recruiting: In December of his senior season, Lawrence committed to Clemson over Alabama, Ohio State, Florida, NC State, North Carolina and others. The Gators were considered his favorite team growing up but the Tigers won out.
Farrell's take: The unsung hero of the Clemson defensive line? That could be the case with Lawrence, who takes up so many blockers. He was a massive high school prospect, tall and big, who had exceptional pass-rushing moves and worked off contact extremely well for a taller interior lineman. He had light feet, always had a counter for whatever an offensive lineman threw at him and was well-coached in the nuances of the position. He finished as our No. 2 overall player behind Rashan Gary in 2016, but was No. 1 at one point. The NFL scouts are drooling.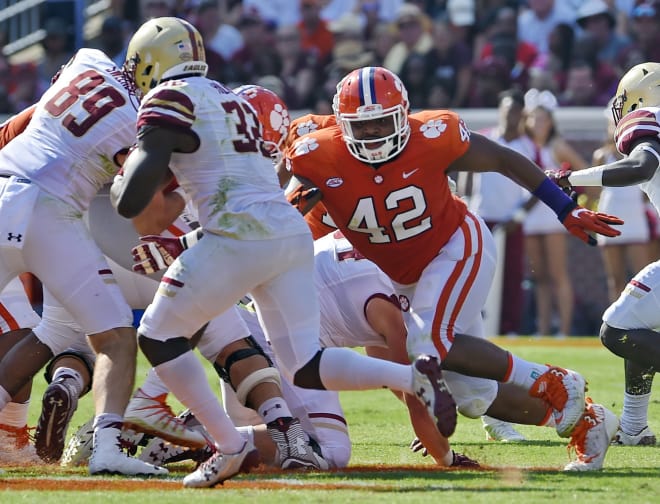 Recruiting: Wilkins took official visits to Clemson, Stanford, Penn State, Ohio State and Boston College prior to committing to the Tigers at the Under Armour All-America Game.
Farrell's take: I remember the first time I saw Wilkins on film. It was after his freshman season and his athletic ability was off the charts. As a Connecticut prospect, he didn't get the national attention of many until later in his career, but I knew how good he was from day one. Wilkins has already turned into one of the elite defensive tackles in the country and could emerge as one of the top five picks in the NFL Draft. His dominance doesn't show in the stat sheet as much as expected, but he's one of the top two or three defenders in the country.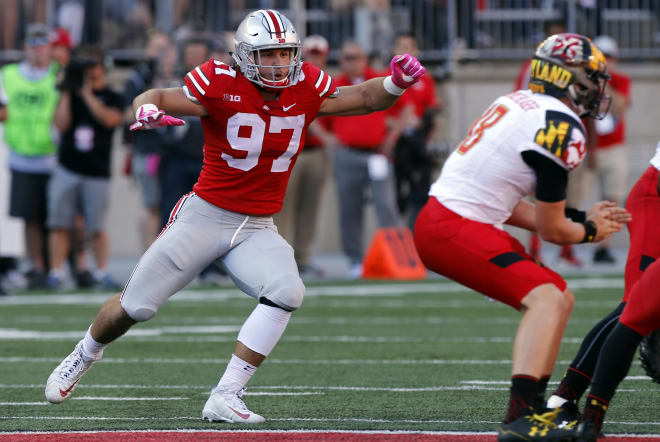 Recruiting: The younger brother of Joey Bosa, the five-star defensive end predictably picked Ohio State over Florida, Florida State and others in the summer before his senior season.
Farrell's take: Bosa was drawing comparisons to his brother, Joey, before his ACL injury in November of his senior season. Some said he would be even better. We had him ranked higher than Joey out of high school, but we whiffed on Joey being a five-star, so there's that. Nick was as athletic and physical as his brother and loved to hit. We knew he'd be special, and he's emerged as one of the best defensive ends in the country.

Recruiting: Calling Washington his dream school, Adams committed to the Huskies in August before his junior season. There was a coaching change from Steve Sarkisian to Chris Petersen and USC and Oregon got more involved but Adams stuck with his pledge.
Farrell's take: A high three-star out of high school, I never got to see Adams in person because he was from Washington and couldn't get out to camps nor was he invited to an all-star game. But on film he was tall, angular with a great frame to fill out and a long reach he used very effectively. He was more finesse than he was power back then but he uses a nice combination of both now.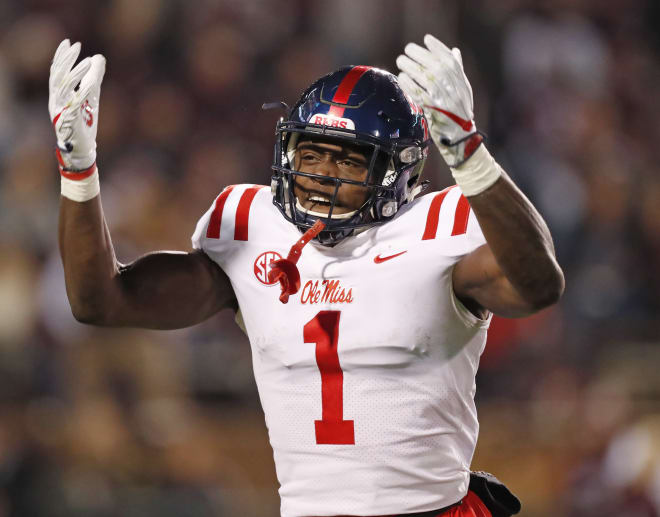 Recruiting: A high four-star prospect from Mississippi State's hometown of Starkville, Miss., Brown committed to Ole Miss over the Bulldogs and Alabama on National Signing Day.
Farrell's take: Brown had a breakout season, for sure. He was a big and thick receiver with great physical skills coming out of high school. He was our No. 9 wide receiver and No. 53 player overall in our 2016 Rivals100 and there were some internal arguments that he should be ranked higher. At Under Armour week, he was one of our top performers all week, showing excellent hands and great ability to make big catches in traffic. He may be the most complete receiver in the country when you consider his size and power.

Recruiting: While it came down to Clemson, South Carolina and Virginia Tech, the Tigers were always thought to be his leader, which ultimately resulted in his June commitment.
Farrell's take: Many felt that this would be Ferrell's breakout season at Clemson, and it appears it has been as he was in the offensive backfield often. I always liked his athletic upside, although he was a bit stiff at times, but I questioned his aggressiveness, so it has been interesting to watch him mature and come into his own in that area. His ceiling is very high for the NFL and keeps rising. He's playing up to his lofty ranking.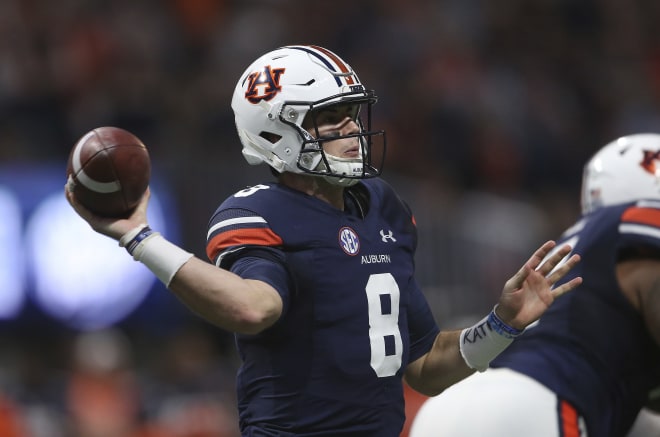 Recruiting: Originally a Texas Tech commit, Stidham backed off that pledge and ended up picking Baylor over Oregon and others in December of his senior season. After scandal hit Baylor, Stidham transferred to Waco (Texas) McLennan C.C. before picking Auburn.
Farrell's take: We liked Stidham out of high school quite a bit, especially his mobility along with his pocket presence. His efficiency his senior year was off the charts and he's always been good at taking care of the football. He was a Rivals100 prospect but never pushed that hard for a fifth star because he was always a bit inconsistent with his decision-making, mechanics and feel for the game during in-person evaluations. Were we putting too much emphasis on camps and not enough on game action? Perhaps, as he's really developed this past season and became key to Auburn's run.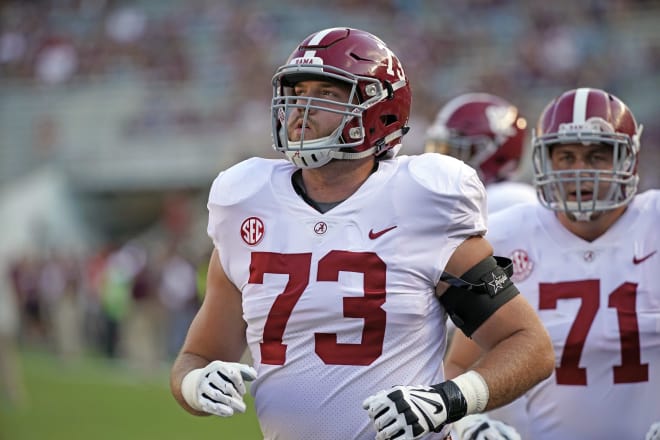 Recruiting: Originally from Atlanta, Williams moved to Folsom, Calif., early in high school but heading back to the SEC always seemed like a priority to the five-star offensive tackle. His mother went to Auburn and his dad went to Georgia but Williams picked the Crimson Tide in April of his junior year.
Farrell's take: Williams was the rare five-star prospect who didn't attend camps, didn't care about all-star games and just dominated on the football field with pads and a helmet on. We saw him in game action but never got to see him go against the elite defensive linemen in the country at any events. But it didn't matter to us, because he was so good in person and on film, and he had that throwback, nasty attitude of the greats of yesteryear. Williams just wanted to destroy the player in front of him and help his team win - he didn't care about gear, free trips or rankings. He's clearly showing our faith in his film was warranted.