NFL Draft: Breaking down the picks, state by state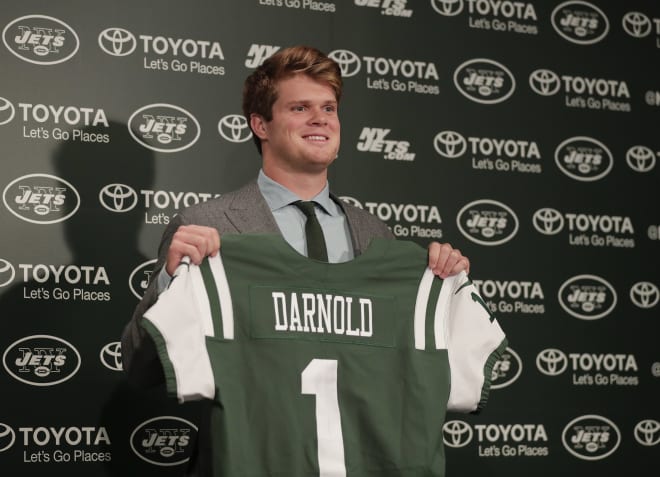 The 2018 NFL Draft is officially in the books and while it will take years to truly decide which teams made the right picks and when, it's not too early to analyze which states produced the most draft-worthy talents. The right for state bragging rights is fought annually, but the numbers don't lie. Here's a breakdown of which states produced how many draftees in this year's draft.
MORE ON THE NFL DRAFT: Gorney's Takeaways | Grading the first-round picks
  1. Florida – 34  
First-round picks: 6
Notable draftees: WR Calvin Ridley (Atlanta), DB Derwin James (Los Angeles Chargers), OL Isaiah Wynn (New England)
The Sunshine State is known for producing football talent on a yearly basis, so it shouldn't exactly come as a surprise that it tops this list. Florida tied with California for the most first-round picks and also had the most fifth round picks (6) and seventh round picks (7). Florida's achievement is even more impressive considering four former 5-stars who were draft eligible didn't get selected.
   T-2. California – 27  
First-round picks: 6
Notable draftees: QB Josh Rosen (Arizona), QB Sam Darnold (New York Jets), QB Josh Allen (Buffalo)
California is known for producing quarterback talent on a yearly basis, so it's never a surprise to see quarterbacks from the state get drafted. But having three California natives go in the first nine picks is very impressive, and it set the tone for a very successful draft for the state. California also led the way in the sixth round of the draft with six selections, and saw all but one of its eligible former five-star prospects get selected.
  T-2. Texas – 27  
First-round picks: 2
Notable draftees: QB Baker Mayfield (Cleveland), DE Marcus Davenport (New Orleans), RB Ronald Jones (Tampa Bay)
The Lone Star State had the No. 1 overall pick for the second consecutive year, as former walk-on and three-star prospect Mayfield was first off the board as he was picked by the Browns, following the footsteps of fellow Texas native Myles Garrett, who went No. 1 to Cleveland last year. After just two first-round selections the state had the most second-round picks (7) and fourth-round picks (6). It's worth nothing that Davenport, from Texas-San Antonio, was the first Texas native from a Texas university to be selected.
  4. Virginia – 15  
First-round picks: 2
Notable draftees: Da'Shawn Hand (Detroit), Tremaine Edmunds (Buffalo), Terrell Edmunds (Pittsburgh)
This is where things really get interesting, as Virginia surprised many by outpacing traditional powers like Ohio, Pennsylvania and Georgia. The round with the highest number of Virginia natives selected was the fourth round with four, including Hand, the No. 1 overall player in the class of 2014. Virginia had three of the four draft-eligible five-star prospects selected.
5. – North Carolina – 14
First round picks: 2

Notable draftees: DB Jaire Alexander (Green Bay), DB Mike Hughes (Minnesota), DE Harold Landry (Tennessee)
The state of North Carolina is known for basketball talent but this year's NFL Draft is one of the best in recent memory for the Tar Heel State. With 14 players drafted, including two first round picks, it's clear the football talent in the state can't be underestimated. What has to be bittersweet for fans of football in the state, all four of the first and second round picks came from college programs outside the state of North Carolina. Hughes did start his career at North Carolina, before going to JUCO and landing at UCF. Another feather in the cap of the state is the fact that they accomplished the 14 draft picks without having one five-star draft-eligible prospect.
  T-6. Georgia – 12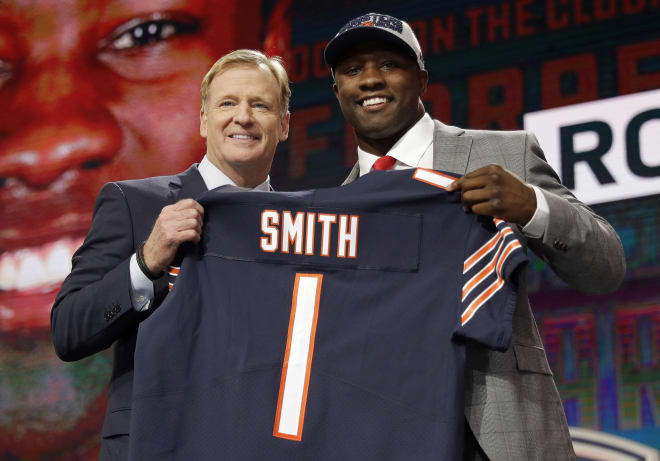 First-round picks: 2
Notable draftees: LB Roquan Smith (Chicago), RB Nick Chubb (Cleveland), DE Bradley Chubb (Denver)
The Peach State is usually higher on this list, but it still finished with a very respectable dozen prospects drafted, 10 of which went in the first three rounds. Georgia had the most third-round picks of any state with a whopping seven, including former Georgia Bulldog Lorezno Carter. The state's lone five-star prospect, University of Georgia defensive tackle Trenton Thompson, surprisingly went undrafted.
  T-6. Pennsylvania – 12  
First-round picks: 3
Notable draftees: RB Saquon Barkley (New York Giants), OT Mike McGlinchey (San Francisco), D.J. Moore (Carolina)
Pennsylvania has a rich history of producing NFL talent, including some all-time greats like Dan Marino, and it was a return to form this year as three of the top 24 picks hailed from the state. Nearly half of the draftees from the state (five) were selected in the fourth round of the draft, including former Pittsburgh Panther safety Jordan Whitehead.
  T-8. Alabama – 11  
First-round picks: 2
Notable draftees: DT Da'Ron Payne (Washington), LB Rashaan Evans (Tennessee), RB Kerryon Johnson (Detroit)
The University of Alabama set a record for players drafted by a school, with 12, and that was aided by two in-state players going in the first 22 picks. Not to be outdone by its rival, Auburn also had an in-state alum go off the board relatively quickly when former Rivals100 prospect Johnson was picked in the second round by the Lions. The Yellow Hammer State had the most players selected in the sixth round, when four prospects went off the board.
  T-8. Louisiana – 11  
First-round picks: 0
Notable draftees: RB Derrius Guice (Washington), DB Donte Jackson (Carolina), WR D.J. Chark (Jacksonville)
It was a little surprising to see the first round come and go without any players from Louisiana selected, but that changed quickly in the second round, when three LSU alums went off the board. That got the ball rolling and prospects continued to come off the board, including in the sixth round, when four different Louisiana natives were selected. The state also had the honor of being home to this year's "Mr. Irrelevant," former Rivals100 wide receiver Trey Quinn.
  T-10. New Jersey – 8 
First-round picks: 2
Notable draftees: Minkah Fitzpatrick (Miami), Quenton Nelson (Indianapolis), Mike Gesicki (Miami)
The Garden State had a great year in terms of talent drafted, with two of the top 11 picks hailing from the state. No more than two players from the state were selected in any round, but the fact that New Jersey was able to crack the top 10 shows the quality of high-end talent the state is capable of producing.
  T-10. Mississippi – 8
First-round picks: 0
Notable draftees: DL Breeland Speaks (Kansas City), OL Martinas Rankin (Houston), Tarvarius Moore (San Francisco)
Mississippi is never short of high-end talent, and this year's draft was no exception as the state cracked the Top 10 despite not having a first-round pick. What's even more impressive is the fact that Mississippi schools kept the bulk of the talent in state, including the top three players selected.
The rest 
Maryland 6, Ohio 6, Michigan 6, Tennessee 5, Colorado 5, Illinois 5, Arizona 3, Nevada 3, New York 3, Indiana 3, South Carolina 2, Idaho 2, Massachusetts 2, Kansas 2, Utah 2, Minnesota 2, Iowa 2, Washington 2, Arkansas 2 Kentucky 2, Delaware 2, Wyoming 1, South Dakota 1 , Nebraska 1, Montana 1 , Wisconsin 1, Missouri 1, Washington DC, 1
States without a draftee: Alaska, Connecticut, Hawaii, Maine, New Hampshire, New Mexico, North Dakota, Oklahoma, Oregon, Rhode Island, Vermont, West Virginia
Foreign countries with a draftee: Australia: 2, Canada: 1