NFL Draft: Eight programs producing big-time NFL talent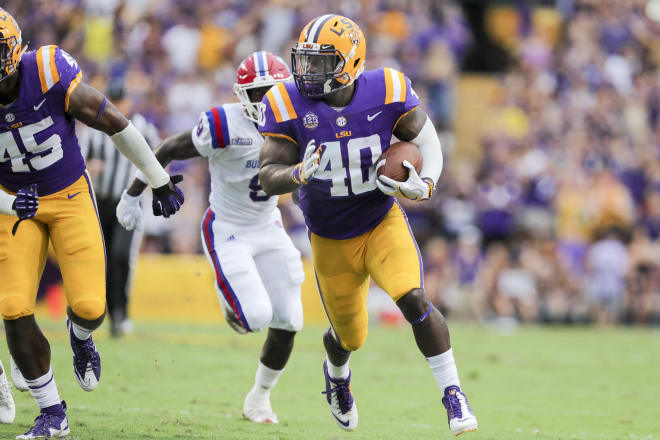 The NFL Draft starts Thursday and there are a lot of teams that will have numerous players selected. Here are eight schools that are making noise heading into the event.
RELATED: Top five QBs as the draft nears | RB | WR | TE | OL | DT | DE | LB | CB
| S
ALABAMA
Overview: Every year it seems the Crimson Tide have an abundance of high-level talent heading to the combine and then to the first round of the NFL Draft and this year should be no exception. Defensive tackle Quinnen Williams should be one of the first overall picks. Running back Josh Jacobs has emerged as possibly the first running back taken somewhere in the first round. And OL Jonah Williams could be an early first-round selection as well. Alabama sent 11 players to the combine and many will get drafted. Just another incredibly successful year in Tuscaloosa.
Farrell's take: A shocker huh? Alabama producing big-time NFL talent is nothing new at all under Nick Saban and they should have two or three first-rounders to brag on after Friday. And they will be among the leaders for putting the most players in the draft as usual. This is what happens when you recruit to an elite level and it only helps recruiting moving forward. Being able to sell NFL Draft success is key in recruiting.

CLEMSON
Overview: The national champs also sent 11 players to the combine , including four defensive linemen who could be drafted in the early rounds, with at least a couple in the first round. That's how dominant Clemson has been recruiting across the defensive line and they have backups there that should be next in line as the Tigers' talent level is not dropping off. Nine of the 11 Clemson players at the combine are on the defensive side of the ball, but the Tigers have players across the board who should be able to fill in right away. That's a tremendous statement in recruiting for coach Dabo Swinney and his staff.
Farrell's take: This is just the beginning for Clemson as their recruiting has led to two national titles and they are just starting to hit their stride. With players like Christian Wilkins, Clellin Ferrell and Dexter Lawrence all possible first round picks,, defensive line recruiting will be a breeze. But wait until next year and beyond when they start putting more skill players in the draft. Things will pick up even more.

IOWA
Overview: There is a pretty good chance Iowa is going to have two first-round tight ends selected on Thursday night and that has to be a recruiting boon for the Hawkeyes. T.J. Hockenson is receiving rave reviews and some heady comparisons in the pre-draft process and he could even be a top-10 pick. Hockenson might just be that special. And then there is Noah Fant, who tested really well at the combine and finished his college career with more than 1,000 receiving yards and 19 touchdowns.
Farrell's take: Can Iowa put two tight ends in the first round? They could and it would be quite the feat. Overall they will have a few others drafted, but the tight ends are getting them the most attention and has already impacted recruiting. Kirk Ferentz does a good job finding players others pass over.

LSU
Overview: The Tigers sent six players to the combine, but more importantly - and what could be used as a recruiting tool for coach Ed Orgeron and his staff - is that LSU will most likely have the first linebacker and the first cornerback drafted on Thursday night. Devin White is a tackling machine who was pushed hard by Michigan's Devin Bush through the pre-draft process but White should still be the first linebacker taken off the board. There are some lingering questions about cornerback Greedy Williams but no others have stepped up to best him, either. LSU knows how to recruit linebackers and defensive backs - White and Williams are more proof they get developed in Baton Rouge.
Farrell's take: This will be a great 1-2 punch for LSU with White and Williams landing in round one. Having a defensive back drafted so high continue the DBU tradition and White has already brought other linebackers to Baton Rouge to follow in his footsteps. LSU always boasts a roster full of talent and they just need to solve some offensive issues to compete for a national title. But for now, the two defenders will get the most attention.

MICHIGAN
Overview: Through his high school career, there were questions about Devin Bush's size and he proved a lot of people wrong by going to Michigan - instead of Florida State where his father played - and developing into a tackling machine for the Wolverines. He should be picked somewhere in the middle of the first round. Former five-star Rashan Gary looks to be an early first-round selection because of his freakish athleticism and versatility even if there are questions about lack of production. Edge rusher Chase Winovich and cornerback David Long could be steals in the draft and probably aren't getting enough recognition.
Farrell's take: Michigan will put some quality players in the draft and of course Bush and Gary will get much of the attention. Even if Gary slides as some predict, he won't slide out of round one and Bush should be gone by pick 15. Winovich looks like a 10-year pro with a never-ending motor and Long is a sleeper at corner. The talent under Jim Harbaugh has been impressive.

MISSISSIPPI STATE
Overview: Maybe no player had a better combine performance than defensive end Montez Sweat, who posted incredible numbers in Indianapolis but was also diagnosed with a heart condition. He should still be an early first-round pick. It doesn't seem enough people are talking about just how impactful this draft could be for the Bulldogs with Sweat, defensive tackle Jeffery Simmons, safety Johnathan Abram and offensive lineman Elgton Jenkins all potential first-round selections.
Farrell's take: Mississippi State has a ton of talent ready to be drafted and this will certainly help recruiting as they aren't a blue blood that can just tap prospects on the head and have them commit. Out of all the teams on this list, guys like Sweat and Simmons could help the Bulldogs recruiting more than anyone.

OKLAHOMA
Overview: Baker Mayfield was the No. 1 selection in the 2018 draft after winning the Heisman Trophy and there's a good chance Kyler Murray will be the first pick in this draft, also after winning the Heisman. If the Arizona Cardinals can deal current QB Josh Rosen, it's almost certain Murray would go No. 1 and that could continue to be a huge recruiting statement for the Sooners, not like they're struggling at getting quarterbacks to sign up. Other than Murray, offensive lineman Cody Ford could be an early pick and receiver Marquise Brown is really intriguing a lot of teams because of his playmaking ability.
Farrell's take: Oklahoma recruiting at an elite level and they could have the No. 1 pick in the draft again with Murray. Ford is a first-rounder for sure and Brown should be one as well despite his injury. But, like with Clemson, this is only the start as there are so many talented future stars on the current roster and Lincoln Riley recruits like a beast.

OLE MISS
Overview: Nine Ole Miss players were at the combine and the Rebels could have an early run of receivers taken in the first round. Both D.K. Metcalf and A.J. Brown could be special and they could be the first two receivers taken off the board. Offensive tackle Greg Little seems to be slipping in the early rounds but he's still a highly-talented player. Tight end Dawson Knox could be picking up a little bit of steam and safety Zedrick Woods was clocked at 4.29 seconds in the 40-yard dash at the combine, the fastest time of the entire event.
Farrell's take: The receivers are getting the notice and both should end up as round one picks. Little is a surprise as he's slipping a bit but I don't think he gets past round two. Ole Miss does a very good job developing talent and also sending sleepers to the NFL. Woods could be one of the steals of the draft.