NFL Draft: Top five linebackers as draft nears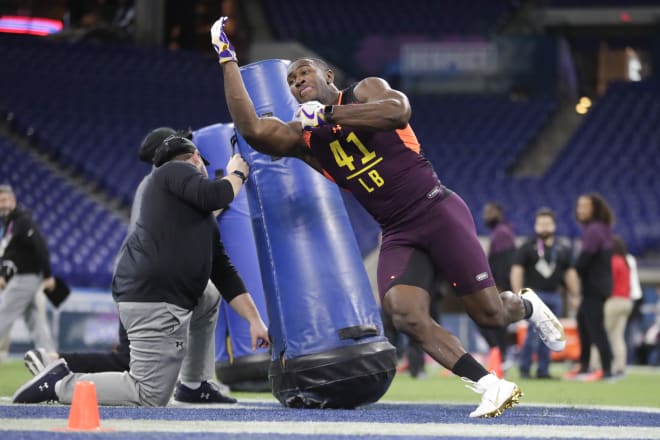 RELATED: Top five QBs as the draft nears | RB | WR | TE | OL | DT | DE
The NFL Draft is next week. With the NFL Combine and pro days in the rear-view mirror, here is our ranked list of top linebackers heading into the draft.
Recruiting: Ranked as a four-star fullback and tops at his position in the 2016 class, White committed to LSU over Arkansas, Ole Miss and Alabama in January of his senior year.
Buzz: There is a chance White could be a top-five pick in the NFL Draft later this month, especially after an outstanding showing at the combine where he had the best 40 time among linebackers at 4.42 seconds. His stats at LSU are so good they're hard to believe as well as White had 133 tackles in his sophomore season and this past season White totaled 123 stops.
Farrell's take: We knew White was a four-star talent; we just couldn't figure out at which position to rank him. I remember when he first came onto the radar, he was considered the next Leonard Fournette in the state – a massive and fast running back prodigy. However, he kept getting bigger and lost speed, so he was projected either as a linebacker or a fullback/H-back, or even a kid who could grow into a defensive tackle. He wasn't very good covering in space at all, so we ranked him as a fullback and now he's showing us we should have kept him at linebacker. He's a big hitter, always has been, and is the clear No. 1 linebacker.

Recruiting: In December of his senior season, Bush committed to Michigan over Florida State, Georgia, Auburn and others. He picked the Wolverines even though his father played for the Seminoles.
Buzz: Not only did Bush rack up impressive numbers during his time in Ann Arbor, the former four-star had a great 40-yard dash time at the combine at 4.43 seconds, the best vertical leap and a good showing in other events as well. In three seasons with the Wolverines, Bush finished with 172 tackles and 10 sacks.
Farrell's take: We had Bush ranked in the Rivals250 and as a top-10 inside linebacker, but I never expected him to be as dominant as he has been in his college career. He's a much bigger hitter at the college level than I expected, and his lack of length – something we worried about – hasn't hurt him at all. He explodes to the football, arrives with a thump and was a huge key for Michigan's defense. However, his overall athleticism is surprising and impressive to me based on what I saw in high school.

Recruiting: Alabama was always considered the front-runner but things got interesting when Georgia made a late push and Wilson ended up visiting Athens before signing day. Still, the Crimson Tide won out in his recruitment.
Buzz: After White and Bush, who appear to be early first-round selections, there is a steep drop off until the next linebacker could come off the board. Wilson looks to be that player even though he did limited testing at the combine and then ran in the high 4.6s in the 40-yard dash at Alabama's pro day. In response to that, Wilson said he didn't train to be a track star - and that his on-field production speaks for itself. In three seasons on a loaded 'Bama defense, Wilson had 113 tackles.
Farrell's take: Wilson lived up to his five-star status. He was always an instinctual player who was great in coverage, but also loved to hit. He wasn't the longest linebacker in the world, but fits the mold of what teams are looking for these days – quick-twitch kids who are great in space and can cover a lot of ground. He's also an excellent blitzer. He could be a second-round steal.

Recruiting: Lamar committed to Clemson at its summer cookout leading up to his senior season. The Tigers beat out Auburn for his services.
Buzz: Lamar finished second on the Clemson defense with 85 tackles and eight quarterback pressures and his stats improved over three seasons with the Tigers. If there is one major criticism of Lamar, though, is that he doesn't have the speed to play in space in today's NFL and that could be a concern.
Farrell's take: Lamar was a five-star player out of high school because he was big and powerful, and also rangy and solid in coverage. To add quickness at the college level he actually gained weight and power. He's come along a little slower than expected, but last season showed his range and physical abilities and he's rising on some boards. His physical skills have NFL scouts encouraged, but he hasn't taken the next step and is in the second- or third-round range now.

Recruiting: After working out at summer camp, Pratt committed to NC State over North Carolina, Wake Forest, Virginia, Notre Dame and East Carolina.
Buzz: Pratt produced good testing numbers at the NFL Scouting Combine and that is coupled with a fantastic season where he led NC State with 105 tackles (10.5 for loss) and tied the team-high with six sacks. In high school, Pratt weighed 200 pounds and at the combine he checked in at 240 pounds. There are some questions about his mobility and quickness but definitely not his production.
Farrell's take: Pratt was ranked in the Rivals250 and had good length and range coming out of high school. He was thin but had a good frame to build on and was very explosive to the football. He's been developed and coached very well at NC State and his athleticism stands out.