NFL Draft: Top 5 WRs as draft nears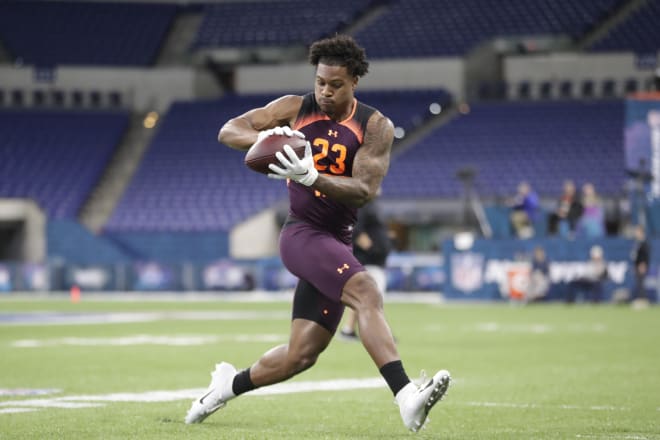 RELATED: Top five QBs as the draft nears | RBs
The NFL Draft is coming up in a few weeks. With the NFL Combine and pro days in the rear-view mirror, here is our ranked list of top wide receivers heading into the draft.
Recruiting: Late in his senior season, Harry committed to Arizona State over serious interest from Washington, Texas A&M and others. He is the only five-star from the state of Arizona to pick the Sun Devils.
Buzz: After his massive production and his physical traits, it's surprising Harry is not at the top of many mock drafts since he had two seasons at Arizona State where he had more than 1,000 yards receiving and he finished with 213 catches and 22 touchdowns for the Sun Devils. The former five-star prospect dominated the Pac-12 and had strong numbers at the combine, too, although some of his on-field work was eclipsed by some other top receivers.
Farrell's take: I've been a big fan of A.J. Brown, but I have Harry ahead of him now on my board. Out of high school it was clear to see Harry had five-star skills from the first time I saw him at one of our camps out West. His size, hands, power and sneaky speed all make him hard to check and have led to some dominant seasons. This is a good wide receiver class and Harry is the best.

Recruiting: A high four-star prospect from Mississippi State's hometown of Starkville, Miss., Brown committed to Ole Miss over the Bulldogs and Alabama on National Signing Day.
Buzz: More discussion is being had about teammate DK Metcalf being selected earlier in the first round, but are a lot of analysts missing the obvious here? That Brown has put up far better numbers in Oxford with 1,320 receiving yards this past season and 1,252 yards and 12 touchdowns two seasons ago. Sure, Metcalf is bigger and looks better than Brown, but the question remains whether he's the better football player over the long term.
Farrell's take: Brown isn't just a slot guy as many think because it's clear he can play outside as well. I liked him a lot out of high school and his performance during Under Armour week pushed him higher in the rankings and led to some debates. I'd take him over Metcalf in a second because he's more durable and shifty and I think we underrated him in high school.

Recruiting: After playing at Santa Clarita (Calif.) College of the Canyons, Brown picked Oklahoma over West Virginia, but TCU, Tennessee, USC and others were also involved.
Buzz: Brown had two humongous seasons at Oklahoma where he finished with 132 catches for 2,413 yards and 17 touchdowns and his time in Norman propelled him to becoming one of the first receivers taken in the draft. A Lisfranc injury sidelined Brown for the NFL Scouting Combine and Oklahoma's pro day, but he's expected to be fine and his draft status should not be hurt much, if at all. If there is one concern NFL executives will have to get over in drafting Brown it's that he measured only 5-foot-9 and 166 pounds in Indianapolis.
Farrell's take: Despite the injury, Brown is a dynamic receiver who should land in round one. Size was an issue coming out of JUCO but his film was so amazing we had to rank him highly and the same is being said now. He doesn't have ideal size at all, but that doesn't matter when you're as dynamic as he is after the catch and downfield.

Recruiting: After an impressive showing at summer camp and a big senior season, Samuel earned an offer from South Carolina and quickly committed to the Gamecocks. North Carolina, NC State, Vanderbilt and others were in the mix.
Buzz: NFL.com calls Samuel a Day 2 sleeper. Under-the-radar no more. Samuel has had a terrific pre-draft process whether at the NFL Scouting Combine or at the Senior Bowl and he's quickly moving up draft boards. Early in his junior season, Samuel injured his left leg and he missed the remainder of the year but he bounced back for the Gamecocks this past season with 62 catches for 882 yards and 11 touchdowns. Samuel has had a great offseason and could be a steal earlier than expected in the draft.
Farrell's take: Ahhhh Deebo. He should have been a four-star after his Shrine Bowl of the Carolinas performance and I regret that. He's not only an excellent receiver but he's a return man at the next level as well. We questioned his size out of high school and there are still some concerns, but he's a steal in round two for someone in the draft.

Recruiting: On Aug. 1 before his senior season, Hall committed to Missouri over Vanderbilt, Ole Miss, Kentucky, Louisville and others.
Buzz: Hall's testing numbers at the combine were fantastic as he was timed at 4.39 seconds in the 40-yard dash, his vertical leap was tied for first and he led the way in the broad jump for wide receivers. That is coming off back-to-back seasons where Hall had more than 800 receiving yards in each year and he combined for 70 catches and 14 touchdowns.
Farrell's take: I'm probably the biggest fan of Hall out of anyone out there and he was ranked as a three-star out of high school because of some injuries here and there that allowed for limited evaluation. He took it to the next level in college and has the size, speed, leaping ability and the total package to be a second round steal.