NFL Draft: Top five safeties as NFL Draft nears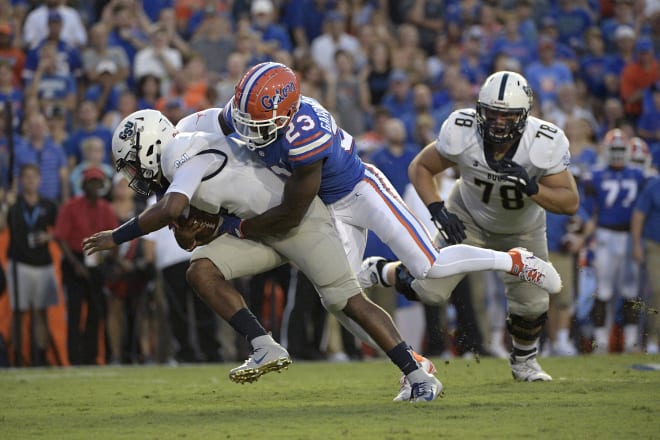 Recruiting: Gardner-Johnson committed to Florida in March of his junior year, but Alabama continued to pursue him throughout his recruitment. Georgia, Notre Dame and Penn State also kept after Gardner-Johnson after his commitment to the Gators.
Buzz: Gardner-Johnson posted impressive numbers at the combine especially with a 4.48-second 40-yard dash. What could make him attractive to many NFL teams, possibly even late in the first round, is his versatility as a safety who can play in the box or in many different coverages. In his three seasons with the Gators, Gardner-Johnson had 161 tackles and nine interceptions.
Farrell's take: Gardner-Johnson was an elite corner out of high school with great skills who liked to take chances. He was a sure tackler, closed well on the ball and was physical. It was no surprise to see him develop and begin to excel later in his college career. I remember how cocky he was in camp settings and wanted to be challenged by the best, so I knew he had the right attitude to be an elite player. We projected him as a corner but he has grown into an excellent safety.

Recruiting: In the spring of his junior season, Rapp committed to Washington while visiting campus. Stanford was getting much more involved and Oregon was also in the mix when Rapp made his decision.
Buzz: Rapp was highly productive at Washington and exceeded ranking expectations coming out of high school as he could be a fringe first-round selection. But he missed the Rose Bowl with a groin injury, didn't run the 40-yard dash at the combine and then ran a pedestrian 4.74 40 at his pro day. Rapp totaled 168 tackles and seven picks in three seasons with the Huskies.
Farrell's take: Rapp was a mid-level three-star who was a bit undersized coming out of high school but had good coverage skills. He wasn't heavily recruited, mainly because of the size issue and the fact that he played in the state of Washington. Now he's a ball hawk who is always around the football and could land at the end of round one.

Recruiting: Adderley was an unranked athlete in the 2015 class whose only listed Power Five offer was from Wake Forest. He picked Delaware over Central Connecticut State, Delaware State, Maine, New Hampshire and others. Power Five schools showed interest, but there were reportedly academic hurdles.
Buzz: Depending on what you read, either Adderley is the best safety in this draft class, an athletic specimen who has been overlooked and could be the next Earl Thomas, or his stock is slipping heading into the draft next week. At Delaware this past season, Adderley had 87 tackles and he added a team-high four interceptions.
Farrell's take: Adderley wasn't ranked or evaluated by Rivals out of high school, as he was getting true interest only from FCS schools and has turned himself into a potential first-round pick in the NFL Draft. Very impressive.
Recruiting: Abram was a three-star prospect in the 2015 class who committed to Georgia and appeared in 10 games for the Bulldogs the following season. He then transferred to Ellisville (Miss.) Jones County J.C. and the three-star signed with Mississippi State for its 2017 class.
Buzz: The SEC transfer tested well at the NFL Scouting Combine which shot him up many draft boards and he could be the first safety drafted, possibly as a late first-rounder. Abram posted a 4.45-second 40-yard dash in Indianapolis and then reportedly looked good during field work at the Mississippi State pro day. He finished with a team-high 99 tackles along with three sacks, two interceptions, a forced fumble and a fumble recovery this past season.
Farrell's take: Abram was a three-star out of high school and JUCO who had good size and was a big hitter, but he lacked natural coverage skills. At Mississippi State, he used that size and aggression to make a ton of plays near the line of scrimmage and he's improved his coverage skills dramatically.

Recruiting: Thompson attended Alabama's junior day, was offered by coach Nick Saban and committed on the spot. He was the first pledge in the Crimson Tide's 2015 recruiting class.
Buzz: In three seasons playing in Alabama's loaded secondary, Thompson finished with 112 tackles and three interceptions. He suffered a pre-draft injury and did not test at the combine. Another concern is his frame. Thompson measured at 6-foot-1 and only 195 pounds in Indianapolis and so his lean frame could be an issue for safeties looking to pop receivers anywhere on the field.
Farrell's take: Thompson was a highly ranked safety out of high school who had a good frame, but he was skinny. He needed to fill out and get stronger. If I remember correctly, he was a five-star at one point but fell to a four-star because of those question marks. He came into his own this past season.