Mind of Mike: Ten players I'll have an eye on at Five-Star Challenge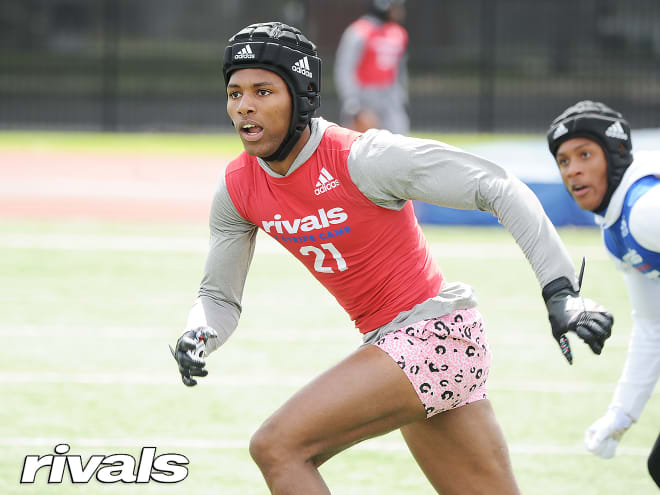 The Rivals100 Five-Star Challenge presented by adidas will take place at Mercedes-Benz Stadium in Atlanta on June 25, an event that has hosted some of the best high school prospects in the country since its inception in 2012. Here are 10 players that intrigue me the most.
RELATED: Who could push for best QB? | RB? | WR? | TE? | OL?
The No. 1 player in the 2021 class has a lot of hype to live up to and this event will be a good test of his nerves. He won't face a better group of defensive backs until he reaches college, but this is also the first time he'll have a slew of talented receivers to work with. All eyes will be on our first No. 1 in his class.
Washington has the build of LeBron James and is a mismatch for anyone trying to cover him, but I want to see how explosive and sudden he can be compared to Arik Gilbert and going up against some fast and physical linebackers.
I am a big fan of Moore and his ability to adjust to the football and run excellent routes. He could be one of the stars of the event and maybe become a Trejan Bridges-type who shows us so many skills at the event we have to bump him up.
Johnson is a big receiver with a good catch radius and excellent hands and I'm curious to see how he uses his strength and also his sneaky speed to gain separation. He has a chance to be the best receiver at the event.
Parks has improved as much as any lineman from his sophomore to junior year and his trajectory keeps pointing upwards. Can he handle the elite defensive linemen at the event and show us he belongs in the nation's top 30?
Harris just re-classified to the class of 2020, so I'm very interested to compare him to his new classmates and see where he fits in our Rivals100. I still think he's a five-star talent, but how much size and strength has he added and is he ready for the jump to college.
He can play defensive end or defensive tackle and has excellent agility for a player his size. He counters very well, he has great balance and he plays with such power. I'm curious to see how he does against a great group of linemen.
Sewell is a 260-pound linebacker, which is a rarity, so I want to see how he moves in space and how much ground he covers from sideline to sideline. He could be a very rare specimen or he could be a bit overrated. We will see.
Ringo is a competitor and was outstanding last year and the fastest player at the event. How much more speed has he added and how big is he now? He is battling to be not only the No. 1 cornerback in the country but could push for No 1 overall in the 2020 class.
A tall and rangy safety who plays with a chip on his shoulder, Alford could be a guy who has a standout performance.