Grading the active five-star DTs in college football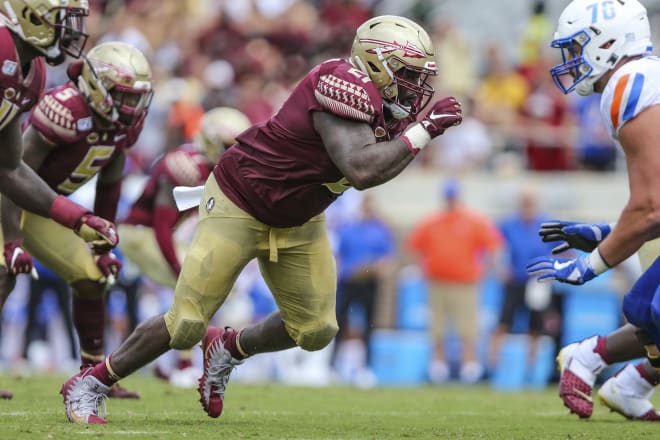 Five-star prospects are rare in each recruiting class and, as we know, some pan out and some don't. This week, we continue looking at the defensive tackles after analyzing the offensive players last week.
CLASS OF 2017
Marvin Wilson - Florida State
Wilson is done for the season but has had a very solid career despite Florida State's on-field struggles. He could be a first-rounder and, overall, he's lived up to the hype.
Grade: B+
Aubrey Solomon - Michigan
Solomon hasn't panned out as expected. He's shown a few flashes here and there but overall he hasn't come close to being the pocket crusher we expected.
Grade: C-
Tyler Shelvin - LSU
OK, Shelvin isn't playing as he opted out of the season, but he's had a solid enough career. He's a run-stuffer and we knew it. Shelvin could be a second- or third-round value.
Grade: B-
CLASS OF 2019
Antonio Alfano - Colorado
Wow, this has been bad. He left Alabama without doing anything and has been in trouble at Colorado as well. His on-field performance can't be graded so this is an off-field grade.
Grade: F
Christopher Hinton - Michigan
Hinton is starting to show signs of life at Michigan. It's too early to see how good he will be, but so far he's been average.
Grade: B
CLASS OF 2020
Bryan Bresee - Clemson
Bresee is off to a great start as a true freshman at Clemson. He's already cracked the starting lineup and is making an impact.
Grade: A-
Justin Rogers - Kentucky
Rogers has played sparingly so far this season as a freshman.
Grade: Incomplete
Gervon Dexter - Florida
Gervin has been good enough to grade and has an interception so far.
Grade: B