Gorney's predictions: Where will the top 10 uncommitted QBs land?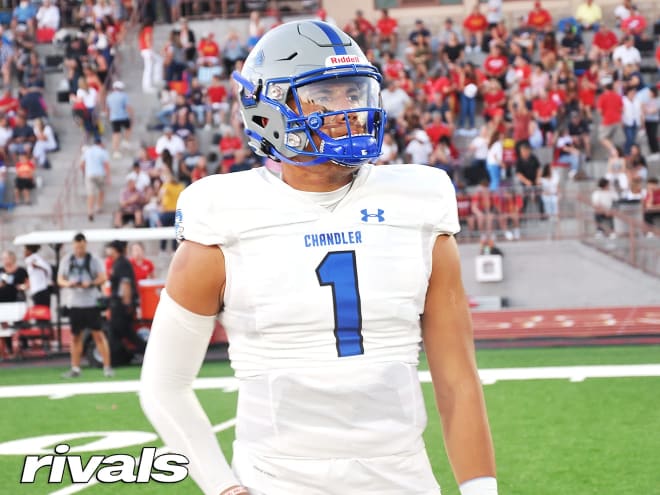 Through visits and a busy offseason there have been a lot of changes when it comes to the top players at each position. We start today looking at the top 10 uncommitted quarterbacks in the 2024 class.
Over the last couple months, the No. 1 prospect in the 2024 class has visited USC and Georgia, and he was back at Nebraska this past weekend. All three are very serious contenders for the Phoenix (Ariz.) Pinnacle quarterback and for various reasons.
At Georgia, Raiola loves the championship mentality, the SEC exposure and how coach Kirby Smart runs his program. At USC, playing for coach Lincoln Riley, something of a quarterback whisperer, and in his pass-friendly offense appeals to him.
At Nebraska, his uncle is on staff, his father was a star there and being the guy who helps bring back the Huskers to national relevancy is intriguing, plus Raiola enjoys every visit to Lincoln. Those three are the real contenders right now.
Prediction: Georgia
*****  
In recent days, Davis released his top five of Ohio State, Michigan, Clemson, North Carolina and Tennessee. The five-star quarterback from Charlotte (N.C.) Providence Day visited all those programs and developed great relationships. While all of them have a shot, it's the Wolverines that could be way ahead here.
In January, Davis wanted to make a decision soon and he was closely watching whether coach Jim Harbaugh would stay or return to the NFL. He stayed in Ann Arbor, and it would be a stunner at this point if Davis picks anywhere other than Michigan on March 31.
Prediction: Michigan
*****  
Much like his cool and calm demeanor on the field, that's been the attitude Brown has taken to his recruitment as it looks like Oregon and USC are standing out most right now. But the Santa Ana (Calif.) Mater Dei four-star quarterback has been busier playing in 7on7 tournaments this offseason and throwing the ball a lot instead of taking visits.
It also feels like USC is waiting to hear what Raiola does and if he goes elsewhere then it would turn up the heat even more on the Mater Dei recruit.
Prediction: USC
*****  
Maryland has had Van Buren to campus multiple times and the Terrapins are doing everything possible to keep the Baltimore (Md.) St. Frances four-star quarterback home. But it just feels as if Penn State carries too much weight and the Nittany Lions have the slight edge right now.
Oregon is definitely in this along with Oklahoma, but this could end up being a regional Big Ten battle as Penn State and Maryland duke it out.
Prediction: Penn State
*****  
There has been some debate and uncertainty recently about exactly where Merklinger stands in his recruitment and if Raiola does not pick Georgia, the Bulldogs could move quickly to get the four-star, in-state quarterback on board.
But he might make the decision first and it looks like Tennessee has the slight edge in his recruitment. North Carolina is an interesting option, especially since the Tar Heels have done so well with quarterbacks.
Michigan State remains in the mix as well, so this one could get interesting.
Prediction: Tennessee
*****  
It would be hard to believe Penn State would strike out on Van Buren and Bradford so the piece to the puzzle here is if Van Buren does pick the Terrapins then Penn State could put the hammer down on Bradford – if South Carolina doesn't win out already.
Four-star Dante Reno is already committed to the Gamecocks but Bradford is originally from South Carolina and it's definitely a major contender in his recruitment along with Penn State, NC State and others.
Prediction: South Carolina
*****  
The Frisco (Texas) Emerson four-star quarterback has set his commitment date for April 8 and he's been pegged to Oklahoma for so long. In recent weeks, however, it seems like TCU has made an incredibly compelling case to Hawkins and he's torn about his upcoming decision.
The Sooners have been there for so long and have made Hawkins the top priority but playing for coach Sonny Dykes on a team that went to the national title game last season seems to be swaying him as well.
Prediction: Oklahoma
*****  
The four-star quarterback from Fairburn (Ga.) Langston Hughes released his top seven recently with Alabama, Clemson, Arkansas, Miami, Ohio State, Texas A&M and Oregon making the cut leading up to his April 8 commitment. An argument could be made multiple ways in Noland's recruitment as pretty much every program among his top group could snag him.
But this feels as if it's coming down to a battle between Texas A&M and Miami for his services. Recent commitments in both College Station and Coral Gables should not scare away Noland so he remains a viable candidate for both programs and right now it feels like a toss-up.
Prediction: Miami
*****  
The feeling right now – and this might be an oversimplification – is that BYU looks best for the Draper (Utah) Corner Canyon four-star standout who has looked good this offseason playing for the Pink Outlaws. His brother, Zach, went there and had tremendous success before being the second overall pick in the 2021 NFL Draft.
But Arizona, Oklahoma State and Utah have also appealed to him so it might not be a complete lock yet for the Cougars.
Prediction: BYU
*****
Arkansas and North Carolina have emerged as the front-runners for the four-star lefty quarterback from Montgomery (Ala.) St. James and West Virginia is staying right in the mix as well.
Jackson was just back in Chapel Hill so meeting new offensive coordinator Chip Lindsey was an important part of that visit. The Razorbacks have also been making him a top priority and playing in the SEC could be a big draw.
Prediction: Arkansas