Gamecocks stay hot, land Rivals250 CB Braydon Lee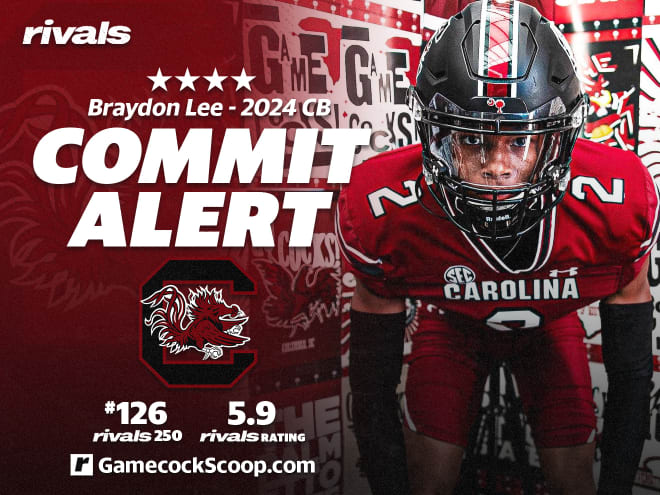 South Carolina is really on a hot streak right now. Their 2024 recruiting class is getting another boost from Rivals250 cornerback Braydon Lee. The Springdale (Md.) Flowers star is the second defensive back to commit to South Carolina today and joins his teammate Mike Williams, who also committed to South Carolina today.
IN HIS OWN WORDS
"From day one coach Gray made me aware of how important I was in this recruiting class and the 2024 DBs," Lee said. "From that moment on it just felt like endless love. 'Urgency' is coach Gray's favorite word. He told me I was a big part of what they were trying to build and what they were trying to get started. From my sophomore season after they offered me, they've been consistently at the top of my boards and I've been at the top of their board so it's been consistent mutual just love and interest from both sides. The love I get from the fan base every time I go down there, it doesn't even feel like South Carolina is my new home because it's always been home. That's how it feels to me.
"Coach Gray and I have one of the best relationships of and coach that I talked to," he said. "He actually played in the NFL with my uncle so we're really close family friends. I just love the way he coaches. He coaches aggressiveness with urgency. He has the best interest in the kids and all the players. He just wants to bring the best out of you and that's something I can really appreciate.
"I was on the phone with coach Beamer last night and we were just talking about how historic this recruiting class is for 2024," Lee said. "I don't know how it got like this and I don't know what made everyone just love South Carolina but I've always had interest in South Carolina. When I was a little kid, I always played with them on NCAA and that was just some fun and it's coming back full circle. I can't really tell you what the magic is but coach Beamer is cooking. That's all I can say.
"We have to lock in Dylan Stewart," he said. "That's my guy right there. That's my boy. I know he loves it but he's going to take his time. I believe he's going to make his best decision but for right now he's at the top of my recruiting board."
RIVALS' REACTION
Lee is an outstanding cover cornerback with long arms, good instincts, and reaction speed. He can physically when necessary but he'll be a major asset against many of the prolific receivers South Carolina will come across in the SEC. Lee joins current teammate Mike Williams and former teammate Desmond Umeozulu, a Rivals250 signee from the 2023 class. Having that support system and familiarity already in place at South Carolina was a big part of his decision and it seems like it is paying dividends for other players in the greater Washington D.C. area known as the DMV.