Five-Star Checkup: RBs making an impact in college, NFL
Every Monday during the fall, we check in on five five-star prospects to see how they're performing and if they are living up to the lofty billing that led them to be ranked at the top of the Rivals100. This week we focus on five former five-star running backs from college football and the NFL that are already making a major impact for their respective teams.
MORE: Five-star freshmen | Four-Star QBs | Three-star DL | Two-stars | Unranked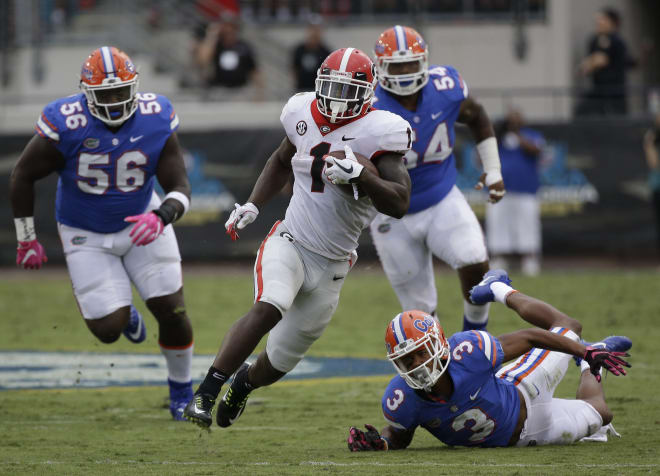 As a recruit: A South Florida legend before he finished his high school career, Michel had options from coast-to-coast before limiting his choices to Georgia, Notre Dame and Miami. The Dawgs ended up beating out both programs to land Michel's commitment during the spring of his junior year and he never wavered on that pledge.
What he did this week: Michel has spent his career in Athens as part of a two-headed monster with Nick Chubb and the two made a joint decision to return for their senior years in 2017 rather than head to the NFL. So far that decision is paying off as both continue to put up huge numbers and the Dawgs are one of the best teams in the nation. In Saturday's blowout victory over Florida, Michel had a huge game, rushing for 137 yards and two touchdowns on just six carries. Michel cracked the 3,000-yard mark for his career and his tandem with Chubb will go down in the Georgia record books as one of the best of all-time.

As a recruit: Isaac's recruitment came down to a trio of schools: Michigan, Notre Dame and USC. Despite his Midwest ties, Isaac fell in love with the Trojans and committed to Lane Kiffin and company during the spring following his junior season. He saw the field quickly in Los Angeles, rushing for 236 yards as a true freshman, but missed home. So he transferred to Michigan and sat out the 2014 season.
What he did this week: One of the oldest five-stars still playing college football, Isaac is making the most of his last year of eligibility. In Michigan's victory over Rutgers on Saturday, Isaac rushed for 109 yards, his best showing since Week 2. Nagging injuries have slowed Isaac during the 2017 campaign but he has still had the best statistical season of his career. While it's unlikely that Isaac will live up to his five-star ranking he has been a productive college player and will likely get a shot to play at the next level as well.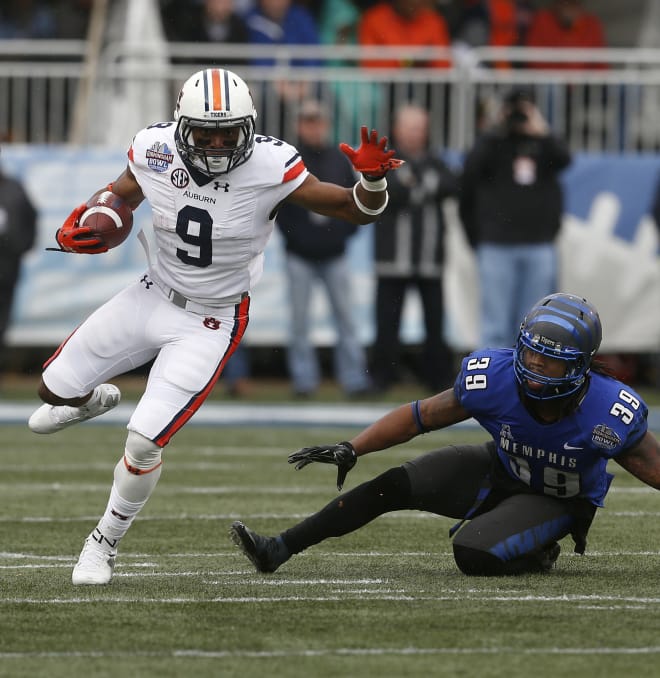 As a recruit: Thomas shattered records in the state of Alabama and had a terrific career, leading to offers from Alabama, Auburn, Clemson, Oregon and several others. Like most prospects from the state, it was unlikely Thomas would go far from home, and he committed to Auburn just prior to the start of his senior season and didn't waver from that commitment. However, after seeing scattering playing time and never cracking the 100-yard mark in a game during his two seasons at Auburn, Thomas transferred to FCS power Jacksonville State prior to the 2016 season.
What he did this week: When Thomas dropped down a level to finish out his career, most people expected that it would be the last Thomas was heard of. However, he's found himself having quite a role on one of the FCS level's top programs. In 2016 he had nearly 1,000 all-purpose yards and in Saturday's win over Southeast Missouri State, Thomas rushed for 92 yards and a touchdown. Thomas' career hasn't gone as expected but he will be in a position to get on the radar of NFL teams if he continues to put up numbers and has a good pre-draft showing on the workout circuit.
As a recruit: Mixon had a truly national recruitment, taking official visits to Oklahoma, Wisconsin, Florida State, Cal and Washington during the fall of his senior year. Despite wrapping those trips up before December, Mixon waited until January of 2014 to announce his commitment to Oklahoma. His career in Norman got off to an inauspicious start when he was suspended for the entirety of the 2014 season after assaulting a female student. Mixon went onto star for the Sooners in 2015 and 2016 but remained a controversial figure for his past indiscretions, especially when video of the event surfaced in late 2016.
What he did this week: Mixon went on to be drafted in the second round by the Cincinnati Bengals and so far his rookie year is off to quite the start. In Saturday's victory over Indianapolis, Mixon had 91 receiving yards to lead his team and also added a team-high 18 yards on the ground. On the season Mixon has rushed for 253 yards and also accounted for 189 yards as a receiver. He's yet to eclipse the 100-yard mark in a game in either category but looks like the running back of the future for the Bengals.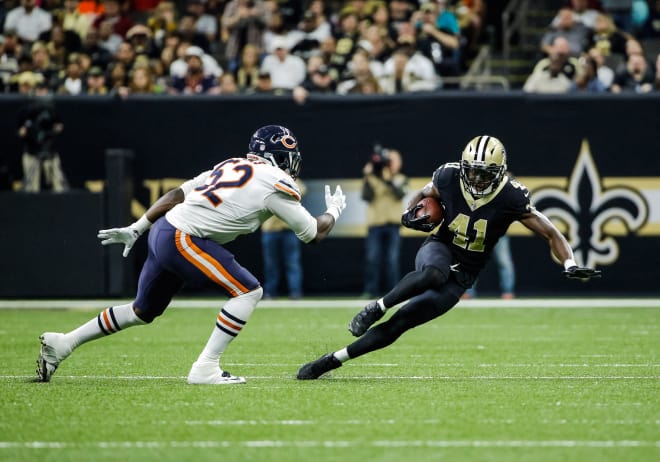 As a recruit: Originally a high four-star prospect out of high school, Kamara spent one year at Alabama before transferring to junior college, where he was re-ranked as a five-star prospect. Despite his ranking Kamara had limited suitors, ultimately committing to Tennessee over returning to his home state of Georgia and play for the Bulldogs. Kamara spent two seasons with the Vols, where he showed flashes of incredible talent, but never managed to put up more than 1,000 yards from scrimmage in either of his two seasons.

What he did this week: After being selected in the third round of the NFL Draft in 2017, Kamara wasted no time impressing his teammates and coaches with the New Orleans Saints. In Sunday's victory over Chicago, Kamara rushed for 28 yards and a touchdown and also hauled in three passes for 48 yards. His versatility has made him more of a part of the game plan every week and he's already racked up 600 yards from scrimmage in just seven games this season. Kamara has shown with opportunity that he's a five-star talent and he looks like a future star in the NFL.