Four-Star Checkup: Quarterbacks that came up big in Week 8
Each week during the college football season we'll use Tuesday as a chance to look back at four four-star prospects that shined during the previous week's college football action. Today we will focus on a quartet of quarterbacks that had big games in their team's Week 8 games.
MORE CHECKUPS: Five-star freshmen that made a big impact in Week 8
As a recruit: Coming out of powerhouse Texas program Southlake-Carroll, Hill had his share of suitors, but he elected to stay close to home and commit to Texas A&M during the spring of his junior year. That didn't stop other programs from recruiting him, especially since the Aggies took two quarterbacks in the 2013 class, but despite a late official visit to Kansas State, he stuck with Texas A&M. After one year of serving as Johnny Manziel's backup, Hill burst onto the college football scene in 2014, starting the first eight games of the year for the Aggies. But he later lost the job and then was suspended by the team before he transferred to TCU following that season.
What he did this week: After sitting out due to transfer rules in 2015, Hill seized control of the Frogs' starting job in 2016 and had a decent year despite the team's struggles. The 2017 campaign, so far, has been a completely different story as Hill has established himself as one of college football's best quarterbacks. In Saturday's 43-0 victory over Kansas, Hill threw for 278 yards and five touchdowns. This year, Hill is completing 70 percent of his passes and has 15 touchdowns to just three interceptions. The career resurgence has been fun to watch and Hill has likely played his way into a shot at the NFL.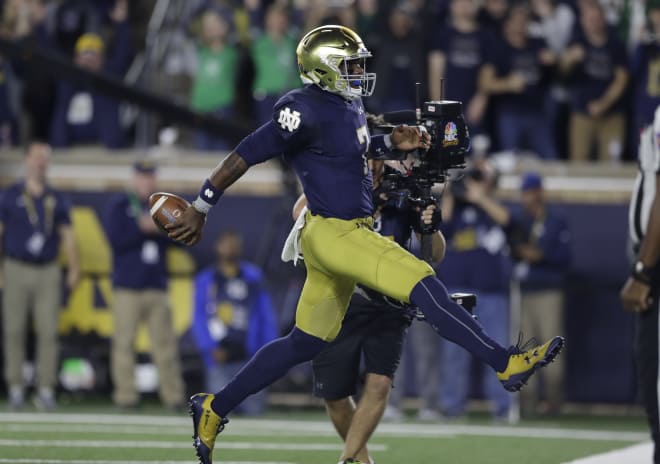 As a recruit: Wimbush's recruitment turned out to have a major impact on the current college football landscape, especially considering the 'what if" possibilities. He originally pledged to Penn State and seemed destined to end up in Happy Valley, at least until Notre Dame lost quarterback commit Blake Barnett and turned up the heat on Wimbush. He ended up committed to the Irish in Oct. 2014 and enrolled early with the school in Jan. 2015.
What he did this week: Wimbush has patiently waited his turn to take over the job in South Bend and his hasn't disappointed so far in 2017. While he's been up and down as a passer this year, Wimbush has been very effective as a runner. In Saturday's blowout victory over rival USC, Wimbush threw for 120 yards and two touchdowns while also rushing for 106 yards and two more scores. On the year, he has 903 yards passing but has also run for 508 yards. The Irish have a new offensive attack and Wimbush is leading the way and it's hard to argue with the results the team is getting this season.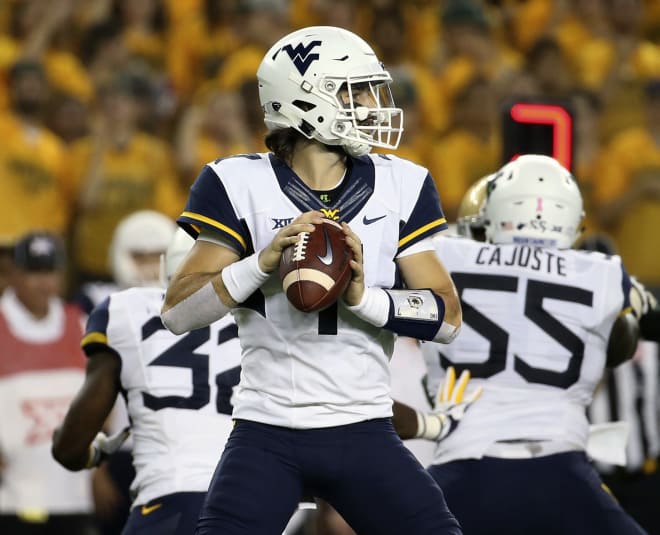 As a recruit: Grier originally made a commitment to Florida following his sophomore season in high school and despite some late drama down the stretch elected to stick with the Gators over program such as Auburn, North Carolina and others. After redshirting his first year on campus, Grier quickly made a name for himself in 2015, winning the starting job but after he was suspended for a failed drug test he missed half the season and elected to transfer to West Virginia that offseason.
What he did this week: Grier missed all of 2016 after the transfer and some wondered just how well he would play after only appearing in a few games over three years. But it didn't take long for Grier to shake the rust off and he's starting to look like one of the Big 12's top tier quarterbacks. In Saturday's win over Baylor Grier threw for 375 yards and five touchdowns, both career-highs. Grier looks to be well on his way to throwing for more than 3,000 yards this season and his 26-5 touchdown/interception ratio is very impressive. It's taken him awhile, but with his issues seemingly behind him and a high-powered offense in Morgantown, Grier is quickly becoming a star on the national stage.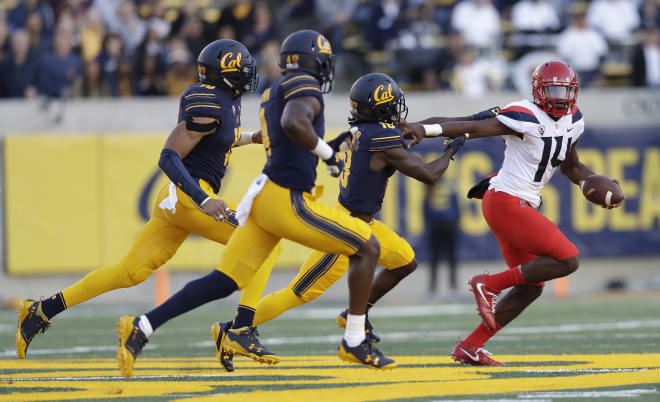 As a recruit: Tate committed to Arizona during the spring of his junior year, buying into the plan to use him as a quarterback when many other schools saw him as more of an athlete. During his senior year at California powerhouse program Serra, Tate put up huge numbers and drew late interest from USC and Texas A&M, but elected to stick with the Wildcats.
What he did this week: Since stepping into the lineup earlier this month Tate has become a star for the Wildcats and is quickly emerging as one of college football's most electric talents. In Saturday's victory over California, Tate had another huge game on the ground, rushing for 137 yards while also passing for 166 yards and two touchdowns. Despite only starting three games, Tate has already rushed for a staggering 780 yards and seven touchdowns on just 56 attempts, good enough for fourth in the Pac-12. Tate is the kind of playmaker at quarterback that Rich Rodriguez has thrived with over the years, so expect Tate's monster season to continue.