Three-Star Checkup: Defensive linemen who stepped it up Saturday
Each week during the college football season we'll use Wednesday as a chance to look back at three former three-star prospects that shined during the previous week's college football action. This week we look at some defensive linemen who came through in big ways for their teams Saturday.
RELATED: Five-star freshmen making a splash | Four-Star QBs who came up big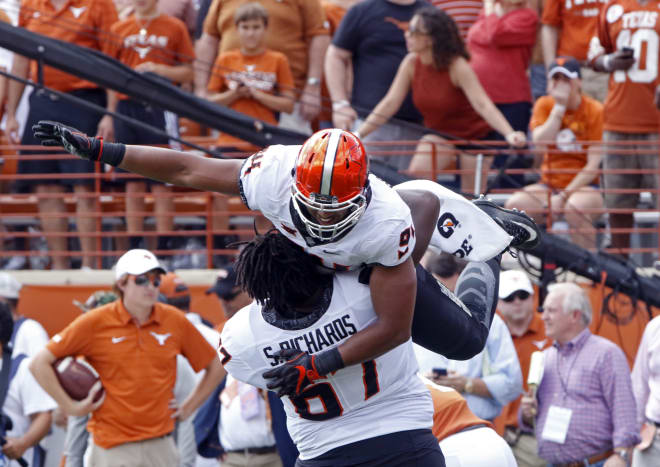 As a recruit: Brailford had a productive high school career at Booker T. Washington in Tulsa, a program known for producing FBS talent. He received his share of recruiting interest, including offers from Oklahoma State, Baylor, Washington State and others. But Brailford didn't draw his recruitment out, electing to commit to the Cowboys the summer prior to his senior season and never wavering from that pledge.
What he did this week: Brailford's career in Stillwater has had its share of ups and downs, including an injury that forced him to miss all of the 2016 season. But 2017 has been a renaissance for Brailford, who has become a key part of the Cowboys' defense. In Saturday's overtime victory over Texas he made several key plays, including 1.5 sacks and six total tackles. Now finally healthy, expect Brailford to continue to be a major part of the Cowboys' defense the rest of the season.
As a recruit: A New Jersey native, it didn't take long for Wilkins to get on the radar of Rutgers, but it didn't stop him from taking a long look at schools like Maryland and Boston College. However, Wilkins committed to the Scarlet Knights during his senior season and only officially visited Rutgers.
What he did this week: Wilkins is a big body in the middle of the Rutgers defense and his impact on the game seems to be increasing on a weekly basis. In Saturday's surprise victory over Purdue, Wilkins had six total tackles, a career-high. Rutgers is still in the middle of a rebuild, but winning back-to-back games in the Big Ten is a good sign, and the continued improved play of Wilkins is aiding the growth of the program's defense.

As a recruit: Gaines recruitment came down to three programs, Virgnia, Virginia Tech and Vanderbilt, and he announced a commitment to the Hokies just prior to Christmas in 2014. After making his decision, Gaines added a little more spice into his recruitment by taking an official visit to see the Commodores, but he ended up staying committed to the Hokies.
What he did this week: After redshirting his first year on campus and seeing spot duty in 2016, Gaines has worked his way into a contributing role for the Hokies. In Saturday's blowout victory over North Carolina he saw extended playing time, recording two tackles, including his first career solo sack. Virginia Tech's defense has been impressive this year and it looks like the school could be built for sustained success with players like Gaines coming off the bench and making plays.