Cheat Sheet: Ohio State gets top QB; Ceyair Wright visits Michigan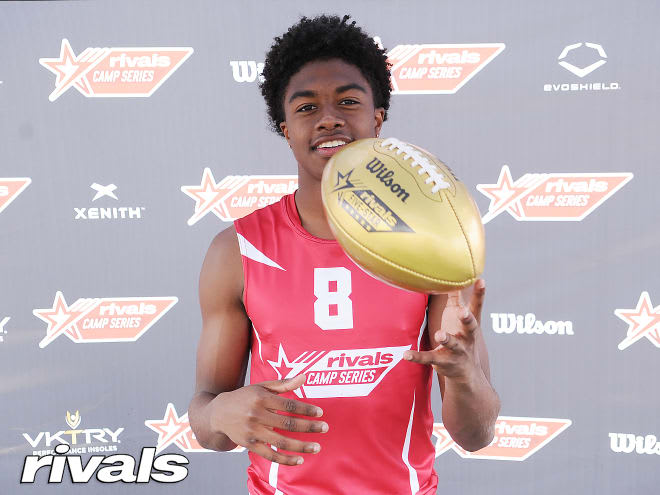 Ohio State reels in another top quarterback
*****
South Carolina moves on from Will Muschamp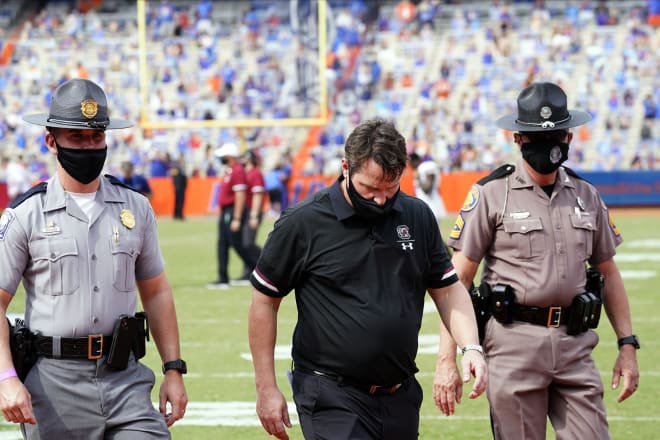 *****
Georgia lands a Rivals100 in-state linebacker
*****
  Texas pulls off an in-state flip  
*****
  Coveted DB Ceyair Wright begins final series of visits  
A number of major prospects traveled to Ann Arbor last weekend to watch the Wolverines take on Wisconsin. Even though the players couldn't have any contact with the coaches because of the recruiting dead period, it was still a very important weekend for Michigan. Rivals100 defensive back Ceyair Wright made the trip from California to see what Michigan was like and he really enjoyed his time there. This trip was the first in a string of visits that will lead to his commitment on Jan. 2. Other likely destinations for Wright include Notre Dame, Nebraska, Utah and maybe Oregon.
*****
Notre Dame adds four 2021 recruits
*****
Vanderbilt adds Georgia linebacker Errington Truesdell
*****
  2022 five-star plans to commit in a month and half  
There are few players in the 2022 class that are as heavily recruited as five-star Jaheim Singletary. The cornerback out of Jacksonville (Fla.) Robert E Lee is down to nine schools but hasn't been able to visit all of them yet and it doesn't look like he'll be able to with the dead period now getting extended until April 15. Florida, Georgia, Miami and Tennessee are the only schools in his short list that he has visited, and each have done a good job recruiting him, but it's his mom that the college coaches need to win over.
Five-star Jaheim Singletary talks top schools, commitment plan
*****
  Top 50 2022 QB Ty Simpson making the rounds, cutting list in January  
The recruiting process for quarterbacks is different than other positions and they usually need to work faster to make their decision. Ty Simpson, one of the top-rated quarterbacks in the 2022 class, has been taking trips to different colleges this season to try to make an informed decision when the time comes.

Last weekend, he was at Ole Miss for its win over South Carolina. Simpson is planning on making the trip to Tuscaloosa this weekend and in a couple weeks he wants to return to Tennessee to watch the Vols play Florida. He's already been to Knoxville a couple times this year. Simpson took a trip to Clemson already this year and hopes to make a return visit as well. Auburn, Oklahoma and Texas A&M are also possible destinations for him. Expect this coveted quarterback to narrow his focus shortly after the new year.
*****
What to look for this weekend 
The only scheduled commitment coming up this weekend is from Taleeq Robbins. The three-star defensive tackle out of Philadelphia (Pa.) Imhotep Institute Charter School was supposed to commit last Sunday but delayed his announcement a week to allow him and his family more time to discuss the decision. Ole Miss, Texas A&M and Georgia are the three finalists for him, but it is likely he chooses one of the two SEC West programs. He is close with Texas A&M commit Tyreek Chappell and Ole Miss commit Tysheem Johnson, both Philadelphia natives.
*****
There are three games between ranked opponents this weekend and two of them feature some recruiting battles to watch. In a battle of undefeated teams, Wisconsin travels to Northwestern on Saturday afternoon to take on the Wildcats. The two teams should be heavily involved in the recruitments of Rivals250 offensive lineman Carson Hinzman and Rivals100 linebacker Sebastian Cheeks. Each player has plenty of other schools under consideration at this time, but both Northwestern and Wisconsin figure to be battling for these commitments until they sign their National Letters of Intent.
Oklahoma and Oklahoma State get together later in the day Saturday for their annual rivalry game, and the two teams are fighting for in-state prospects Gentry Williams and Jacob Sexton. Williams, a Rivals100 prospect, is seen as more of a long shot for Oklahoma State, but the Cowboys are really pushing to get more of his attention. The Sooners are in good shape with him at the moment. Sexton really likes Oklahoma State, but the Cowboys will have to work hard to keep him away from Lincoln Riley's squad.