Notre Dame Flips Kicker Joshua Bryan From Colorado
Notre Dame has pulled off another recruiting flip in the Pac-12. On Monday it was Valrico (Fla.) Bloomingdale cornerback Philip Riley from USC, and today, the Irish pulled Chatsworth (Calif.) Sierra Canyon kicker Joshua Bryan away from Colorado.
Bryan was in contact with Colorado and Notre Dame over the summer but had no guarantees that a scholarship would open up for him in South Bend, so he locked in a spot with the Buffs, a school he truly did like a lot.
"A week after I committed to Colorado, [Brian] Polian came back to me and said that it was going to work out, so that was a bit of a stunner," Bryan told BlueandGold.com.
But even at that point, Bryan didn't have final word from Polian, who serves as Notre Dame's recruiting coordinator and special teams coordinator, that he had a scholarship. It wasn't until late October when he'd receive the word from Polian, and Bryan announced his flip to the Irish a couple of weeks later.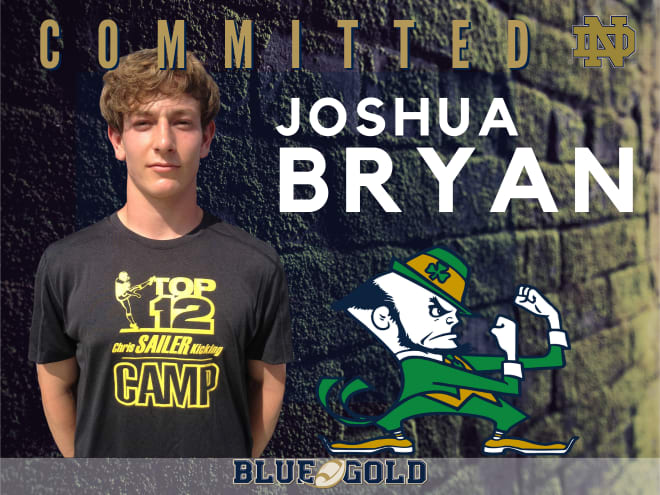 "I felt like I had to do it because of what Notre Dame is as a school," Bryan explained. "It wasn't an easy decision; I enjoyed my visit to Colorado and it was a really nice campus. But academically, Notre Dame has such a valuable degree, and I can be very successful coming from a school like that. I've always been at small, private schools.
"They're on a roll right now, and that makes things even more exciting for me."
For a couple of months, Bryan was in limbo a bit with the Fighting Irish as he waited to hear whether or not Notre Dame was going to offer him. Bryan greatly appreciated Polian's honesty and transparency throughout the process.
"Especially in a time like this, the trust aspect was the most important thing," Bryan added. "Having talked to him for months, he'd tell me honestly if something was up or if they didn't know what they were going to do about me. He really helped out this whole process with me. That was a huge benefit and added more comfort in my decision."
2020 has been the year of discomfort in recruiting, as hundreds of prospects are having to commit to schools that they've never taken a normal visit to, nor have they met the coaching staff — all due to the NCAA's dead period.
But along with a strong relationship with Polian, Bryan finds comfort at Notre Dame because he was able to make a trip out to South Bend in late August and enjoyed every second of it.

"I loved the campus," Bryan said. "I walked around and got the feeling of being at home even though I couldn't see the coaches or facilities. So much time is going to just be spent at the school. If I'm comfortable and happy there, then it's the right school for me.
"I feel like I'm ready for this opportunity. It's a big stage, but I wanted to pursue that. Notre Dame is going to make that happen for me."
Bryan credits Chris Sailer Kicking for his development as a specialist. The service ranks Bryan as a "six-star" recruit, which is designated as a Power Five freshman year starter and scholarship selection.
"Josh is simply a phenomenal high school kicking prospect," said Chris Sailer. "He's a great athlete with big-time college potential. He hits a pure ball on field goal off the ground. He gets big-time lift on his ball and has 60-plus-yard range. His kickoffs are excellent, D1 ready. He drives the ball deep in the end zone with 4.0-plus hang time.
"He's also a capable punter. He is a major competitor that thrives under pressure. Josh continues to prove that he is the best kicker in America in the class of 2021. I look forward to seeing what the future holds. He's a fine young man that is always a pleasure to work with — one of the hardest workers out there. Josh is a scholarship pick without a doubt."
Bryan is commitment No. 21 for Notre Dame in the 2021 class, which ranks No. 10 in the country per Rivals.
Notre Dame kicker Jonathan Doerer has expressed interest in returning for a sixth year, which is made possible due to the NCAA giving student-athletes an extra year of eligibility. If he does return, Bryan may not make his mark on the Notre Dame football team until 2022.