Bluegrass Whiparound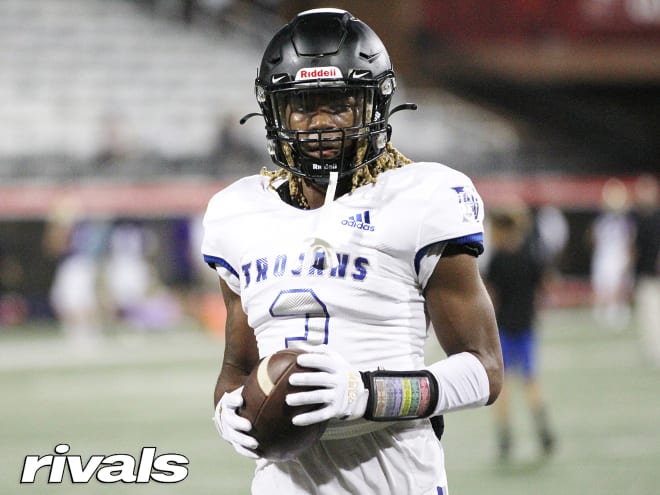 With the calendar now turned to March, some of the top talent in the state of Kentucky hit the road this past weekend to visit a variety of schools.
Rivals.com recaps the action below in this edition of the Bluegrass Whiparound.
*****
*****
Out in West Virginia:
LOWDOWN: Lowe was one of two notable prospects from the Lexington area that made the trek to West Virginia over the weekend. The three-star received an offer from the Mountaineers back in December and has been communicating with Co-defensive coordinator and defensive backs coach ShaDon Brown.
REACTION: "Their facilities stood out and the fans at the basketball game as well." - Lowe on West Virginia.
UP NEXT: Lowe said he will be at Cincinnati this weekend, followed by visits to Missouri, Michigan, and Marshall.
LOWDOWN: Haskins also made the trip to Morgantown this past weekend. The talented athlete picked up an offer from the Mountaineers back on January 27th and has been communicating with head coach Neal Brown along with assistants Dontae Wright and ShaDon Brown.
REACTION: "I loved the facilities and the coaching staff. One thing that also stood out was the fans and the atmosphere at the basketball game." - Haskins on West Virginia.
UP NEXT: Haskins says he plans to make a return trip to West Virginia this spring. Marshall, Louisville, Akron, Miami (Oh.), Austin Peay, and Eastern Kentucky are also in his visit plans.
*****
Hanging with the Hoosiers:
LOWDOWN: Indiana continues to show a lot of interest in Boykins, a speedy wide receiver out of North Hardin (Ky.). The three-star prospect had visited Bloomington previously for a game and made a return trip to check out the Hoosiers this past weekend.
REACTION: "Their weight room is really nice, it's big and they have all the nice equipment in there. The stadium was really nice. Talking to the new wide receiver coach (Anthony Tucker) was cool. He was telling me about his past and he's a winning coach. Hearing how they care about their players as people too was nice to hear, and hearing their strength and conditioning staff say they do personalized workouts for everyone to make them better at whatever they need to improve was good. The photo shoot was really good too we got to take pictures with a lot of newer equipment and it looked good." - Boykins on Indiana.
UP NEXT: Boykin's plans to make future trips to West Virginia and Louisville.
LOWDOWN: Rodriguez has been one of the fast-rising prospects in the Bluegrass State this offseason as he continues to collect multiple power five offers. Indiana was one of the recent schools to enter the recruiting race for the talented 6-foot-4, 230-pound prospect and he checked out Bloomington over the weekend.
REACTION: "It was a great visit and they treated my parents and I very well. Loved it and definitely want to visit again sometime." - Rodriguez on Indiana.
UP NEXT: The talented three-star plans to visit Penn State on March 16th. Pitt on March 17th. Kentucky on March 25th. Ole Miss on March 30th. Virginia Tech on March 31st. He also plans to visit Ohio State on April 5th as well.
*****
Down on South Beach:
LOWDOWN: Madison is another fast-rising prospect that has seen a big uptick in his recruiting this offseason, landing multiple power five offers. Miami (Fla.) extended an offer back in December and Madison made the trek to check out the Hurricanes' program over the weekend.
REACTION: "The way how they treated the recruits and seeing how their practices were run and how intense they are. Their coaching really struck my eye." - Madison on what stood out at Miami.
UP NEXT: Madison has plans to visit Illinois on March 25th.
*****
Boiler Up:
LOWDOWN: The new coaching staff at Purdue hosted a ton of talent on campus this past weekend with Kennedy being one of top targets in West Lafayette. The three-star picked up an offer from the Boilermakers on January 12th and was impressed with what he saw while on campus.
REACTION: "What stood out to me was the presentation they had for me after the basketball game. They took clips from my film and showed how it fit into their system and what they do." - Kennedy on Purdue.
UP NEXT: Kennedy has a visit to Missouri planned on March 11th.