West Spotlight: Players that are blowing up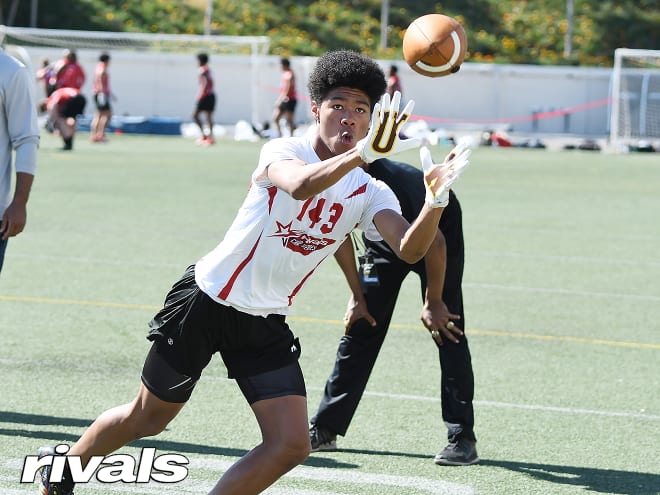 Lyons is a high three-star prospect, but he's moving on up because the Hayward (Calif.) Tennyson wide receiver is having a great senior season and top schools from around the country are taking notice.
The Northern California prospect has landed offers from Penn State, Boston College, Michigan State and Notre Dame in recent weeks, and the Irish could absolutely now be the team to beat after he visited South Bend over the weekend.
Other teams continue to pop up all the time for Lyons, who recently had a game with eight catches for 303 yards and three touchdowns in just three quarters. Notre Dame looks like it has the edge in his recruitment, but there's no telling what could happen because his recruitment has completely taken off recently.
*****
There has been a significant SEC feel to Lomu's summer as he's landed Tennessee, Auburn, Missouri, Florida and Ole Miss offers over the last couple months. Oregon and Michigan have also extended offers as the high three-star's recruitment has completely taken off.
One of the best offensive linemen at the Under Armour Camp in California this past offseason, Lomu is nowhere near his full potential physically as the 6-foot-5 prospect is still only around 250 pounds, so he should be able to dominate even more as he adds weight in a college program. Even still, the Gilbert (Ariz.) Highland standout is a fantastic player.
*****
Robinson is blowing up in a different sort of way, since he already had 20 offers, but now SEC powerhouses are coming after him and making the four-star running back a top priority.
The San Diego Lincoln standout has been committed to UCLA since late May, but this past weekend Robinson visited Texas A&M and was absolutely blown away by what he saw in College Station. The four-star is also planning to visit Georgia in early October for the Auburn game.
While Robinson remains committed to the Bruins, his recruitment has completely taken off in recent weeks as the Aggies, Bulldogs and others have watched him rack up more than 1,000 yards rushing with 16 touchdowns in just five games this season.
*****
Ohio State and Tennessee have offered the 2025 edge rusher in recent weeks, and many more top programs are interested in Wyatt, who has been dominant so far early in his sophomore season.
The 2025 outside linebacker/defensive end has been nearly unstoppable coming off the edge. He's been excellent getting after the ball carrier and he's projecting as one of the better defensive players in his class.
With an upcoming visit to Oklahoma this weekend, Wyatt is also hearing a lot from Texas, Notre Dame, Oregon State and others. Santa Ana (Calif.) Mater Dei is arguably the top high school football team in the country, and even as a 2025 prospect Wyatt is already a leader and one of the most productive players on that squad.