Southeast Spotlight: Five prospects that are blowing up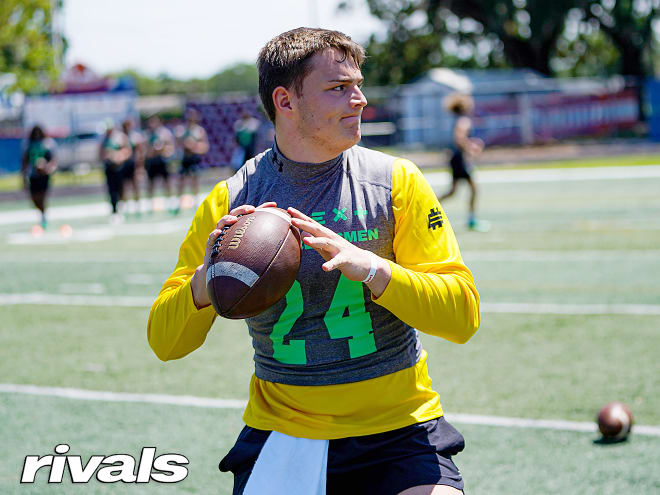 The world of college football recruiting knows about IMG Academy, thanks to all the five- and four-stars on the national team. But many may not know the Ascenders field three gridiron teams.
Parker Leise, a 2023 transfer from Kansas' Shawnee Mission East High School, is tearing it up for IMG Varsity White. Against Orlando Christian Prep, Leise threw for a school-record 405 yards with five scores. Through the first three games of the schedule, the under-the-radar three-star carried a 120.0 QBR.
On the recruiting front, Leise has six offers, with interest coming in from teams such as Wisconsin.
*****
Alabama 6A football is not for the weak, with the strong building a name for themselves every Friday night. Recruiting diehards may be familiar with Arkansas 2023 DB commit TJ Metcalf, and now have a name to remember in his younger brother, Tevis. The three-star corner has blanketed receivers this season with quarterbacks already looking the other way on passing downs. In four games teams have targeted Metcalf twice, resulting in two picks.
Tevis made the trip to Fayetteville for the Hogs' season opener, watching them take down then-No. 23 Cincinnati 31-24.
*****
In Florida's new 2 Metro classification, Tyclean Luman is hunting quarterbacks. Luman is relentless off the snap with a non-stop motor chasing down the pigskin for Miami's Jackson. College coaches have responded to the play of the three-star end with 14 offers extended.
Among the offering schools: Oklahoma, Florida State, Indiana, Rutgers, Syracuse and backyard powerhouse Miami.
*****
Ezekiel Marcelin got snaps as a freshman for Miami Central and has parlayed that into a breakout sophomore campaign. The versatile outside linebacker can go inside or come off the line, breaking down the pocket. A standout trait to his game is watching him diagnose plays, wasting no steps with a burst to the ball that separates him from his peer group.
College scouts have put Marcelin in the double-digit offer realm, and Florida State, Texas A&M, Louisville, Michigan, Miami and Tennessee have dropped scholarship opportunities.
*****
Homestead has jumped out to a 4-0 record this season, thanks in part to the contributions from Cortez Mills. The class of 2025 receiver gave a sneak peak of coming attractions a year ago, sporting a 24.9 yard per reception average while pulling down 12 passes for 299 yards in four games played. Mills is a trusted receiver with great hands and a drive to pick up extra yards after contact.
Next-level coaches have not hesitated to put offers in Mills' hands. UCF, Miami, Utah, West Virginia, Michigan, Louisville and Florida State are among the 16 offers that have been extended.