Tuesdays with Gorney: What we learned in Orlando and San Antonio
After spending nearly two weeks on the road at the Under Armour All-America Game in Orlando followed bythe All-American Bowl in San Antonio, national recruiting director Adam Gorney has lots of thoughts on the 2023 class.
Here are his takes in this week's Tuesdays with Gorney:
THE QUARTERBACKS DROP OFF AFTER THE FIVE-STARS
This might be an unfair take since five-stars Arch Manning, Nico Iamaleava and Malachi Nelson chose not to participate in either bowl game and that's fine but UCLA signee Dante Moore and Oklahoma signee Jackson Arnold were excellent all week.
Some people I talked to didn't love Arnold but a week's worth of install and a smattering of 1-on-1s is not his wheelhouse. The way he throws the ball, it just looks different than any other quarterback in this class and while he's not exactly a physical specimen like some other QBs, he's such a gamer. He was solid in Orlando and in game settings, he's outstanding.
Moore was hot and cold during the week of All-American Bowl practice where he never looked bad but the five-star definitely stepped it up when needed especially in the game where he threw four touchdown passes. More than any QB in this class, at the elite national events, Moore has proven his five-star ranking this cycle.
Beyond the five-stars, though, it was very choppy from the other QBs at both games. There were good throws and bad throws, some glimmers of hope but also reasons for concern. All in all, it was underwhelming.
*****  
I DON'T SEE A FIVE-STAR RUNNING BACK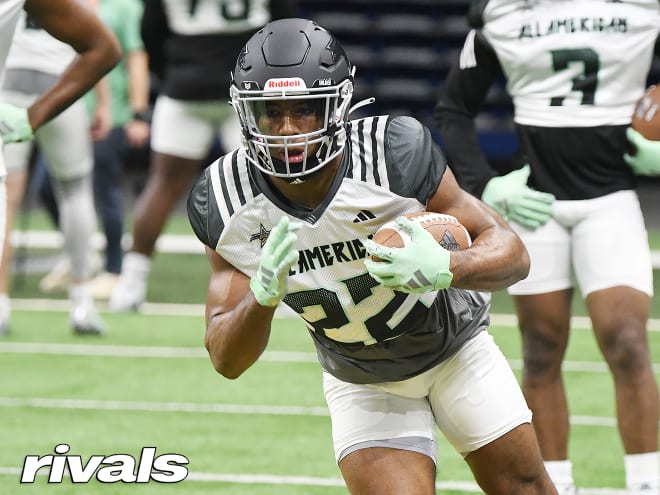 Alabama signee Justice Haynes was excellent in San Antonio, Texas signee Cedric Baxter was impressive during the Under Armour Game and Colorado signee Dylan Edwards really surprised all week including outrunning track superstar Nyckoles Harbor in a 40-yard dash during practice (I would've liked to see what would've happened in a 200-meter race) but I didn't see a surefire five-star in the running back group.
A lot of talk on this matter has revolved around Texas A&M signee Rueben Owens II and he had some impressive footwork and jump cuts during limited action but he was rather subdued during the week of practice (to be fair, most running backs are in these settings). I don't know if I see absolute five-star out of him based off last week.
USC signee Quinten Joyner was impressive in the game and he should move up some but with other positions making a bigger case for five-star status, it's still wait-and-see with the running backs.
*****  
ANOTHER FIVE-STAR COMING AT RECEIVER?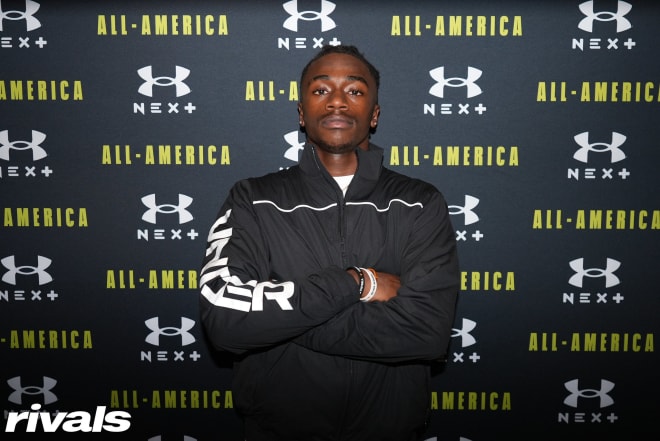 If USC signee Zachariah Branch is the most dynamic and electric receiver in this class - and there is going to be an argument made for him to be No. 1 in the position rankings - then during the week of practice at Under Armour, I thought Texas signee Johntay Cook was right there with him only a few inches taller.
Cook plays with such confidence (some would say cockiness) but he's a dynamic route runner, competitive as they come and then he can get open and make catches against anybody. Branch had the better game but they were both great during the week of practice.
I still love Brandon Inniss and don't get the disparity in rankings across the industry on him. Is he a surefire 4.4 guy at the NFL Combine? Maybe not but he has been so insanely consistent and great for years that it's hard to imagine he won't have huge success at Ohio State. In that offense, Inniss is a perfect fit and he's more than backed up his ranking.
*****  
CHANGES COMING TO THE OFFENSIVE LINE RANKINGS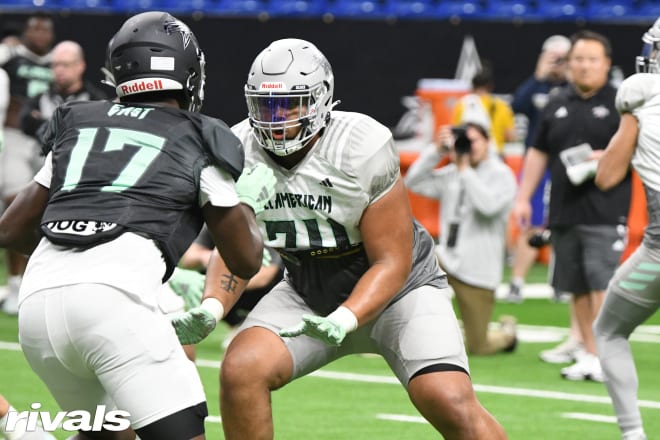 Among the five-stars, Alabama signee Kadyn Proctor impressed and had a solid week but at times I thought Miami signee Samson Okunlola struggled with speed to the outside and he was not his dominant self. It will be a discussion later this week in our final rankings release and we will figure out where to place him in the final rankings. Fellow Miami signee Francis Mauigoa chose not to participate in either game.
From there, a lot of changes could be coming. LSU signee Zalance Heard reminds me of D.J. Fluker, a former first-round NFL Draft pick, and while Heard did get beat a few times at Under Armour, there is so much to work with there that he has special size and qualities that don't come around very often.
Georgia signee Monroe Freeling, Utah signees Caleb Lomu and Spencer Fano and Texas signee Payton Kirkland were other guys that had bright moments although the rumor was Kirkland checked in closer to 400 pounds so he's a big boy and might have to be moved over to offensive guard.
I wasn't really blown away by the interior guys at either game although Michigan signee Amir Herring, Auburn signee Connor Lew and LSU signee D.J. Chester had their moments.
*****  
NOW TO THE DEFENSIVE LINE...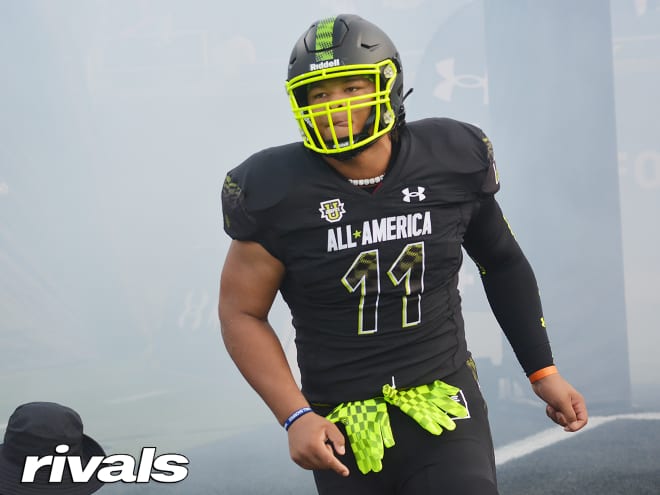 Starting with defensive tackle, the two best performances clearly came from Georgia signee Jordan Hall, who was an absolute destroyer at the All-American Bowl and was so good he made a case for No. 1 at the position.
Hall will be pushed by Clemson signee Peter Woods, who did his best work at the Alabama/Mississippi All-Star Game but was also very impressive in Orlando. Both of them play with such high motors and aggressive pursuit that offensive linemen had difficulties slowing them down. Current top-rated defensive tackle James Smith opted not to play in the Under Armour Game and Ohio State signee Jason Moore looked the best of the bunch but needs to play with more aggression sometimes.
Defensive end is - by far - the best position in the 2023 class and rankings bumps will be handed out liberally here.
Miami signee Rueben Bain does not have the best body but he was unstoppable during Under Armour week and Clemson signee Tomarrion Parker is far too low at No. 16 in the strongside defensive end position rankings. He was fantastic all week in San Antonio. Oregon signee Johnny Bowens was a late add for the All-American Bowl and the local prospect shined in practice.
At weakside, the list of impressive players is even longer. Oklahoma signee Adepoju Adebawore was excellent and so twitched up at the Under Armour game. Alabama signee Yhonzae Pierre is a pure playmaker and is always, always around the ball. Auburn signee Keldric Faulk has one of the best frames in the country and dominates at times. Michigan State signee Bai Jobe really impressed and looks to be a steal for the Spartans.
There were a ton of impressive performances across the defensive line at both games and that's not to mention Texas A&M signee David Hicks, Jr. who was arguably the best player at either game and could make an argument for No 1 in the country.
*****  
DIDN'T LEARN MUCH ABOUT THE LINEBACKERS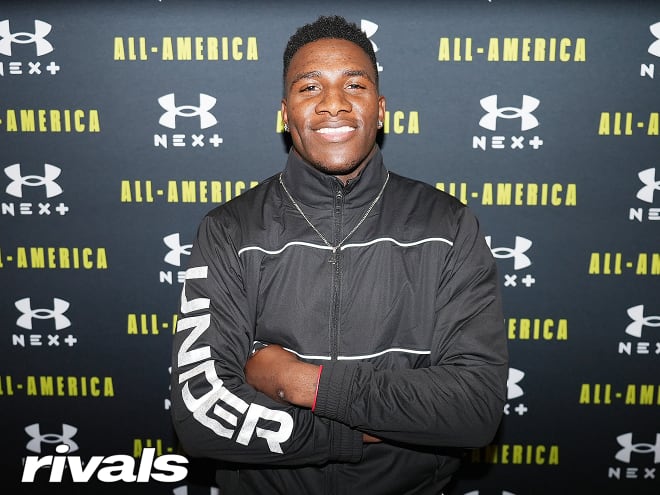 All-star settings are difficult on linebackers because they don't do a whole lot during practice and then during 1-on-1s they're tasked with defending running backs or receivers coming out of the slot and running deep routes that aren't game-specific so they always look slow.
There were some takeaways along the way though: Ole Miss signee Suntarine Perkins probably has the best chance of being a five-star out of the group because his athleticism, length and playmaking ability is so rare, Notre Dame signee Drayk Bowen is going to have lots of tackles in South Bend and Oklahoma signee Samuel Omosigho is underrated.
Georgia is getting two great ones in Troy Bowles and especially Raylen Wilson, who isn't the biggest but he flies around the field and makes tons of plays and Michigan State did an excellent job keeping Bradenton (Fla.) IMG Academy's Jordan Hall locked up because he's very talented.
*****  
THERE'S A LOT TO CONSIDER AT DEFENSIVE BACK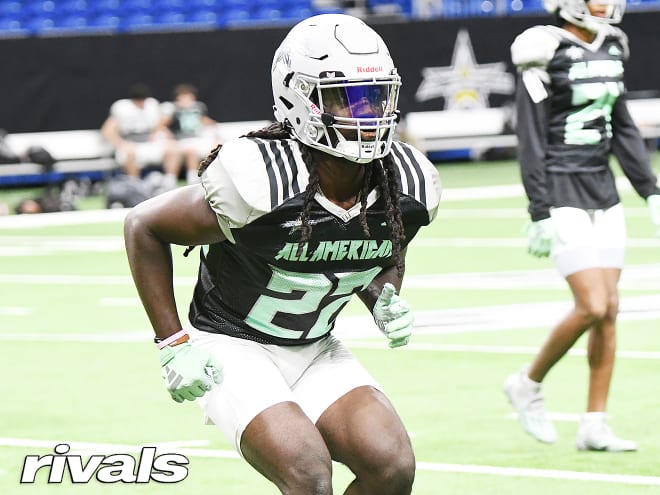 I have to really sit down and work through the cornerback rankings because on one hand I don't want to overthink it and have paralysis by analysis but on the other I have to trust my eyes - and if I do that there could be some significant shakeups based off seeing almost all the top guys over the last two weeks.
No. 1 cornerback Cormani McClain didn't practice a whole lot during Under Armour week but his length and history of playmaking ability does set him apart. I thought Alabama signee Desmond Ricks struggled at times and while LSU signee Javien Toviano does look impressive, I do wonder if he stays at corner or moves to safety over the long haul.
Texas signee Malik Muhammad could make a case to move even higher and then in San Antonio, Ohio State signee Calvin Simpson-Hunt, Oklahoma signee Makari Vickers and especially Auburn signee Kayin Lee were absolutely fantastic.
I don't foresee any real changes among the top of the safety rankings and then after the two five-stars it could go numerous ways but I think Mississippi State signee Isaac Smith and Penn State signee Dakaari Nelson are a touch low.
*****
STILL SOME UNCERTAINTY AT ATHLETE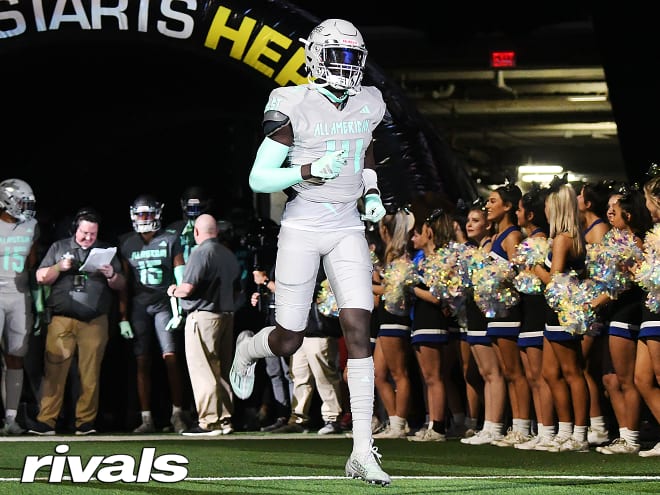 Nyckoles Harbor and Malachi Coleman are both awesome-looking prospects and have tremendous amounts of upside but neither is a complete football player right now.
Harbor is also a track superstar - so good that he is eyeing a run at the Olympics - but he's still learning the ropes of playing tight end although his speed and playmaking potential is very high. Coleman is super long and lean as a pass-catcher and with some more years of seasoning could be really special at Nebraska but some development is needed by both.
The two that really stood out after laying eyes on them are Texas signee Jelani McDonald and Oklahoma signee Jacobe Johnson as both are long playmakers on the defensive side of the ball.