Three-Point Stance: Sumlin, QBs under pressure, Georgia five-stars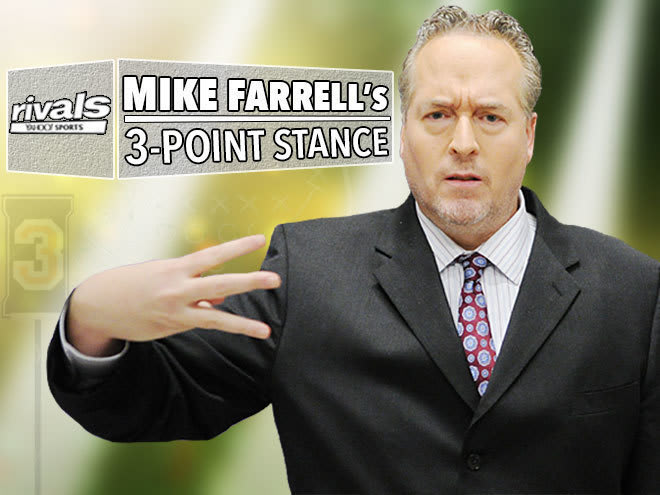 1. SUMLIN ON THE HOT SEAT
Texas A&M athletic director Scott Woodward did what most athletic directors avoid when it comes to the job status of their head coach – he told the truth.
At the SEC meetings in Destin, Fla., Woodward made it clear to ESPN's college football personality Paul Finebaum that Aggies head coach Kevin Sumlin "knows he has to win and he has to win this year." Suddenly Sumlin's seat has gone from very warm to very, very hot. And while Woodward's honesty was refreshing, it will certainly make things a bit tougher on the recruiting trail for Sumlin.
But to me, if I'm an A&M fan, I appreciate what Woodward is doing here because he's essentially saying enough is enough. Enough of starting off 5-0 (6-0 last year) and limping to the finish; enough of losing to Mississippi State, Ole Miss and Missouri when it appears you have the better team. And honestly, enough of finishing behind LSU and Alabama every season.
Woodward wants his head coach to put together a full season, start to finish, and be a competitor for the SEC West title at the end of the season. And if recruiting falters a bit because Sumlin's seat is suddenly much hotter in a very public way, then so be it. If the Aggies don't finish the season as strong as they start it and aren't in contention for the SEC West with a game or two left in 2017, Sumlin is likely gone and the whole thing gets blown up so a new coach would need to pick up the recruiting pieces anyway.
Since A&M has moved to the SEC, recruiting has not been the problem – not at all. Coaching has been, and the scrutiny for Sumlin begins at UCLA on Sept. 3.
2. QUARTERBACKS FACING PRESSURE IN 2017
Woodward's comments about his head coach and a Twitter Tuesday question about Brandon Wimbush got me thinking about coaches on the hot seat and the talented quarterbacks that need big years to help save their jobs.
Wimbush would obviously be at the top of the list with Brian Kelly feeling some serious warmth at Notre Dame. There's also a chance that 2016 five-star Kellen Mond could be thrown into the mix as a true freshman trying to save Sumlin's job at Texas A&M if Nick Starkel or Jake Hubenak don't show more improvement. But what other quarterbacks are feeling the pressure trickle down from their coach?
Shea Patterson, Ole Miss – Patterson is awesome and he will be a lot of fun for Ole Miss fans to watch. And he has a ton of offensive talent around him. The big question will be if the Rebels can balance things with the run game and if the defense can improve. Hugh Freeze likely needs a big season with all the NCAA sanctions swirling to survive.
Josh Rosen, UCLA – Rosen is a mega-talent, and when he's healthy, UCLA is dangerous. Jim Mora's seat is at least very warm, and Rosen needs to stay healthy, have a huge year and get the Bruins back into Pac-12 South contention to take that heat off.
Blake Barnett, Arizona State – It could be Manny Wilkins, but if Todd Graham wants a shot in the arm for his team, keep an eye out for Barnett, who transferred from Alabama. Wilkins was average last season and not as talented as Barnett or as much of a run-pass threat, so Graham could turn to his transfer.
Jarrett Stidham, Auburn – Gus Malzahn may or may not be on a hot seat depending on who you talk to and what their agenda is, but we all know the passing game needs to improve for the Tigers to compete for an SEC West title. The hype around Stidham, who is very talented, is huge.
Jarrett Guarantano, Tennessee – Quinten Dormady had a very good spring game without a doubt, but Guarantano's ability to run could be the key for the Vols this season as Butch Jones is under pressure to win a still-weak SEC East. The good news? Guarantano has the talent to be special.
Austin Allen, Arkansas – The Hawgs have been up and down since Bret Bielema took over but never a true threat in the SEC West, so this is a big year. Allen has talent and Arkansas must keep him healthy with little experience behind him and improve the defense to help him out. I don't see Arkansas having a breakthrough year, however.
Nic Shimonek, Texas Tech – Kliff Kingsbury is under fire a bit because his offense has been great and his defense has been simply awful. So even if Shimonek puts up crazy numbers it won't matter much if Tech continues to allow 43 points a game.
Brandon Dawkins, Arizona – The Wildcats had a historically bad season under Rich Rodriguez, at least in recent history, and Dawkins didn't light up the world last season and there's no reason to think he will this year either. Rich Rod might not get fired unless he has another 3-9 year, but this season likely won't help.
MORE THREE-POINT STANCE: SEC QBs, Ole Miss recruiting
3. GEORGIA'S HISTORIC QB CROP
For the first time in Rivals.com history, we have three five-star high school quarterbacks from one state, as Penn State commitment Justin Fields out of Georgia earned his fifth star in our latest Rivals100 release.
And not one of them is committed to Georgia.
The nation's No. 1 player, Trevor Lawrence, is headed to play his college ball under Dabo Swinney at Clemson while Emory Jones, our No. 17 player, is committed to Urban Meyer and Ohio State. And Fields, who now checks in at No. 8 overall, is at the center of an insane recruiting battle despite being committed to Penn State as Florida State, Georgia and Florida, among others, are trying to flip him.
If Georgia was to land him that would be a record three straight years with a five-star quarterback following Jacob Eason in 2016 and Jake Fromm in 2017, but right now the biggest threats appear to be Florida State and Florida. With Eason and Fromm, the Bulldogs are set at quarterback for a while, but Fields would bring a much-needed dual-threat option to the position. The Gators are desperate for an elite quarterback, and FSU is hoping he can follow Deondre Francois and help lead it to a title. Auburn is also in the mix, as Fields is a perfect fit for the Tigers' offense.
Now, will all three remain as five-stars throughout the rankings cycle, and can anyone overtake Lawrence as the No. 1 quarterback not only in the state but in the nation?