Updated 2018 Rivals100: Three five-stars join the mix; Lawrence stays No. 1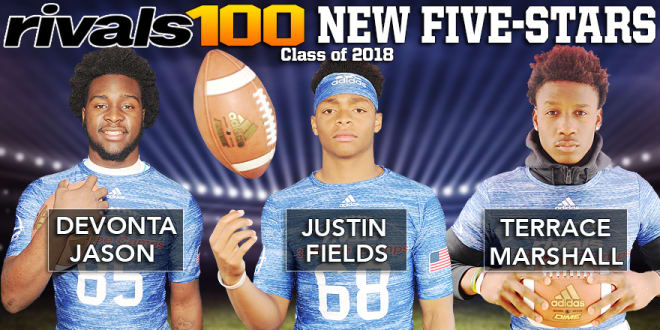 The latest Rivals100 for the class of 2018 has been released and there have been some major moves, including three new five-star prospects, bringing our still-early total to 23. And while quarterback Trevor Lawrence remains our No. 1 prospect, the top 10 saw some shifting.
RELATED: Updated Rivals100 for Class of 2018

There are no changes in the top three with cornerback Patrick Surtain No. 2 and defensive end Xavier Thomas No. 3, California wide receiver Amon-Ra St. Brown jumped up to No. 4 and took over as his state's top prospect. New five-star Justin Fields, a Penn State quarterback commitment, moved up 99 spots to No. 8 and safety Anthony Cook and running back Lorenzo Lingard, a Miami commitment, also moved into the top 10 with minor moves upwards.
Wide receivers Terrace Marshall Jr. and Devonta Jason, a Kansas commitment, are also new five-stars checking in at No. 20 and No. 22 respectively. Wide receiver Jalen Hall is the last five-star, falling 17 spots to No. 23 while Oklahoma offensive line commitment Brey Walker remains the highest ranked four-star.
Here's a breakdown from our regional analysts of the new five stars and the biggest movers.
THE NEW FIVE-STARS
"It is hard to find a more exciting player in this class. Yes, Lawrence is a special talent, but the way Fields can throw, the way he can run and the way he can make plays, it makes many think of Cam Newton. Fields has a live arm, he has really improved as a passer and his legs make him scary. Fields remains committed to Penn State, but Auburn, Florida, Florida State and Georgia among others continue to recruit him." – Chad Simmons, Rivals.com Southeast Recruiting Analyst
"Marshall is one of the smoothest wide receivers in the 2018 class and with his laid back personality, it's easy to discount his dominance. But after a spring that saw him excel against some of the best defensive backs in the country, it's not a surprise that Marshall earned his bump up to five-star status. LSU, Texas A&M, TCU and several others are battling for Marshall and with good reason." -- Woody Wommack, Rivals.com Southeast Recruiting Analyst
"The Kansas commit spent the spring making highlight reel catches at camps and 7-on-7 tournaments across the country, proving that he belongs in the five-star class. Jason has everything from measureables to on-field and camp production on his resume and his size and catch radius makes him one of the nation's best. Kansas has never signed a five-star prospect in the Rivals.com era, but now has a chance to do so." -- Wommack
BIG MOVERS
"The massive offensive tackle has had an outstanding spring. He has basically dominated every defensive lineman at numerous camps, including the Rivals 3 Stripe Camp Series presented by adidas in Los Angeles. For someone who is 6-foot-5 and 340 pounds, Sewell moves surprisingly well and has light feet but also has a stunning punch and he can swallow up smaller defensive ends. He's clearly one of the best — and most efficient — offensive tackles in this class. USC, Oklahoma and many others remain involved." -- Adam Gorney, Rivals.com National Recruiting Analyst
"Cox is a very imposing figure at defensive end and he is only going to get bigger and better over time. He is a big athlete who can turn the corner, pressure quarterbacks and he is strong against the run as well. Cox can still improve his pad level and work his hands better, but he has the skill set to be a day one name in the NFL Draft down the road. Cox committed to Ohio State over Georgia earlier this spring and he appears to be strong with the Buckeyes." -- Simmons
"Thompson's progression arc continues to curve higher, especially after his dominating MVP performance at the St. Louis stop of the Rivals 3 Stripe Camp. Still legitimately a two-way prospect, Thompson worked at defensive tackle in St. Louis and was unstoppable from that position. His combination of size, speed and quickness overwhelms opposing offensive linemen. Thompson's recruitment remains wide open, with LSU, Missouri, Oklahoma and Ohio State as strong contenders." – Josh Helmholdt, Rivals.com Midwest Recruiting Analyst
"Sandidge has always been exceptionally talented from a physical standpoint, but he is now putting those talents together with better technique and that's a scary sight for offensive linemen. When he plays with good leverage and hand technique, there aren't many offensive linemen that can contain him with the speed he brings to the table. Sandidge also has a nasty streak that is a necessity for successful defensive linemen." -- Adam Friedman, Rivals.com Mid-Atlantic Recruiting Analyst
"Rogers continues to make strides as a passer, building off an impressive on-field resume in 2016. He has a very high ceiling and his development year-to-year shows that his best days are ahead of him. TCU, North Carolina and LSU are his finalists with a decision set to come later this week." -- Wommack
"Coming off an excellent junior season, McKee has followed that up this spring by looking great at numerous 7-on-7 events. He looks as good or better than any other quarterback in the West. He has prototypical size at 6-foot-6 and 220 pounds and he has the arm to back it up with the ability to make all the throws. What I like most about McKee is his demeanor, his coolness and his leadership on the field. That separates him from many other quarterbacks in this class. Planning a two-year Mission after high school, BYU is a serious option, but he's visited numerous schools this offseason and his recruitment remains wide open." -- Gorney
"Plain and simple, Stephens is a playmaker who trusts his eyes and then goes after the ball. He's not a big, physical safety who's going to hit anybody like a locomotive, but he's going to step in front of passes and he has the athleticism to go up and compete for 50/50 balls. Playing corner would not be out of the question, but his probable long-term position is at safety, where he can roam the field, use his speed and senses and then go get the ball. He's committed to Oregon." -- Gorney
"McMichael is an impressive athlete who could project as a cornerback or safety in the secondary, and if that wasn't enough, he could make plays on offense as running back or wide receiver. He is a physical player who can play press or off coverage. He takes good angles, plays with his eyes and is going to be a strong, physical defensive back on the next level who makes plays on the ball and support the run. Alabama, Clemson, Florida State and Georgia are four of the schools on McMichael's list and he hopes to commit this summer." -- Simmons
"The Alabama commitment is one of the fastest rising prospects in the Southeast, dominating camp events and elite offensive linemen at every stop he makes. He's already built like a college prospect and looks like a future terror as an edge rusher at the next level." -- Wommack
"The college game is getting faster and speed is the name of the game for Anderson. LSU's top pass rusher now is Arden Key and he is on track to be a first round NFL draft pick in 2018. Anderson is like Key, but better at this stage. Anderson is a freak athlete and he is a quick-twitch guy with length and explosiveness. He has to fill out his frame and play with better leverage, but his upside is scary. Anderson is committed to LSU after flipping from Georgia earlier this spring. He was back visiting Georgia recently, so this will likely be a battle between Georgia and LSU until the end." — Simmons
"The Tennessee commitment has shifted his focus to wide receiver full-time this offseason and has blossomed into one of the nation's best. His route-running continues to get better and his hands are remarkably consistent. Combine that with his already impressive proclivity for making big plays with the ball in his hands and it's easy to see why he moved up the rankings again this cycle." – Wommack

"Shorter has made a ton of progress from a physical and technical standpoint. The Penn State commit should have a ton of success in Joe Moorhead's offense. Shorter has the size of a downfield threat, but now has the quick feet and route-running skills to be a very effective underneath receiver. He is too big and strong for defensive backs to jam at the line of scrimmage or knock off balance when running down field." -- Friedman
"Waddle was due for a big move up the rankings after further showing this spring how dynamic and explosive he is as an offensive weapon. He's not tall, but he's well-built to accelerate, cut and create space for himself after catching passes. Waddle has speed to make deep catches over the top and is as special a player as there is at slot receiver in this class. Waddle recently released a Top 12, but Florida State, Oregon and Texas are thought to be three of the more recent favorites." – Nick Krueger, Rivals.com Texas Recruiting Analyst
"Asiedu started his high school career as a tight end and defensive end and is putting that athleticism to good use as an offensive tackle. He is Penn State's highest-rated offensive tackle commit of the James Franklin era and rightfully so. Asiedu has sky-high potential and continues to improve his pass blocking skills and get stronger every time we see him." -- Friedman
"Probably the fastest receiver in the 2018 class, Schwartz recently set the youth world record in the 100 meters with a time of 10.15 seconds and that speed translates onto the field. He will run track in addition to playing football at the college of his choice. Schwartz has wide-ranging offers. He lists a top six of Miami, Florida, Auburn, Georgia, LSU and USC." – Rob Cassidy, Rivals.com Florida Recruiting Analyst
"Offensive linemen need a nasty streak to be successful and Walker's opponents know he's got it. His technique and patience have improved, and he demonstrated his increased strength by throwing defensive ends around at the New Jersey Rivals Camp last month. Walker's punch knocks defensive linemen off balance and he has the agility to reset if they try a counter move. Penn State, Maryland, Ohio State, Virginia Tech, North Carolina, and Rutgers are doing the best job recruiting him so far." – Friedman
"There was a lot of talk this offseason about Lamb's athleticism and coverage ability and then I witnessed it all spring in 7-on-7 tournaments. This kid can turn and run with anybody and his length and foot speed are really impressive for a big linebacker. He has the hitting ability to play inside and the ability to play in space to be a star outside linebacker. Out of all the camps and tournaments I've seen over the last few months, Lamb has been one of the most consistent and impressive players. UCLA, Washington, Stanford, Notre Dame and Penn State are among the frontrunners." – Gorney