TwitterTuesday: Answering questions on Wimbush, USC, more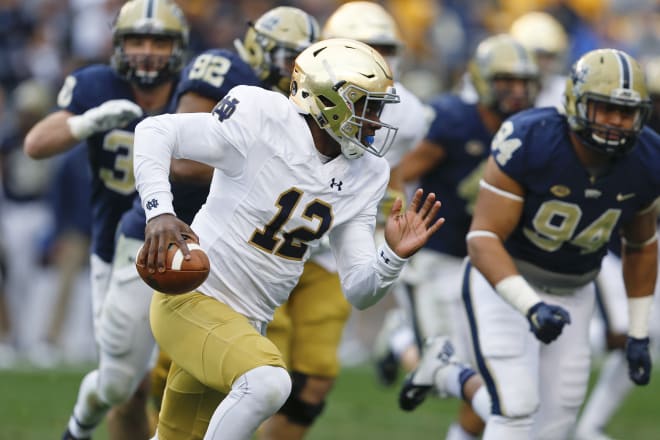 I'm a big fan of Wimbush but that hasn't always been the case. It's not that I didn't like him when I first scouted him before his high school career took off, but what I saw way back when was a kid who had a rocket arm and zero touch. But throughout his high school career he improved every time I saw him, showed much more than just a strong arm and flashed impressive poise for his age.
I've seen very limited action when it comes to Wimbush in college as he hasn't played often and his spring game performance had ups and downs, but I believe in this kid's ability. He can extend the play, has that great arm and just needs to get comfortable in the Notre Dame offense and make sure he doesn't try to use that cannon to fit the ball into tight spots. I can see him having some growing pains this season, but as he gets more comfortable and learns to take what the defense gives him while keeping defenses off balance with his athletic ability, I think he'll finish strong.
Will it be enough to save Brian Kelly's job? That's a lot to ask from one player and I don't see it happening, but I think the ND offense is in good hands for the next few years regardless.

Alabama, Clemson or Ohio State? Talk about a Sophie's Choice situation. I can't say Alabama will slide backward as long as Nick Saban is there and it's hard to say the same for Ohio State with Urban Meyer in charge, but how can I pick Clemson coming off a national title and with the way Dabo Swinney is recruiting?

If I have to choose one, I'll pick the Tigers begrudgingly simply because I think DeShaun Watson was so important to their recent success while Alabama has won titles with different quarterbacks and Meyer won one with Cardale Jones, but this is an impossible choice. And when it comes to recruiting, I don't think any of them will fall backward at least in the foreseeable future. But gun to head, I'm going with Clemson in any respect. Sorry Tigers fans.
USC is set up for major success this year in California, but even if the Trojans make the playoff, it will not recruit nationally like they did during Pete Carroll's heyday. Yes, USC can land some good prospects from the Southeast as it has over the last few seasons, stealing Chuma Edoga, Keyshawn Young, Jamel Cook and others, but SEC country has become very hard to recruit, especially when it comes to the true elite players with offers from everyone.

The area to keep an eye on much more than the Midwest is Texas. With Ronald Jones II as a huge recruiting win in 2015 and Levi Jones last year, I think USC could develop some momentum in the Lone Star State. USC should be a playoff contender this season and the Sam Darnold attention will be huge for it nationally, but it still has a ways to go before it can reach the elite levels under Carroll when it used to land top players in nearly every state it wanted.

Carman is a high priority for many schools, but since he named Clemson his leader a couple of months back, there has been a lot of intrigue regarding his recruitment.

My take is simple – I think he's going to Ohio State. Back on Christmas he put out a top 10 that included Clemson, Alabama, LSU, Tennessee, Florida, Michigan State, Notre Dame, Ohio State, Wisconsin and USC but at the time most felt this would be the Buckeyes' race to lose. Then he took a visit to Clemson in late March, declared the Tigers his leader and all bets were off. But after additional trips to Ohio State, things are clearly trending back toward Urban Meyer and the Buckeyes.

Carman will probably take official visits even if he decides to commit early and has already set a tentative date to see USC officially. He has said he will return to Clemson, but my money is on Meyer keeping this talented lineman in-state.