Three-Point Stance: Gorney's thoughts from the All-American Bowl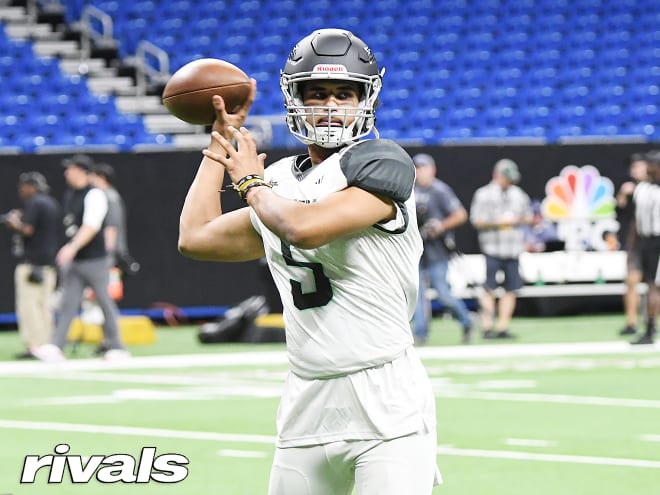 1. DANTE MOORE HAS IMPORTANT MESSAGE TO QBs  
Five-star quarterback Dante Moore has gone through the gauntlet in his recruitment, from having Notre Dame in front early only to see the Irish surprisingly take a 2024 quarterback, and then a flip from Oregon to UCLA after offensive coordinator Kenny Dillingham left for the Arizona State job.
His message to future quarterbacks in the 2024 and 2025 classes and beyond will resound with many other elite players out there - and it's important for them to know.
Here are his comments in full:
"A lot of times we actually struggle a lot during the process. I couldn't sleep at night. I was getting headaches from it because a big piece I'd tell recruits is, college is a business.
A coach might say, 'I'm going to be here for three years,' and they have a great season and they're gone.
And you're like, 'Coach, I thought you said this.' And they say, 'I'm sorry, I have to do what's best for my family.' So, you're like, 'I can't trust this coach anymore.'
"Not saying you can't trust coaches, but every visit you go on build a bond with them. Don't ever hate on a coach, because if a coach you're hating on that coach might go to a spot you're committed to and he might be the coach there and he'll remember what you said to him. Keep great bonds. Remember college is a business and always live in the moment.
"Never think of your future visits, never think of your past visits. Just think of every day you're going through the process of making a phone call, texting coaches and really at a point if anything gets too much just put your phone down and keep being a young kid. We're just young kids and we're blessed to be in the position we are in today, so be thankful to even have this opportunity."
*****
2. THOUGHTS ON WIDE RECEIVERS  
All-star practices can sometimes be choppy because the chemistry has not been fully developed over two days of practice, but there are some wide receivers already making a big impact during the All-American Bowl practices.
Here are some that have caught my eye:
Brandon Inniss: The No. 1 receiver continues to do what we've seen from him for years. He's not the flashiest, he's not the most spectacular, but the Ohio State signee catches every pass thrown his way and he can get open against anybody. USC signee Zachariah Branch will push him for top billing after his showing at the Under Armour Game, but Inniss is so solid.
Jalen Brown: The LSU signee has had a quiet week so far, but he's shown the ability to make big-time catches and he had one in the end zone to wrap up one of the sessions. Brown is lean but he has length and ranginess, so he should be a great outside threat in Baton Rouge.
Nathaniel Joseph: The Miami Edison four-star is so fast and electric that it wouldn't be shocking to see him on a reverse or some kind of jet sweep in the game - and when he gets to Miami - because he's so speedy and dynamic. Joseph had been committed to Clemson, but the Hurricanes got him and he's going to be a weapon.
Mikal Harrison-Pilot: His upcoming commitment at Saturday's game is not distracting the Temple, Texas, standout from producing during the week of practice. The four-star has caught a lot of passes and has found a way to get open against some high-end cornerbacks. He's a deep threat who has been very reliable when the ball gets to him.
Ryan Niblett: It would not be a surprise at all if the West coaches design something deep for the Texas signee because he's one of the best receivers here at using his elite speed and athleticism to break something down the field. Houston tried hard to flip the Houston Eisenhower four-star, but the Longhorns kept him and he can put big-time pressure on defensive backs.
Cordale Russell: The TCU signee had maybe the play of the day when he came across the middle, caught a touchdown pass and then dunked the ball over the goal post. Russell has been solid through practice, but in Wednesday's two-team workout the four-star came on strong.
*****
3. LOCAL LINEMEN LOOKING STRONG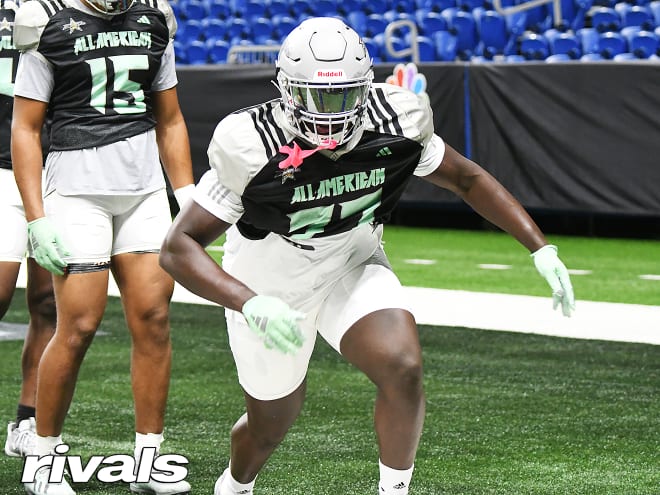 It took Texas A&M signee Colton Thomasson a day to adjust to the speed of the defensive linemen at the All-American Bowl, but he was outstanding during the morning session inside the Alamodome locking up top defensive ends that - quite honestly - beat him during Tuesday's practice.
During one-on-ones, the 6-foot-8, 347-pound four-star offensive lineman from nearby San Antonio Smithson Valley bested Ohio State signee Josh Mickens and Michigan State signee Bai Jobe, who has had a great week off the edge.
Thomasson is so big that he swallows up defensive linemen and he did a much better job on Wednesday of reacting to speed rushers trying to beat him to the outside. One player who did a great job against Thomasson, though, was someone he has been very familiar with from the local high school scene. No one seemed to know who No. 77 was during the one-on-one session, but it was Oregon signee Johnny Bowens, who was a late add from Converse (Texas) Judson, and who had been committed to the Aggies as well. He more than fit in as he beat an abundance of elite offensive lineman. The 6-foot-4, 270-pound prospect beat one offensive lineman on a nice spin move then used his power to run through another as Bowens definitely backed up his four-star ranking on the back end of the Rivals250.