Three new five-stars join the 2020 Rivals100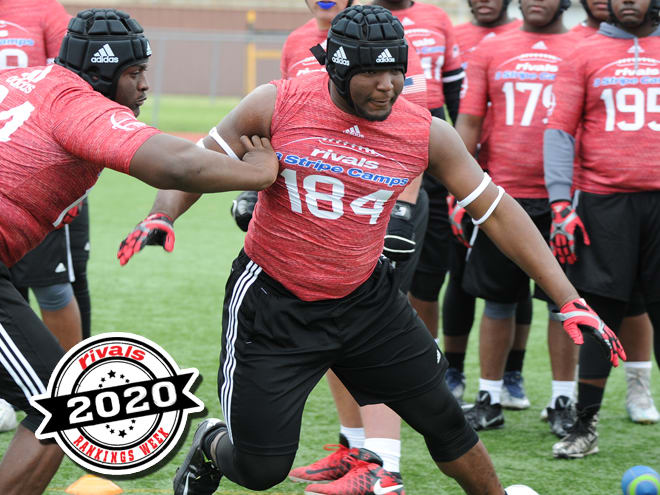 The first numerical Rivals100 for the 2020 class has been released with our first No. 1 prospect in the class and three new five-star prospects. Here's a breakdown of some of the big names at the top as well as why the new five-stars were minted.
MORE: Who was toughest to rank? | The debate at No. 1

The biggest news of the release is the naming of our first No. 1 prospect in the 2020 class, quarterback D.J. Uiagalelei from California. Uiagalelei is one of the most impressive physical specimens at the position we've seen at such a young age and brings a ton to the table.

"Uiagalelei has every imaginable trait one looks for in a special quarterback. He has great size, an incredible arm, he's accurate, he's a leader, he understands the position and he is unshakeable in pressure situations," said Rivals National/West analyst Adam Gorney. "Taking over Bosco's offense in his sophomore season was not an easy thing to do but he made it hum and he put up huge numbers running the show. For someone with such pace on his throws, he's also accurate, knowing when to zip it into a tight window or when to put some touch on it. In big games, Uiagalelei didn't fold. If anything, he shined even more and that really speaks to his ability and demeanor on the field."
Uiagalelei recently visited Alabama, Georgia and Clemson. He called his Clemson trip the best visit he's taken. He also stopped at Oregon's satellite camp recently. Uiagalelei claims no leaders but it looks like Clemson, Oregon and possibly USC have an early edge.
Rounding out the top five nationally is California linebacker Justin Flowe, Maryland defensive end Bryan Bresee, Washington defensive end Sav'ell Smalls and Georgia offensive lineman Myles Hinton.
Flowe is one of the best young linebackers I've seen in recent years while the battle for the top defensive end between Bresee and Smalls will be a good one throughout the cycle. Hinton, the younger brother of 2019 five-star Christopher Hinton, is arguably the better prospect right now.
The top 10 is rounded out by running back Zachary Evans, new five-star McKinnley Jackson from Mississippi, Washington, D.C. linebacker Mekhail Sherman, Georgia athlete Arik Gilbert and Florida wide receiver Leonard Manuel.
Evans is a tall, upright running back who can catch the ball while McKinnley is just a beast at defensive tackle. Sherman is a sure tackler and a big hitter while Gilbert could be an elite tight end at the next level and one of the most athletic we've seen in a few years. Finally, Manuel is giant wide receiver with tight end size but receiver skills.
The other big news in this release is the minting of three new five-star prospects led by Jackson from Mississippi who checks in at No. 7 overall. He is joined by Virginia linebacker Antoine Sampah and Florida defensive back Fred Davis to round out the 13 five-stars.
Our team of analysts breaks down why each of them moved into the coveted five-star category.
"Jackson has been extremely impressive each time I've seen him this year. It started at the Rivals 3 Stripe Camp presented by adidas in Mobile, Ala., then at his spring game, and each time, he flashed dominance against very good competition. He's a disruptive defensive tackle with balanced power and the ability to get penetration. It is easy to see why schools like Alabama, Auburn, Georgia, LSU and Texas A&M among many others are in pursuit." - Rivals.com Southeast Recruiting Analyst Chad Simmons
"Sampah earned his fifth star after an outstanding performance at the Rivals 3 Stripe Camp presented by adidas in Charlotte. He is every bit the 6-foot-2 he is listed at and is probably pushing 6-foot-3. Sampah has plenty of room to fill out his frame but the special thing about him is how fast he is in the open field. His film is littered with bone crushing hits but seeing how big and fast he is really elevated him in the rankings. Sampah has taken plenty of visits and more are coming up for him but are not planned just yet. One school that has done a very good job with him is Clemson, but keep an eye on Ohio State, a school he plans to visit some time next month." - Rivals.com Mid-Atlantic Recruiting Analyst Adam Friedman
"Davis has a rare size-speed combination and has long shown himself capable of covering elite prospects. He's developing physicality and continues to evolve into a complete cornerback. Davis has added size over the past year and will likely continue to do so. Davis has wide ranging offers and is in the midst of taking visits. He names no leader." - Rivals.com Florida Recruiting Analyst Rob Cassidy
The top rated prospects just outside of five-star status are Ohio offensive lineman Paris Johnson Jr., California running back Kendall Milton and Michigan offensive lineman Justin Rogers.
The first numerical Rivals250 will be released on Wednesday.
RIVALS RANKINGS WEEK SCHEDULE