Ten more freshmen to track for 2018 college football season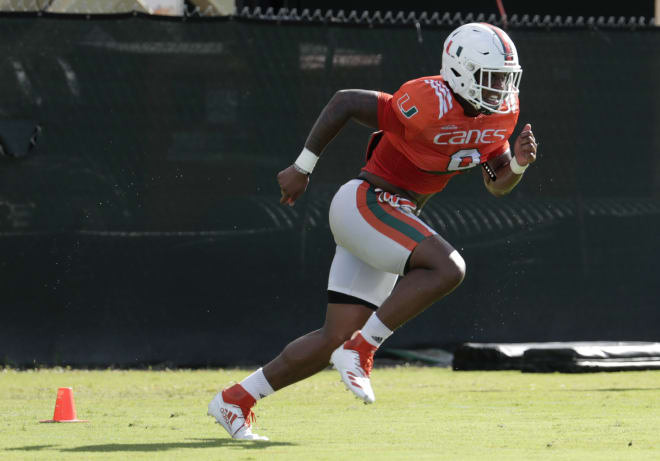 Mark Pszonak contributed to this report.
True freshmen are making more and more of an impact on the college football landscape, so we thought it would be interesting to take a guess which 10 will make the biggest impact this season. That was last week. Now here are 10 more to keep an eye on.
RELATED: Last week's 10 freshmen to watch | Ten breakout players to track in 2018
Brevin Jordan – Miami
Recruiting: Jordan committed to Miami over Michigan, UCLA, Ohio State and Georgia a few days after taking a multi-day visit in April. One of the main factors in Jordan's decision was Miami's tradition of producing NFL tight ends.
Situation: Since his arrival in Coral Gables, Jordan has impressed everyone. He has gradually moved up the depth chart, to the point where he has taken every first-team rep in practices and scrimmages and is projected as the starter. Look for him to be an immediate contributor this fall.
Farrell's take: Jordan was our No. 2 tight end in the country for a reason and is the perfect candidate to stretch the field from the position as well as work close to the line of scrimmage and even work out of the backfield at times. His quickness and route running were excellent in high school and he showed great hands. Watch out for him in the Miami offense this year.
Maurice Washington – Nebraska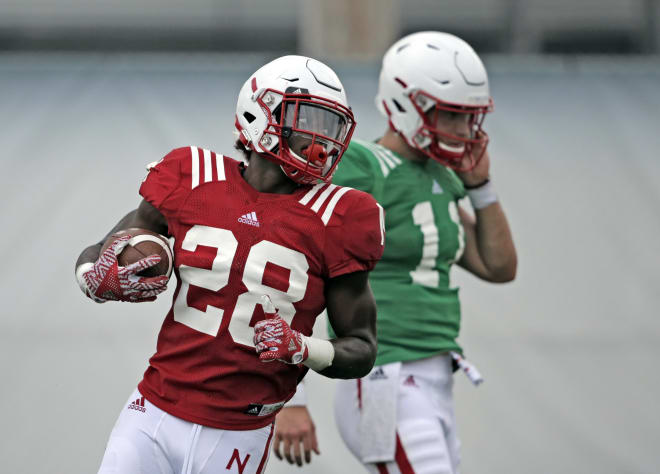 Recruiting: Washington's recruiting process was slow to take off, but a record-setting performance at the Under Armour All-American Game quickly changed everything. Offers from Nebraska and Arizona State came in, but it was the Huskers who pushed the hardest and got a commitment from Washington on National Signing Day.
Situation: Initially, there was a chance that Washington would have to redshirt the season due to academics, but once that was cleared up this summer he has arrived in Lincoln and impressed. His impressive performance, on top of the sudden retirement of running back Tre Bryant, could lead to an explosive season for the true freshman.
Farrell's take: Remember Washington's coming out party at the Under Armour Game? We weren't sure if it was a fluke or if he was becoming a superstar, so we went conservatively on his ranking. Now he has a chance to get some serious time in the backfield this year. He had good size and excellent ability in space out of high school.

Keaontay Ingram - Texas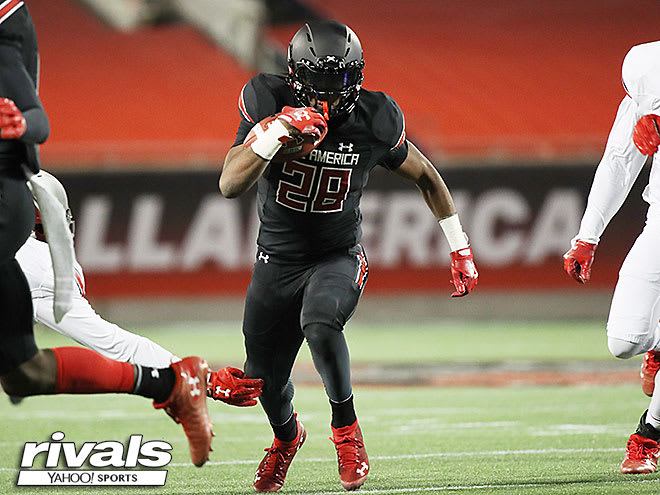 Recruiting: Ingram committed to Texas in May, and despite continued pressure from Auburn, USC, Notre Dame, Texas A&M, TCU and Oklahoma State he remained firm with the Longhorns.
Situation: The Longhorns had their fair share of struggles on offense last season, with the running game being the biggest challenge. Ingram has stepped in and proven himself as someone who may alleviate some of these issues. While he will likely split carries with Daniel Young and grad-transfer Tre Watson at the beginning of the season, Ingram has the potential to take control of the position as the season progresses.
Farrell's take: A back with good size, adequate speed and excellent vision, we liked him enough out of high school to put him in our Rivals250. There were question marks about some areas of his game, but he has taken to college early it seems, and it wouldn't surprise us if he became the lead back by the middle of the season.

Aidan Hutchinson – Michigan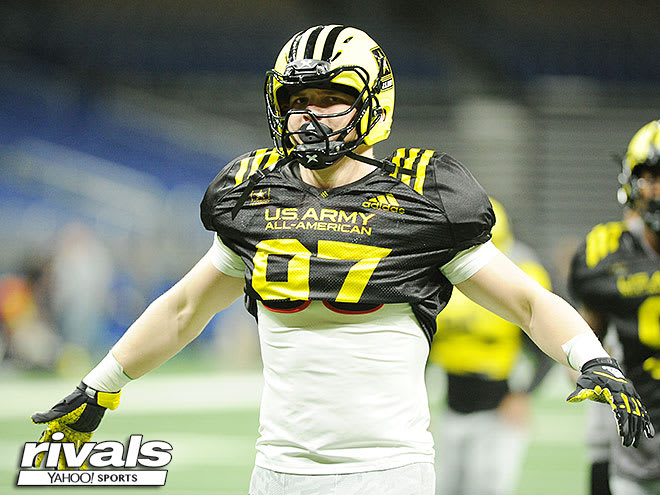 Recruiting: Hutchinson piled up offers from several elite programs during the winter, but his father, Chris Hutchinson, played at Michigan, so the Wolverines were always seen as the clear favorite.
Situation: The Wolverines return a great deal of star power to their defensive unit this season, but even with that Hutchinson has already found his way to the second team at defensive end. With Rashan Gary and Chase Winovich showing him the ropes and defensive coordinator guru Don Brown in his ear, Hutchinson should show flashes of his potential in 2017.
Farrell's take: He had a huge U.S. Army All American Bowl, and has continued to take things to the next level since then. It's hard to crack the starting lineup on a great defense like they have at Michigan, but he'll rotate in and make some noise early while learning from two great players.

Jaiden Woodbey – Florida State
Recruiting: Woodbey initially committed to Ohio State, but with Florida State and USC both making late runs, Buckeye fans became nervous as the early signing period approached. At his press conference, he proved that this nervousness was valid as he flipped to the Seminoles in a move that surprised many.
Situation: Woodbey arrived at Tallahassee as a safety, but has also seen some work at linebacker as summer camp has progressed. This versatility, along with his athletic ability and natural instincts, will improve his chances of seeing increased playing time this fall.
Farrell's take: Woodbey was always a freaky athlete with great size and range, and I can see him playing many roles for FSU as his career progresses. He's just too talented to be kept off the field.

JT Daniels – USC
Recruiting: Daniels committed to USC over Michigan and Stanford, and then surprised some by deciding that he would skip his senior season in high school and enroll a year early with the Trojans.
Situation: Despite not arriving on campus until the summer, Daniels won the starting job over Jack Sears and Matt Fink. Now that he's the Day One starter, he should be able to put up big numbers with such a talented surrounding cast.
Farrell's take: Daniels should be playing his senior year of high school this season. Think about that. When he re-classified he went right into the discussion with Trevor Lawrence and Justin Fields when it came to the best quarterbacks in the 2018 class. Daniels throws one of the best long balls I've ever seen.

Trevor Lawrence – Clemson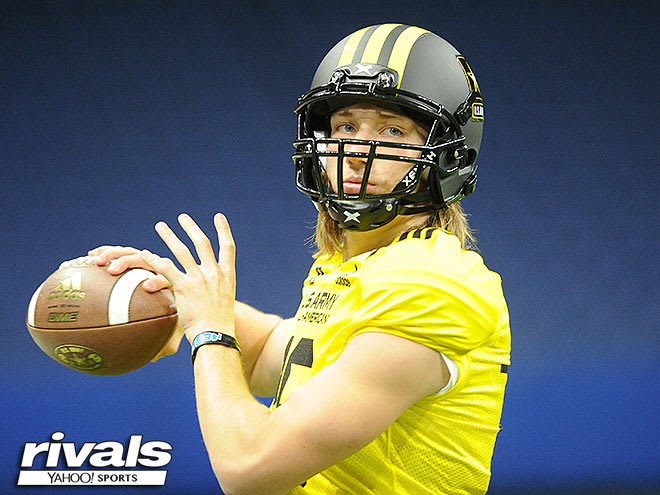 Recruiting: Lawrence committed to Clemson in December after his junior season and never wavered on his word.
Situation: Fifth-year senior Kelly Bryant returns as the starting quarterback at Clemson, but Lawrence has pushed the veteran since the day he arrived on campus in January. While Bryant has been named the starter, you can expect both to play. Lawrence has done more than enough this off-season to excite Clemson coaches and fans about their future.
Farrell's take: The best quarterback I've ever scouted at the high school level, Lawrence will make an impact this season one way or another. Bryant could keep the job all season and Lawrence would still see plenty of time and put up solid numbers. But I have a feeling he will be the full-time starter by mid-season. He had it all out of high school and reminded me of a young Peyton Manning.

Dante Stills – West Virginia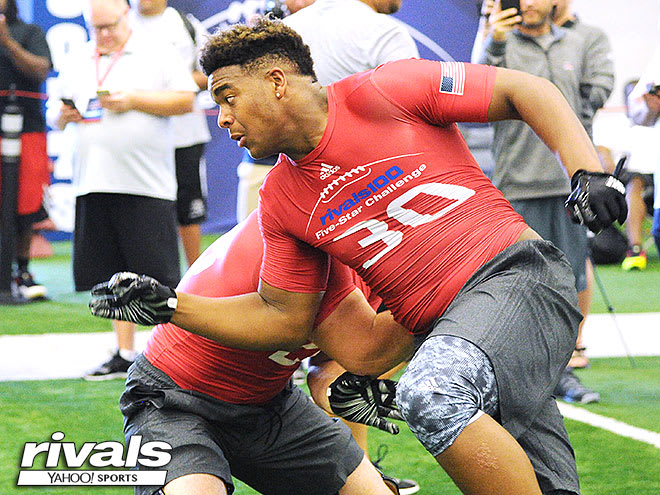 Recruiting: Stills committed to the home-state Mountaineers over Oklahoma and Florida in late August. His father played in Morgantown and his brother is currently on the team, so this decision was far from a surprise.
Situation: Stills has not disappointed West Virginia fans and coaches this off-season. He arrived bigger and stronger than expected and immediately put himself into the conversation for playing time. He will be in the regular rotation at defensive end from the start, along with his brother Darius Stills.
Farrell's take: This was one of the bigger commitments for West Virginia in the last few years, because this kid has a ton of talent. He's strong, he has good size and his technique is excellent. He also has a quick first step. He will learn quickly and should make a nice impact all year long.

Tommy Togiai – Ohio State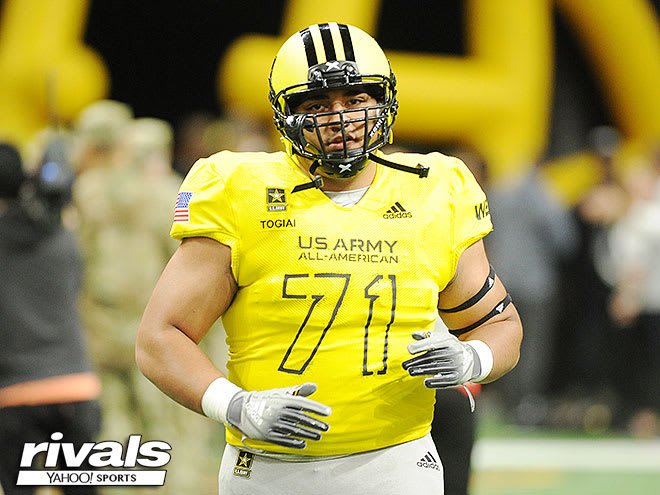 Recruiting: Togiai trimmed his list to Ohio State, Washington and Utah, which are the three schools to which he took official visits. However, after an in-home visit with the Buckeyes' coaching staff, Togiai committed the following day.
Situation: You wouldn't expect a true freshman defensive tackle to make an immediate impact at Ohio State, but Togiai does not seem to be your normal true freshman defensive tackle. He was the most impressive early enrollee during the spring and has carried that over to summer camp. It is also worth noting that fellow true freshman defensive tackle Taron Vincent has also impressive through the summer and may also see important playing time in the interior.
Farrell's take: Togiai gets the nod over Vincent, but it's close, and Ohio State has an amazing future at defensive tackle. Togiai's active, has a great motor, can run things down and he can push the pocket and pursue the quarterback. There's no way he doesn't have a big impact on the defense this season, barring injury.

Jaycee Horn – South Carolina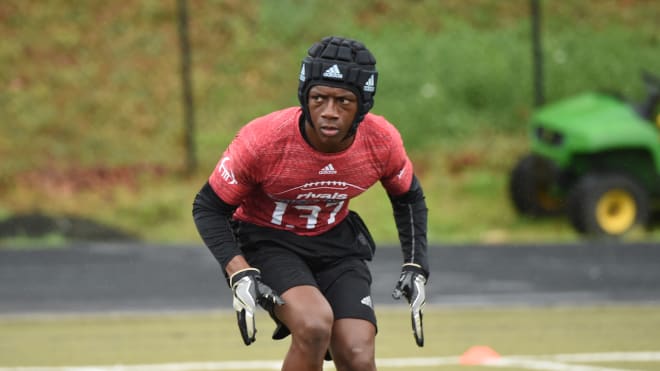 Recruiting: Horn was initially committed to Tennessee, but reopened his process after the coaching change in Knoxville. He then took an official visit to South Carolina, which resulted in his commitment soon afterwards.
Situation: Horn has performed like a veteran since his arrival on campus. Now he is battling for a starting cornerback spot with the Gamecocks, and at worst will be the first corner off the bench in passing situations.
Farrell's take: Horn always had maturity and played like a seasoned veteran, even from a young age, and his size and length are key. Speed was a question, but instincts can make up for that - and Horn has plenty of those. Look for him to make an impact as a nickel corner.