Ten breakout players to track for 2018 college football season
Mark Pszonak contributed to this report.
The 2018 college football season is upon us, so it's time for our breakout players heading into the season. Last year this list was led by Stanford's Bryce Love so keep a close eye on the players below.

Farrell 50: Nos. 46-50

Recruiting: Sanders committed to Penn State leading up to his junior season, but kept his process relatively open with several visits to Michigan, Pittsburgh, Michigan State and Ohio State. With an official visit scheduled to Michigan State during the weekend leading up to National Signing Day, Sanders finally shut down his process and re-affirmed his commitment to Penn State.
Current situation: Replacing Saquon Barkley with one player will be impossible for Penn State, but Sanders has the potential to make that transition a little less painful for the Nittany Lions. While Sanders doesn't possess the strength and game-breaking ability of Barkley, he brings plenty of quickness and elusiveness to the table.
Farrell's take: We loved Sanders out of high school as he was just shy of a fifth star and was our No. 1 all-purpose back in the country. He has a powerful build, was very explosive and evasive, and he could catch the ball. Replacing Barkley will be tough, but this kid has a ton of talent.

Recruiting: Akers initially committed to Alabama before the start of his junior season, but eventually re-opened his process. After trimming his list of top schools down to Florida State, Ole Miss, Georgia and Ohio State, Akers committed to the Seminoles over the in-state Rebels in late December.
Current situation: It could be debated that Akers already broke out as a true freshman with 1,025 yards in 2017, but considering Florida State's tumultuous season, his accomplishments seem to have slid under the radar. This is the season that Akers becomes a household name to college football fans across the country, especially in new coach Willie Taggart's open offense.
Farrell's take: Has Akers already broken out? A case could be made with a 1,000-yard freshman season. However, much bigger things are ahead this season for the former five-star. Akers was a freaky talent out of high school, as evidenced by his national ranking, and there was quite a debate between Akers and Najee Harris for No. 1 running back and No. 1 overall. Akers played quarterback in high school and could do it all, but it was his ability with the ball in his hands that impressed the most.

Recruiting: Carr picked up an offer from USC during the spring after his sophomore season and waited approximately two weeks before committing to the Trojans. He also held offers from UCLA, Washington and Colorado at the time of his decision. While he talked to a couple of schools and took a few visits over the next two years, he never seriously wavered from USC.
Current situation: Playing behind Ronald Jones as a true freshman, Carr's opportunities were somewhat limited. However, when he was given that opportunity he shined and showed a great deal of potential. Plus with USC breaking in a new quarterback this fall, Carr should receive even more carries to show off his impressive array of talents for the Trojans.
Farrell's take: As you can see by his ranking, Carr was well thought of coming out of high school and like many on this list, has some big shoes to fill. He's expected to have a huge season this year replacing Jones. We loved his burst and ability to make people miss as well as his ability to catch the ball out of the backfield. He also had good size and excellent vision.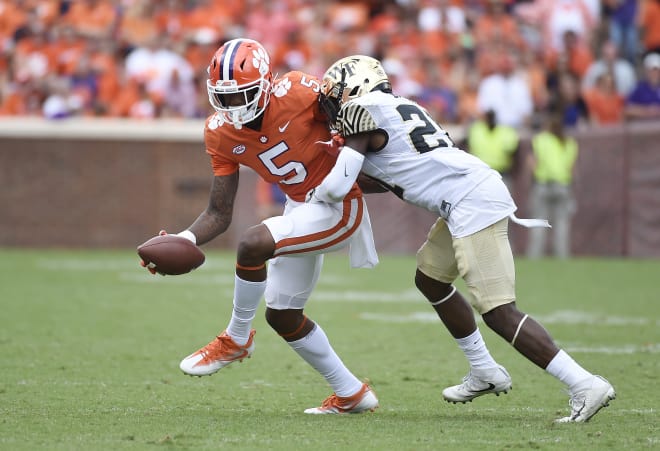 Recruiting: Higgins initially committed to the in-state Vols leading up to his junior season, but then decommitted from Tennessee after taking a visit to Clemson in January. The Tigers made him a priority from this point on and picked up his commitment in July.
Current situation: In limited action last fall as a true freshman, Higgins impressed with 17 receptions for 345 yards and two touchdowns. With two of the top three receivers making their way to the NFL, the opportunity is now for Higgins. While he may not possess top-end speed, at 6-foot-4 and 190-pounds, he gives the Clemson quarterbacks a big target who has already developed into a quality route runner.
Farrell's take: Higgins is an athletic freak with great size who should have a big season this year. He showed flashes of his potential last season and out of high school he was a tall, lanky wideout who had amazing body control and drew some comparisons to A.J. Green. He should be a star in the ACC.

Recruiting: Black maintained a busy schedule during his recruiting process, taking visits to many schools before eventually trimming his list of top schools down to Michigan, Alabama, Auburn and UCLA. With the Wolverines being considered the heavy favorite for several months, he pulled no surprises and committed to Michigan in December.
Current situation: Black looked the part of a big-time true freshman through three games in 2017, but a season-ending injury derailed his progress. Now fully healthy, and with Shea Patterson leading the offense, there is plenty of potential for a big season. Donovan Peoples-Jones should also take advantage of Patterson's talents, but Black looks to be the big-play threat in the passing game.
Farrell's take: Black was smooth as a route runner but also had an extra gear as well and he did everything with ease out of high school. He made things look easy at the prep level and his impact last season before his injury shows how talented he was. He should have a major impact on the Michigan offense this season. He always felt he should be ranked higher and wasn't getting a fair shake because he was from Connecticut, so he played with a chip on his shoulder.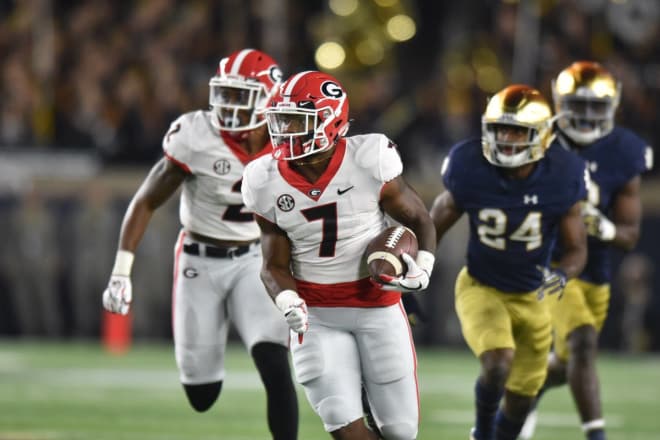 Recruiting: Swift stockpiled elite offers from coast-to-coast, but when Georgia offered, the Bulldogs immediately became the favorite. After trimming his list down to the Bulldogs, Penn State, Clemson, Florida State and Alabama, Swift did what was expected and committed to Georgia in August
Current situation: Most programs would be scrambling after losing two running backs with the talent of Nick Chubb and Sony Michel to the NFL, but the Bulldogs' depth at the position gives them plenty of hope. Leading the way is Swift, who rushed for 618 yards and three touchdowns on only 81 carries as a true freshman last fall.
Farrell's take: Swift reminded me a bit of Chubb when it came to build and the ability to bounce off tackles and he was close to as explosive at the same stage coming out of high school. Ironically, he ended up with the same national ranking as Chubb and he can have a similar career after learning under Chubb and Michel this past season. Everyone expects him to be the go-to guy this season for Georgia and he could put up big numbers.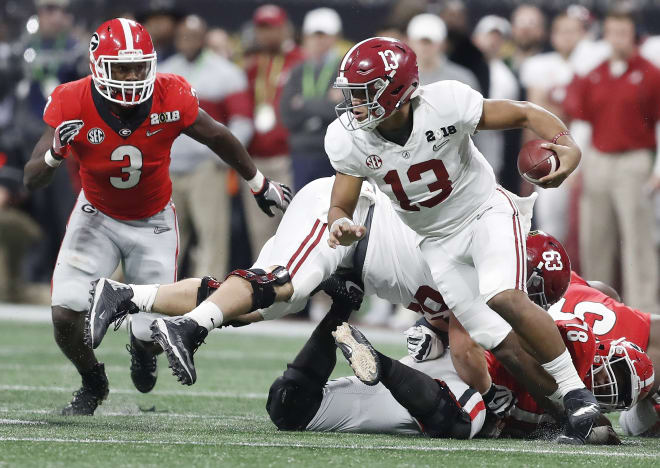 Recruiting: Despite saying that USC was his "dream school", Tagovailoa committed to Alabama after a trip that saw him visit the Crimson Tide, Auburn and Ole Miss during the spring after his junior season. Both USC and UCLA continued their pursuit of Tagovailoa, but neither were able to beat out the Tide.
Current situation: Some may say that Tagovailoa already broke out during his amazing second half performance in the national championship game, but now everyone is curious to see if he can maintain that high level of play for an extended period of time. It's also true that Jalen Hurts may still win the job, but Tagovailoa's arm gives the Alabama offense a threat that has been lacking for several years.
Farrell's take: Even though Tua was a lefty, and we all know I'm not a huge fan of lefty quarterbacks coming out of high school, we had him as our No. 3 dual-threat QB and just outside the national top 50. He had a strong arm, good touch and a lot of poise. His performance in the title game has everyone expecting him to be the guy this season and to put up monster numbers. I can't disagree.

Recruiting: Haskins committed to Maryland during the spring, but he kept his process relatively open. With rumors swirling that he was taking serious looks at other schools, he took official visits to Florida and Ohio State before flipping to the Buckeyes in mid-January. He cancelled a scheduled visit to LSU after committing to Ohio State.
Current situation: While Haskins' performance during the spring wasn't at the level many Ohio State fans wanted, he is still in line for a big 2018 season. He excelled in his one meaningful game action last season against Michigan, which immediately raised the bar for him. Showcasing impressive accuracy to go along with his athleticism, Haskins should continue to improve as the season progresses this fall.
Farrell's take: Haskins burst onto the scene for us by winning the QB MVP at our Rivals Camp Series Baltimore-Washington, D.C., between his sophomore and junior year. The offers flew in after that. He ended up as a Rivals100 prospect by showing off excellent arm strength and good touch downfield. As a top five pro-style quarterback in the 2016 class, we liked his upside and even mentioned him as a better option than J.T. Barrett last season after the Oklahoma debacle. He is showing Ohio State fans that the passing game could be in better hands in the future after his appearances last year.

Recruiting: Bryant initially committed to Kansas State, but after taking additional official visits to Nebraska and Minnesota he flipped to the Huskers soon after returning home from Lincoln.
Current situation: After rushing for 299 yards and two touchdowns, while averaging 5.9 yards a carry, Bryant's 2017 season was cut short after only two games due to an injury. With Scott Frost now in charge, and with the quarterback situation somewhat unsettled, there is every reason to believe that Bryant will get ample opportunities to showcase his talents this fall.
Farrell's take: This is a tough call because a lot will depend on how Bryant returns from injury but he certainly has the talent to have a breakout year under Frost. Bryant was a mid-level three-star out of high school with a powerful build. He ran with good power but had some other question marks. Now he could be one of the best backs in the Big Ten despite some stiff competition on his own team.

Recruiting: Thomas trimmed his list of top schools to Miami, Louisville and Oregon before committing to the Canes on National Signing Day. He was rumored to be favoring Miami leading up to his decision.
Current situation: Thomas arrived at Miami regarded as one of the more explosive wide receiver recruits in the country. While he only reeled in 17 receptions as a true freshman, he did average 22 yards per catch. Now with Braxton Berrios in the NFL, Thomas is the likely candidate to receive a heavier workload, while also being a major threat in the return game for the Canes.
Farrell's take: Thomas is a touchdown waiting to happen and could fill the Berrios role well. He's faster than Berrios but we will have to see if he can be as physical. Out of high school he was a blur who could easily get separation downfield and could also run away from people on short routes.