Preseason Farrell 50: Nos. 46-50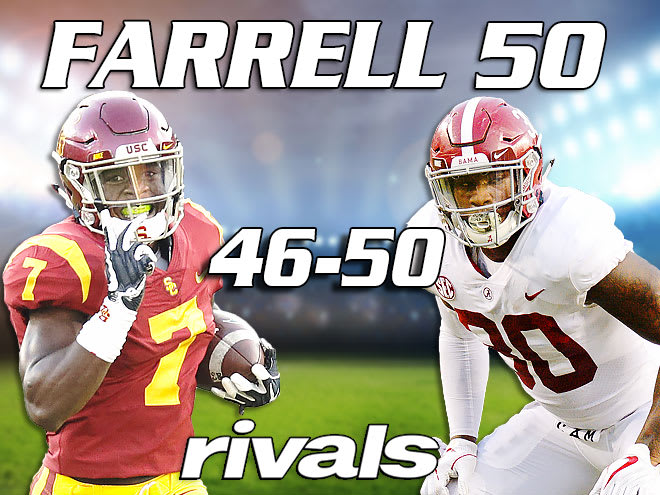 Mark Pszonak contributed to this report.
With the college football season nearly upon us, it's time for another installment of the Farrell 50, the top 50 college football players in the country. However, as usual here at Rivals.com, we take a quick look at how each ranked out of high school and if they are exceeding or simply living up to expectations. Today we start off with Nos. 46-50 with a few players who could rise on this list significantly as the season progresses.
The skinny: Carr committed to USC during the spring after his sophomore season. Despite taking official visits to UCLA and Arizona State in January, plus getting a late push from Oregon, he stuck with the Trojans on National Signing Day. As a true freshman last season Carr only had 65 carries while playing behind Ronald Jones, but during that time he averaged an impressive 5.6 yards per carry.
Farrell's take: As you can see by his ranking, Carr was well thought of coming out of high school. We loved his burst and ability to make people miss as well as his ability to catch the ball out of the backfield. He also had good size and excellent vision. He's expected to have a huge season this year replacing Jones and he could move up on this list.

The skinny: Initially an early commit to Arizona, Patterson re-opened his process and eventually committed to Ole Miss over LSU. After the NCAA hit Ole Miss with sanctions, Patterson transferred to Michigan, where he received a waiver earlier this year to gain eligibility for this season. In his final season in Oxford, despite seeing his season shortened by injury, Patterson still managed to throw for 2,259 yards and 17 touchdowns in only seven games.
Farrell's take: As a high school prospect, we loved Patterson, from his arm strength and accuracy to his moxie and ability to make big plays when it mattered. Being our No. 1 quarterback coming out of high school, expectations were high after a really good final season at IMG. He has shown flashes of his ability at Ole Miss, but bigger things are now expected. He's not the tallest quarterback but he finds passing windows, can extend the play and throw on the run very well. He should excel at Michigan and could move up this list as well.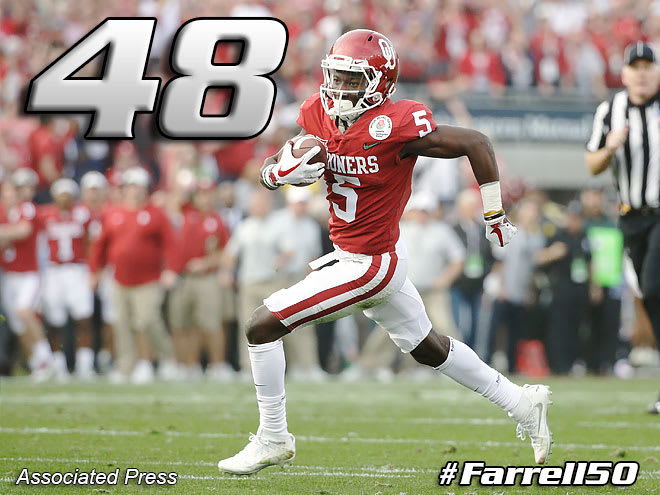 The skinny: After playing junior college football in California, Brown committed to Oklahoma over West Virginia. TCU, Tennessee and USC. Teaming up with Heisman Trophy-winning quarterback Baker Mayfield, Brown totaled 57 receptions for 1,095 yards and seven touchdowns, while averaging 19.2 yards per grab in his first season in Norman.
Farrell's take: Size was a question mark when it came to Brown, but not much else as he had the speed and home run potential to be a star after dominating at the JUCO level. A slot receiver with catch-and-run speed, we liked Brown as an instant impact guy for the Sooners. His quickness was evident, and he has added a good 20 pounds from his high school days, when he was a 5-foot-10, 155-pounder on a bad high school team. Size might hold him back in the eyes of NFL scouts, but he should have a big year on the field. He's one guy I really considered ranking much higher so we'll see how he starts and where he is by mid-season.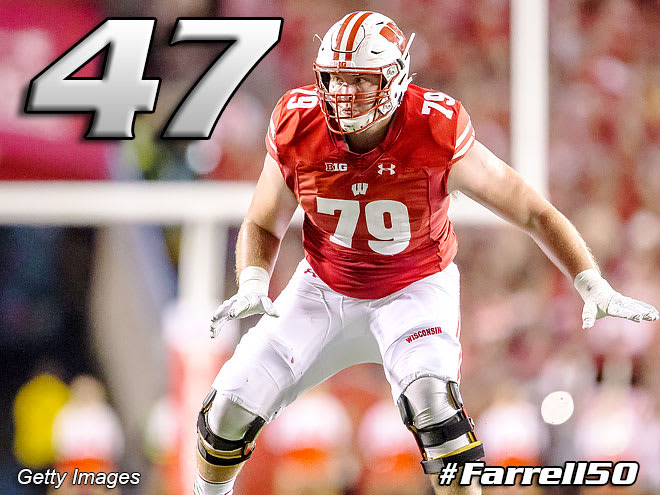 The skinny: Classified as a 6-foot-6 and 225-pound athlete in high school, Edwards committed to Wisconsin in the summer prior to his senior season. Despite the coaching change from Gary Anderson to Paul Chryst, Edwards remained firm with his commitment to the Badgers. Since focusing on the offensive tackle position in Madison, Edwards has consistently improved his game. He still possesses the athleticism of a tight end, which makes him a nightmare for any defensive end.
Farrell's take: Talk about a tough evaluation, Edwards has gone from athlete (quarterback) to offensive lineman, so I'm happy with our mid-three-star rating out of high school. He could have projected to a few positions and was a good athlete who we thought would end up as a tight end. He also played defensive end, but had a huge frame so he could have ended up as a defensive tackle down the line as well. He is the perfect example of an offensive lineman with the feet of a tight end and is one of the best in the country.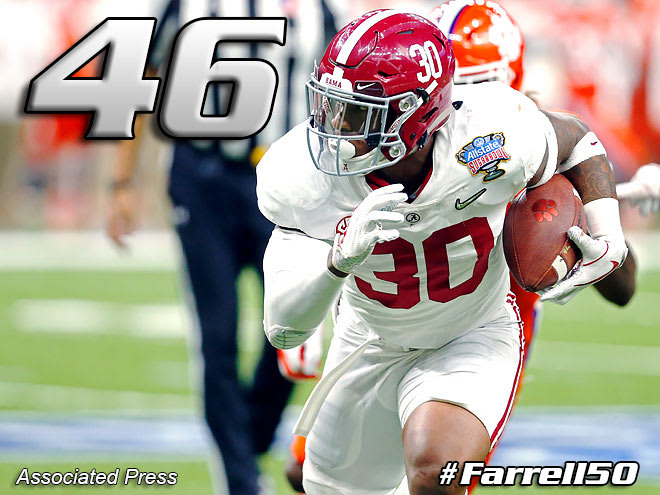 The skinny: While Georgia and Florida put in heavy work to try and persuade Wilson, it was Alabama and Nick Saban who made him a priority from day one. In the end, he decided to stay in-state and signed with the Tide. Wilson slowly began to showcase his talents in 2017, finishing with 40 tackles, 2.5 tackles for a loss and four interceptions, one of which was returned for a touchdown. His season concluded in style with 12 tackles and two tackles for a loss in the national championship game victory over Georgia.
Farrell's take: Wilson is ready for a breakout season and is living up for his five-star status early. He was always an instinctual player who was great in coverage but also loved to hit. He wasn't the longest linebacker in the world, but fits the mold of what teams are looking for these days – quick twitch kids who are great in space and can cover a lot of ground. He's also an excellent blitzer.