Rivals Rankings Week: Ten biggest risers in the Rivals250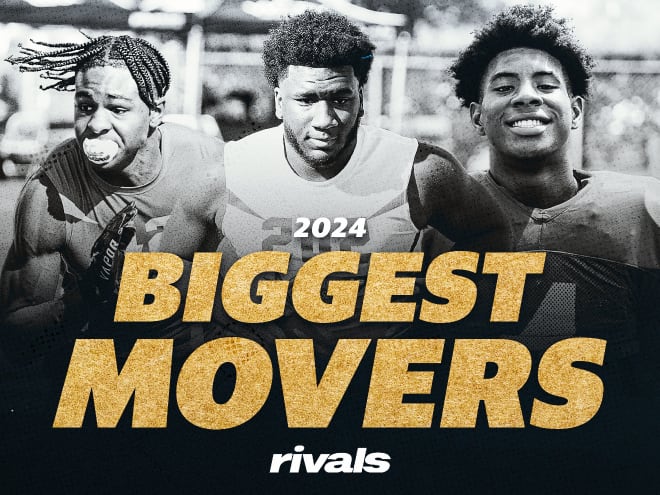 The updated Rivals250 for the 2024 class has been released and there are a lot of new names to get familiar with. In fact, there are 60 new players in the Rivals250. There are 23 other players that improved their ranking by at least 30 spots.
Here is a look at some of the biggest movers in the latest Rivals250.
Moved up: 113 spots
Daniels is a big, athletic interior offensive lineman with impressive playing strength and long arms. He does a great job getting his hands on defenders and controlling their movements. The Florida native does a nice job of playing with proper leverage and using his feet to stay in front of the defender.
There's still room to fill out his frame, but Daniels is already one of the more physically impressive offensive linemen in this class.
Georgia, Miami, Florida State, LSU, Auburn, Michigan State and Maryland are just some of the schools to keep an eye on in his recruitment.
*****  
Moved up: 111 spots
Williams is one of the best linebackers in this class and is now ranked inside the top 25 nationally. He has a ton of speed for a linebacker and can cover a lot of ground. Williams does a great job playing physically despite weighing in the 200-pound range. He handles contact well and knows how to shed blockers quickly so he can go make a play on the ball carrier.
Williams has a similar skill set to 2023 five-star Suntarine Perkins so it should be exciting to watch him develop throughout the rest of the cycle.
Oregon is a major contender in his recruitment but there are plenty of other schools vying for his commitment.
*****  
Moved up: 106 spots
Already one of the more impressive physical specimens at the linebacker position this cycle, Cobbins is a devastating force at the position. He's a big hitter who knows how to throw his weight around but has impressive agility in the open field. Cobbins can run sideline to sideline and uses his big frame to overpower would-be blockers.
How his frame develops over the next year or so will have a lot to do with whether he ends up putting his hand on the ground and coming off the edge as a defensive end. At either position, though, Cobbins is a force to be reckoned with.
He recently named a top six of Texas, Michigan, Oregon, Colorado, LSU, and Ole Miss.
*****  
Moved up: 103 spots
Measuring in near 6-foot, Mbakwe has the athletic profile of an elite defensive back. He has outstanding speed in the open field and has impressive footwork for a cornerback at this stage in his development. Mbakwe has plenty of experience against top-flight receivers and does a great job in man coverage.
His athleticism and ability to anticipate the play should help him cut down the learning curve at a college level.
An early commitment to Alabama, Mbakwe has a sky high ceiling and it will be exciting to see how he develops the rest of this cycle.
*****  
Moved up: 102 spots
The last of four prospects making a jump of more than 100 spots, Banks has a unique skill set for a defensive back because of the length and speed he brings to the field. He has a knack for getting his hands on the ball, which was on full display at the National Underclassmen Combine earlier this year.
He also brings a level of physicality to the position, which disrupts the timing receivers have with the quarterback. Banks has time to fill out his frame and get stronger, but he already plays with an aggressive style so that makes this less of an issue.
Alabama is a team to watch for the in-state prospect but Auburn is a major contender along with Florida, Oklahoma and Texas A&M.
*****  
Moved up: 98 spots
Sims is a big defensive lineman with excellent pass rushing skills. He can overpower offensive linemen or use a variety of hand techniques to slip by them. Sims also has the strength to hold up at the point of attack. At this rate of physical development, it'll be interesting to watch whether or not we will see him playing on the outside or inside of the defensive line at the college level.
Michigan State and Oklahoma are two major contenders for Sims.
*****  
Moved up: 94 spots
Marshall is a big, strong downhill runner with excellent vision who knows how to make defenders miss in the open field. He brings impressive athleticism to the field as well, showing off big jump cuts and hurtling a few players. Marshall tallied almost 2,000 yards and more than 30 touchdowns this past year on his way to plenty of postseason awards.
It'll be interesting to see how Marshall is able to top last year's performance but his powerful yet subtly elusive running style should provide plenty of highlight plays during his senior campaign.
Marshall recently named a top four of Ohio State, Michigan, Tennessee and Wisconsin.
*****  
Moved up: 93 spots
Johnson played quarterback this past season and didn't get a ton of experience as a cornerback but that is where he'll end up playing at the next level. Despite the lack of time at his future position, it's clear that Johnson is one of the more impressive athletes in the class.
The Colorado commit has excellent speed and can change directions on a dime. He also shows great short area quickness when he has the ball in his hands, something that should translate to the defensive side of the ball. As we learn more about his skill level as a cornerback during the offseason, his ranking should change accordingly.
*****  
Moved up: 87 spots
Merklinger has emerged as one of the better quarterback prospects in this class after an outstanding junior season. He had an impressive stat line featuring a completion percentage near 70-percent and just two interceptions to 32 passing touchdowns. On film, Merklinger shows off great pocket awareness and the ability to deliver an accurate pass, even with pressure in his face. He has really good arm strength and great downfield accuracy.
He has the quickness to take off and run for big chunks of yards and isn't afraid to take a hit. Merklinger isn't asked to throw into many tight windows on crossing routes, but he appears to have the arm strength and the anticipation abilities to do so. He has a mechanically sound throwing motion and isn't afraid to let it fly while on the run. Merklinger has good footwork most of the time, but could be more consistent when throwing from a clean pocket.
A recent offer from Georgia could have a big impact on his recruitment but North Carolina, Tennessee and Michigan State are also notable contenders for his commitment.
*****  
Moved up: 68 spots
At cornerback, Fields dominates the competition on a regular basis. He has a physical style and uses his 6-foot-2 frame and long arms to disrupt any receiver that lines up across from him. He is a very impressive athlete who can turn and run with almost any of the speedy receivers that come his way.
At this point, Fields relies mostly on his physical gifts to blanket receivers in his area, but once he refines his footwork, he could become one of the highest-ranked defensive backs in this class.
Fields recently saw a number of new offers come in but keep an eye on USC, Ohio State, Oregon and LSU to get him on campus this spring.