Rivals Rankings Week: Breaking down the 2024 WR/TEs
No. 1 player at the position 
Ohio State commit Jeremiah Smith retains his spot as the top receiver in the 2024 class, and he comes in as the No. 2 overall player in the nation. At 6-foot-3 and close to 200 pounds, the Hollywood (Fla.) Chaminade Madonna standout is the physical prototype of what you are looking for in a future first-round draft pick, and he matches his plus frame with equal amounts of athleticism. Smith was a state qualifier in both the 110- and 300-meter hurdles as a sophomore, and that is a testament to his straight-line speed and overall body control.
He eats up a ton of space with each step, making him deceptively fast, and by the time defenders realize how much ground he has covered Smith is already on top of them, making him the ultimate deep threat. His ability to stretch the field is only one of Smith's elite traits as he is a polished route runner with the bend and body mechanics to snap off routes at every level. Combine that with a large catch radius, high-end ball skills, ability to win 50/50 balls and adjust to the ball in the air and it becomes obvious why Smith is the nation's No. 1 at the position and a challenger for the No. 1 overall spot in the 2024 class.
*****
Two teams to watch: Ohio State and Wisconsin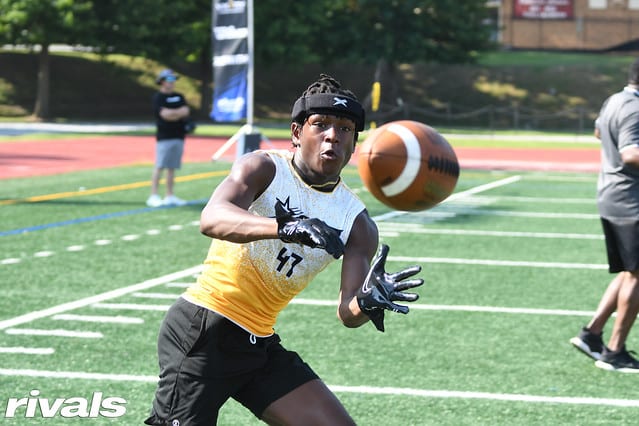 Ohio State: The Buckeyes have dominated the recruiting trail when it comes to landing elite wide receiver talent, and with the nation's No. 1 player at the position already committed in Jeremiah Smith, the 2024 recruiting cycle doesn't appear to veer away from that trend. Ohio State is also in the mix with a number of other highly ranked receivers such as Smith's five-star high school teammate Joshisa Trader and four-star Mylan Graham out of Indiana. The Buckeyes' tight end recruiting also looks promising, with No. 7 tight end recruit Kylan Fox recently including Ohio State in his top 15. While things look really good right now, should Smith decide to back off from his pledge and stay closer to home we could see a situation where he and Trader choose Miami, making the Hurricanes a school to potentially watch down the road.
Wisconsin: It's been a while since Wisconsin was a top team to watch for an incredible haul of receivers and tight ends, but recruiting under Luke Fickell has seen the Badgers target a different level of skill player, which appears to be paying early dividends. Wisconsin already has two extremely talented tight ends committed in four-star Grant Stec and high three-star Robert Booker, who both have incredible ceilings as players. The tight ends stand out here, and while things are a little cloudier on the receiver recruiting front, the Badgers are in good position with a number of top talents.
Top 20 receiver I'Marion Stewart and his teammate Kyan Berry-Johnson, along with fellow Illinois native Luke Williams, will closely consider Wisconsin. Although chances are slimmer, other highly rated receivers Wisconsin may have a chance with include recruits like five-star Ryan Wingo and four-star Jeremiah McClellan. Wingo may be a long shot here, but the Badgers could have a fighting chance due to his connection with friend and former high school teammate Chris Brooks Jr., who signed with Wisconsin in the 2022 class.
*****
Three players in the spotlight
Notre Dame commit Cam Williams is developing into a potential five-star caliber player, and although he appears to be as solid as one can be with his pledge to the Irish his recent development and 60-spot jump in the rankings make him a recruit that the nation's elite programs will likely continue to pursue. Williams has transformed from the long and skinny receiver with upside when he committed to Notre Dame to a physical presence with every bit of skill and athleticism to dominate early in his college career. Along with his incredible physical development, Williams has gotten faster, developed incredible body control, upped his already impressive ball skills and looks like he is college-ready right now.
Tight end Jadden Redell went from a relatively unknown receiver/tight end hybrid when entering his junior season to one of the most sought-after tight end prospects in the nation by season's end. Redell bulked up without losing any of his speed and will be a lethal tight end receiving threat who mismatches wherever he lines up on the field in college. The Rivals250 newcomer has over 40 offers, including the likes of Missouri, Nebraska, Alabama, Colorado, Georgia, Oklahoma, Ohio State and several other elite programs.
Sardis (Miss.) North Panola standout JJ Harrell's stock has quickly risen in recent months, and he makes his Rivals250 debut as the No. 65 recruit in the nation in our latest rankings release. The basketball standout has shifted his focus to football, and the decision to do so is paying major dividends via incredible development followed by a slew of major offers. Look for Alabama, LSU, Mississippi State and Mississippi to be among the schools battling it out for one of the nation's fastest-rising prospects.